AGV have finally released the definitive sequel to their AGV AX 8, the AX 9, so let's take a look.
AGV AX 9 Review
So the AGV AX9  is a Full-Face helmet meant to be used as an off road helmet, or more simply, an adventure helmet. While the older AX 8 was a bit more geared towards off roading, the AX 9 has been a bit more refined for on road riding as a touring helmet. Often it is best to give the helmet a ratio and I personally judge the AX 9 to be a 70% on road, 30% off road helmet. This helmet will sit at the premium level and come in at 500 USD RRP or 539 EUR but there are a few reasons for that.
Shell

The shell of the AGV AX-9 is available in 2 different types, one is full carbon and the other is a mixture of carbon fiber, aramid and fiberglass. The latter is a slightly heavier version by about 100 grams, give or take. This MS sized helmet weighed in at 1335 grams, which is pretty light and the shell itself is available in 3 different sizes.
Ventilation

Now AGV reckon that they have improved ventilation by 500% with the AX 9 and that is a pretty strong claim. The first stop on our journey of ventilation is the chin and we have a cool looking vent, where a lot of that 500% is going to come from. It has a lot of surface area and you can open this vent with a slider, you can take it off, pull the mesh out, adjust it on the inside with a slider to direct air or just remove that as well. So lots of options and lots of airflow. Up top there are the classic AGV vents and at the back the classic exhausts.
Visor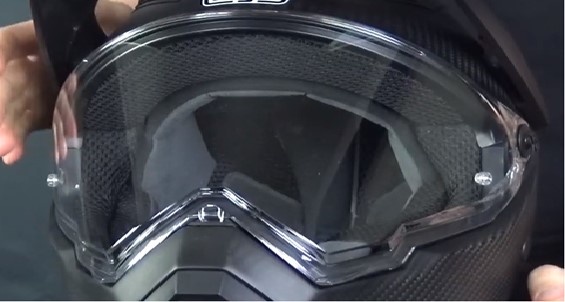 The visor is anti scratch and anti fog treated, though they have also thrown in an anti fog pinlock which is always great. The visor is big and gives a lot of view, plus you can remove this if you like so you can fit some goggles onto the helmet for when you hit the dirt. You do need to use a screw driver if you plan on removing the visor though and then the seal is quite strong which helps when touring on the highway.
Peak
So it is an adventure helmet and because of that we have this peak. You can adjust the position and remove it if you like but keep in mind this will require some fiddling and a screwdriver to get it done. So to remove the peak you have to pry the cover off, undo the screws and from there you can plug up the holes with covers that Dainese have given you in the box. Adjusting the position of the peak requires obstructing the range of the visor and stuff like that so I recommend playing around with it to find out what suits your style best. Keep in mind as well that AGV helmets claim in their manual, which comes with the helmet, that the peak is designed to go 100km/h max. You can go faster but if the peak breaks, you might get some warranty issues.
Inner liner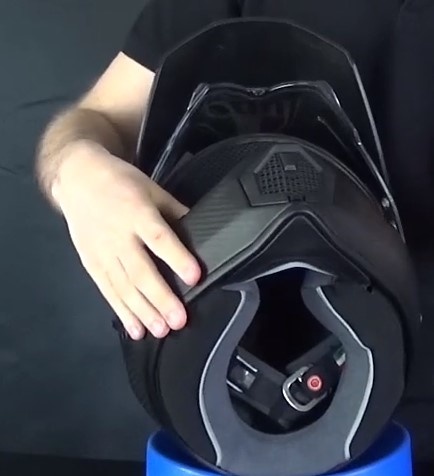 The liner is typical AGV comfort with their Shalimar and Ritmo materials spread throughout the helmet. It is antibacterially treated, washable and comes with skin treatments stuff for extra comfort. When it comes to removing the liner, it comes out in 1 piece for the neck roll and cheek pads but keep in mind that the head liner has snaps which might be uncomfortable for some people. On the inside the eps is pretty clear and shows you how the air will flow through the helmet, it comes with speaker cut outs and you can fit a com system if you want to. The hard part is getting this liner in though because it fits, but only just.
Beep test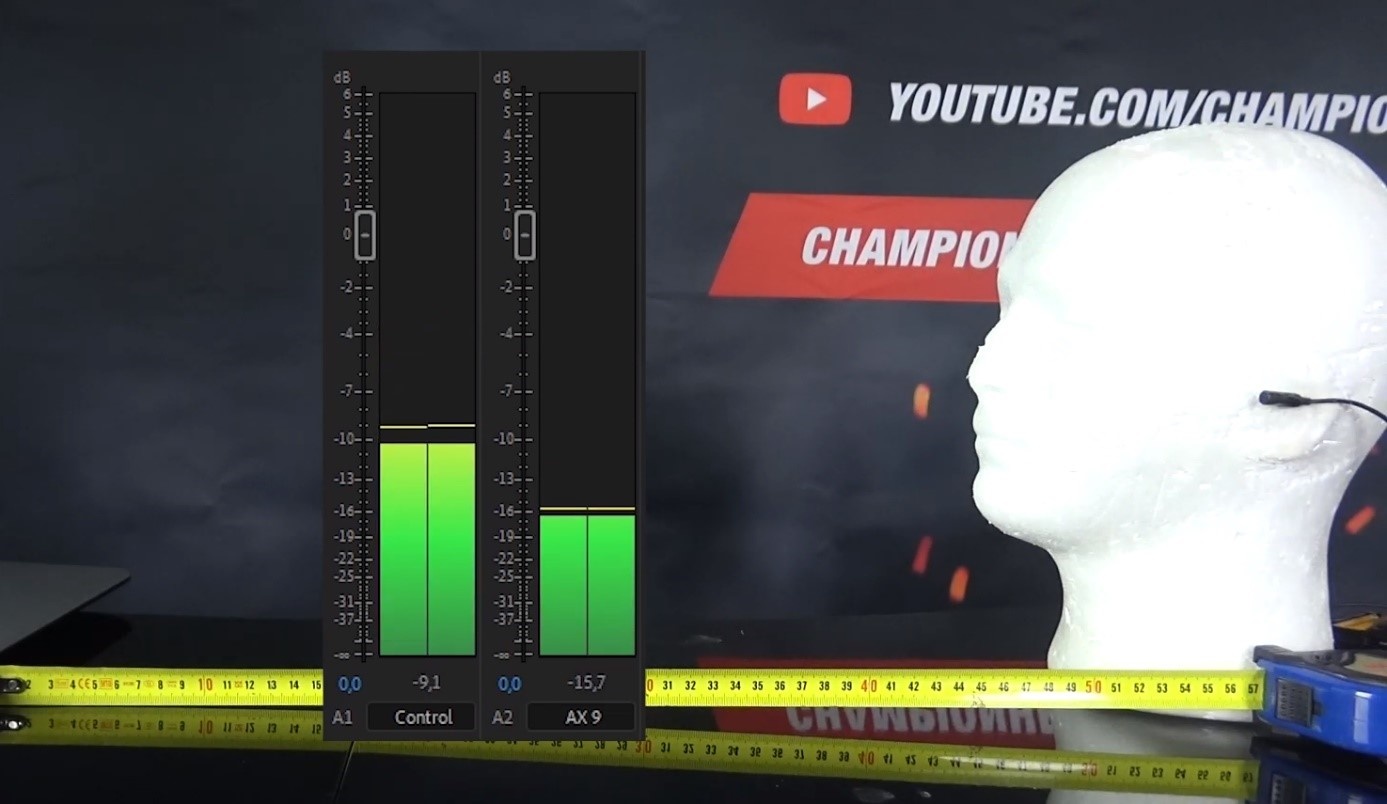 We have tested the AGV AX Nine with our beep test, and this test is designed to see how it does at blocking hard noise. When it comes to wind noise, the helmet is pretty strong thanks to that visor but the peak can get some buffeting at speed which adds to a bit of noise. So in our beep test it scored 16 against a control of 10. So this gave us a result of 6 decibels blocked by the helmet and that is overall, a very good result for an cross helmet especially. It also indicates that this helmet is a little more focused upon on road riding.
Product bundle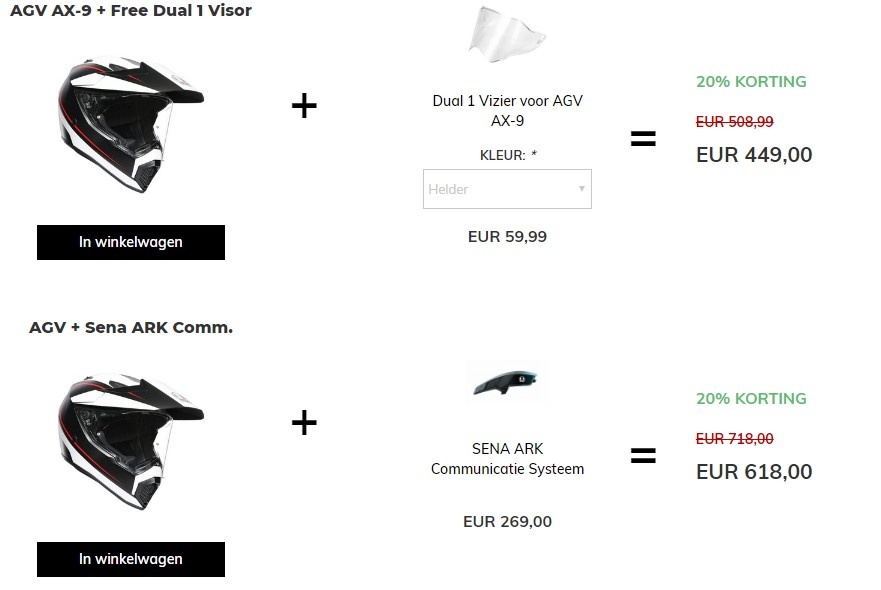 Remember as well guys that if you want to pick up the AGV AX9 check out the bundles at Champion Helmets because you can get a free AGV AX9 visor or about 50% off of the Sena Ark communication system.
Conclusion
This has been the AGV AX 9, a premium adventure helmet which has been optimized for riders that spend more time on the road but is still useful when things get a little more… adventurous. Thanks for reading guys and remember that if you want to learn anything else about AGV or adventure gear, make sure that you subscribe to Champion Helmets on YouTube. Thanks for reading guys!