AGV is well known for their high quality, high value helmets and the Corsa R is no different. We took a look at this helmet, threw it through some tests and figured out exactly where it sits as a full face helmet.
Corsa R Review
Today we are looking at AGV's Corsa R, which is notable for being much lower in cost than their AGV Pista GP R but still being very similar. Also it has some more 'street' features and versatility than the Pista GP R. Basically we still have a very strong sports helmet. This is still predominantly meant for track days but you should be more comfortable if you ride to the track. I mentioned that this helmet is lower in price than the Pista and it comes in at about 800 USD RRP for a basic design. This puts the helmet in the same kind of range as the Arai RX 7V and also the Shoei X Spirit 3. Remember as well that if you want to keep up to date with AGV, Dainese or anything like that, make sure that you subscribe to our YouTube channel.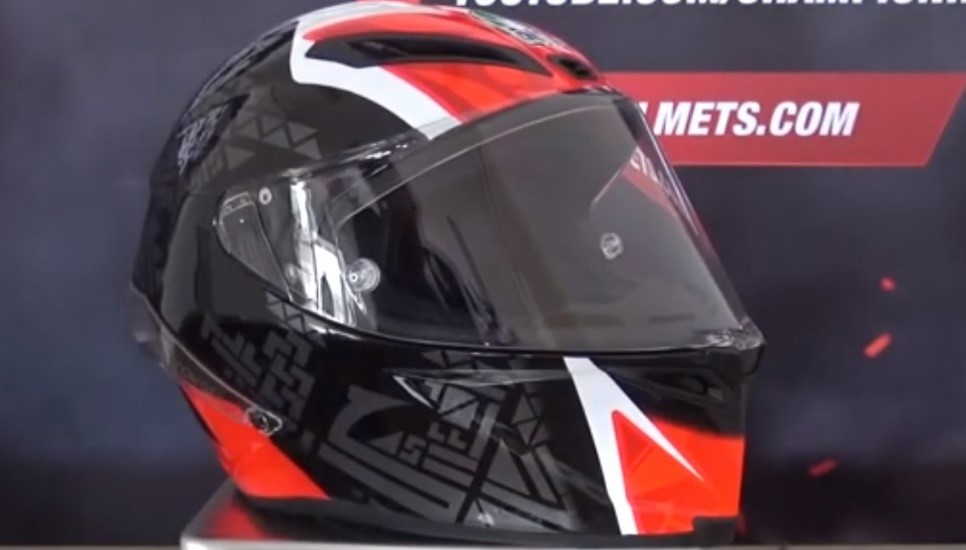 Shell
Alright now lets start off with the shell. It is made out of aramid, carbon fiber and also fiberglass. This combination of material does wonders for its safety and also for its overall weight. The shell also comes in 4 different sizes which is handy for getting the best fitting helmet. Which is a size MS came in at a weight of 1380 grams which is quite good For a sports helmet we obviously need a lightweight and AGV know this, so they have delivered.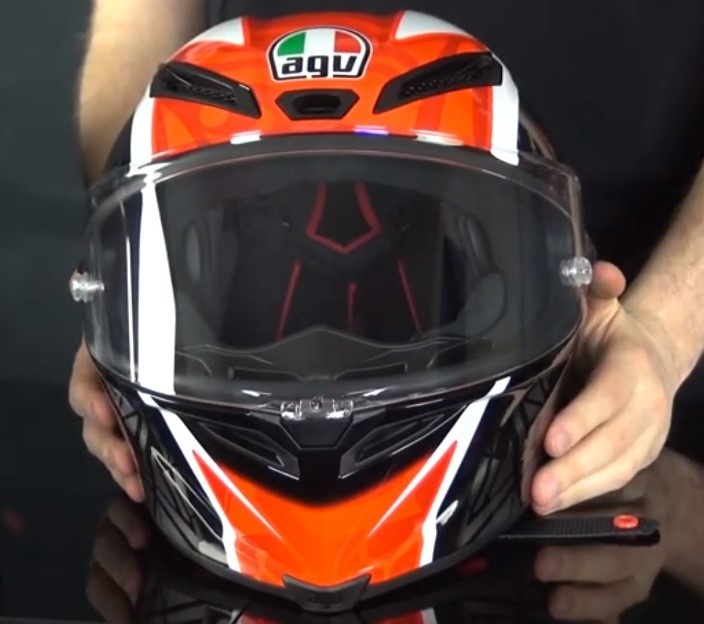 Ventilation
Staying on the theme of similarity with the Pista GP R, we come to the ventilation. The chin vent can only be opened from the inside and it brings air both to your chin and the visor. The brow vents are mounted quite low which shows the deep tuck you should be riding in to get the most out of the vents. They can be opened and closed which is pretty nice and they are very big. When putting the liner out, you just know how direct they are as well. At the back, there are 2 exhaust vents as well. So as we expect, the ventilation is very strong and is also very reminiscent of the Pista GP R but with more versatility.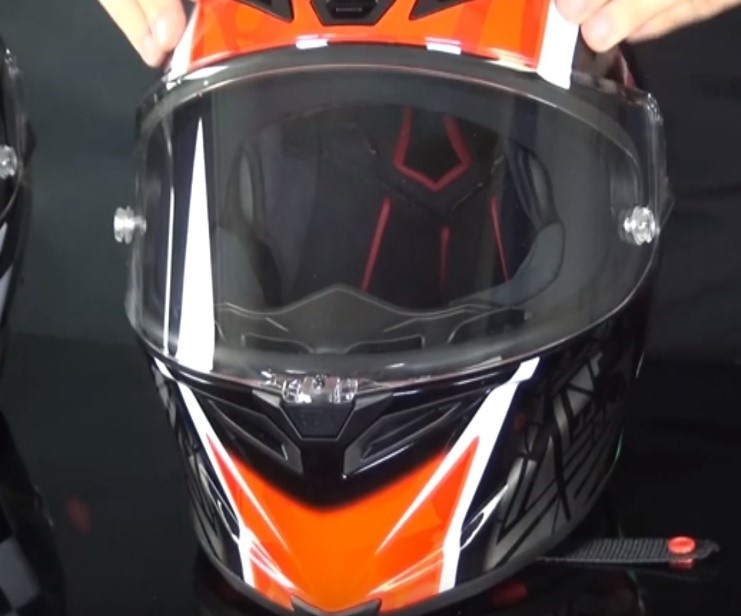 Visor
The visor of the Corsa R is very reminiscent of the Pista GP R's. So reminiscent that you could even call it the exact same visor. It is optic class 1, tear off and pinlock lens prepared. Both those sit in the box as well. It comes without d tents but you can lock it into a cracked city position. Because this is a sports helmet, we don't have a drop down sunvisor. It is easy to remove the visor of the Corsa as well. You can just drop the pins and putting it back on is just as easy. So if you want the visor of the Pista but don't want to invest in one, just take a Corsa because it is exactly the same.
Inner liner
So as I remove the liner, I noticed that the cheek pads are connected. That is because this head liner is reversable. So you get a warm side made out of Shalimar and a cool side made of ritmo. This is a handy feature that I personally didn't expect to see on a racing orientated helmet. It adds comfort, though I think most people will keep it on the cool side. It is also antibacterially treated and washable. You also get 2 small fabric inserts that fit behind the cheek pads. I think they are meant to block noise but they add very little, if anything to the helmet. The cheek pads come with an emergency quick release and the enclosure system is a double d ring.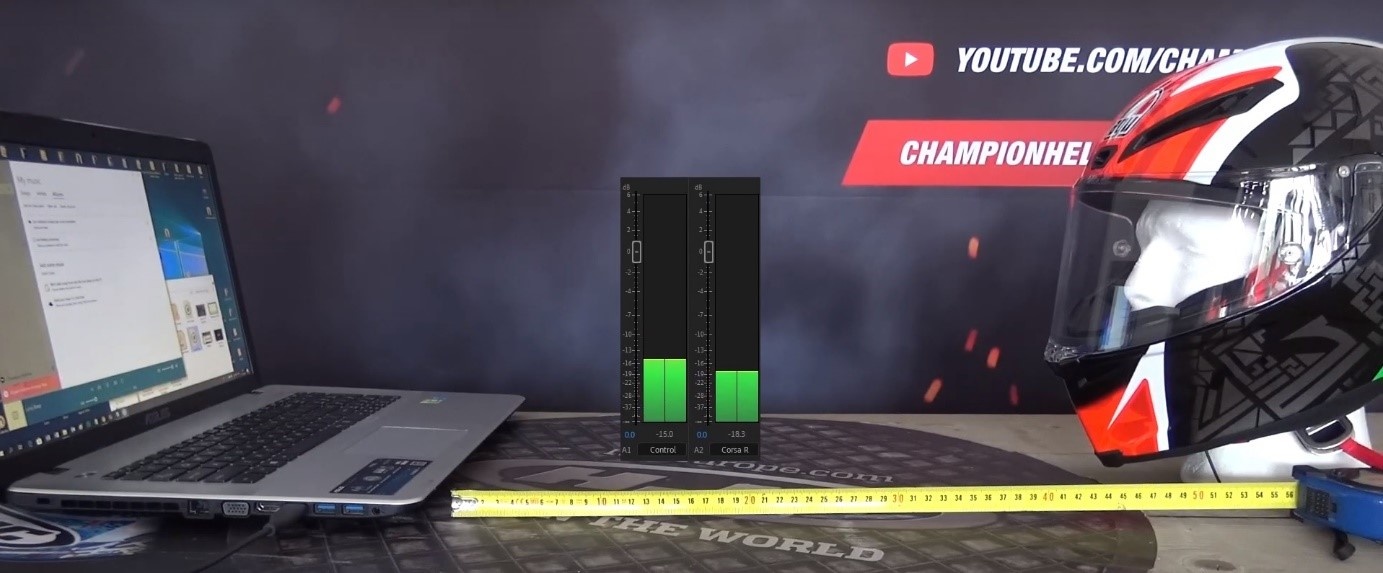 Beep Test
As a sports/racing helmet, noise isolation should be horrible at best but nonetheless, I have put the Corsa R through our beep test. This test is designed to show how much noise is blocked by the shell and liner of the helmet and we are testing for hard noise like engine noise for example. Wind noise is something different and I'll just say now, it is pretty loud. For the beep test it scored 18 against a control of 15. So that means that this helmet only blocked about 3 decibels of noise. While this is overall a bad result, for a sports helmet it is ok. That's because sports helmets don't focus on noise isolation and there is an expectation that you ride with ear plugs.
Conclusion
So this has been the review of the AGV Pista GP R's little brother, the AGV Corsa R. This is a full face sports helmet with more versatility than the Pista yet it is a few hundred dollars cheaper. So take that as you will. Subscribe to our channel on YouTube as well if you want to stay up to date with everything related to AGV and more. Thanks for watching guys, and I'll see you all next time.