Arai have a reputation for doing things differently, so let's see how this worked out on the Arai Chaser X.
Arai Chaser X Review
So here Is the Arai Chaser X helmet. This full face helmet is designed to be used by tourers and sports riders alike. In the USA it is known as the DT X, instead of the Chaser X, and it comes in at 530 USD or 540 EUR for the basic black colour. For this review, I'm going to take everything out and tell you everything to know about this Arai helmet.
Shell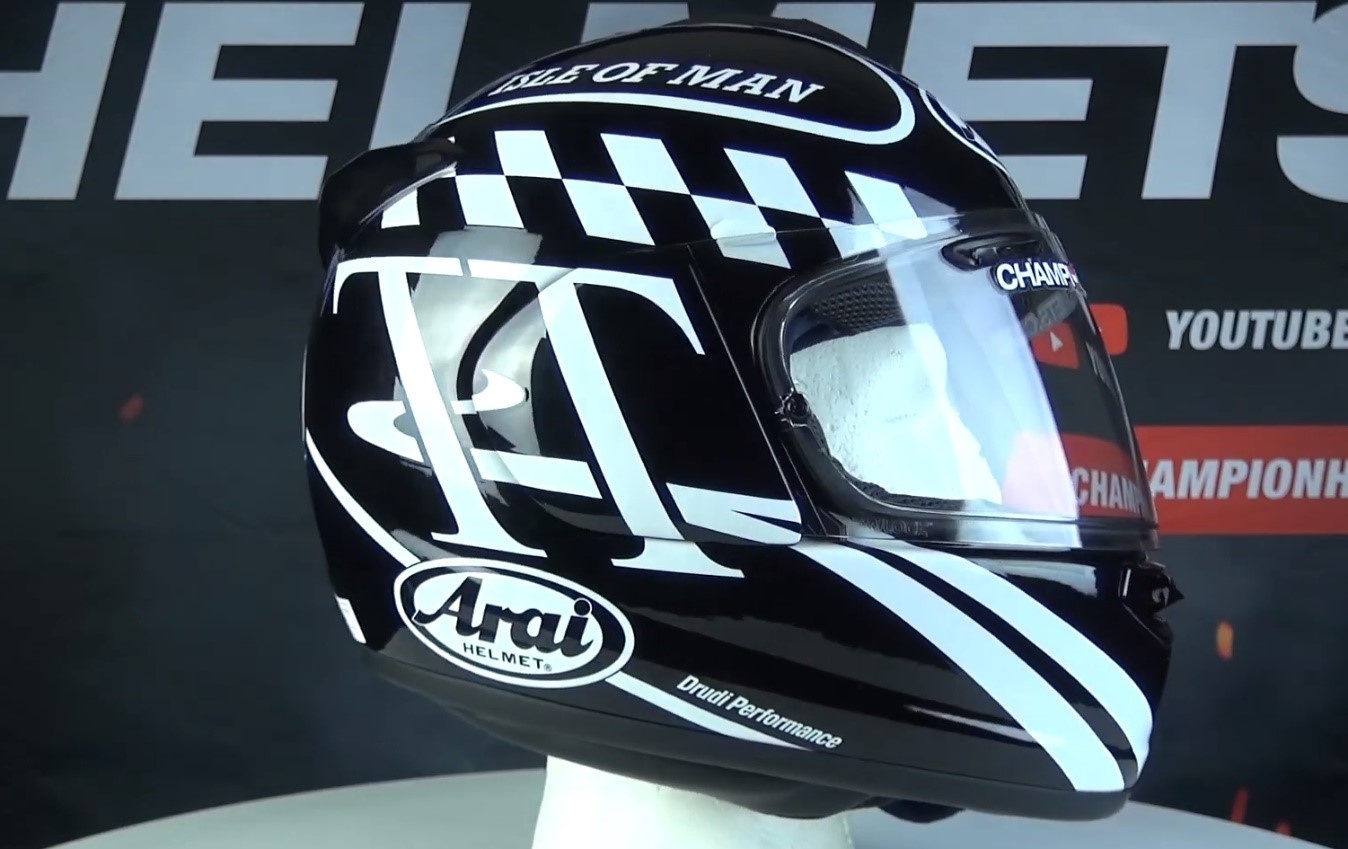 Starting at the material of the shell, we basically have fiberglass. It is made out of their Complex Fiber Laminate material which is an advanced fiberglass material. It is both lightweight and strong. We know it is strong though because SHARP has taken this helmet and tested. They gave it a 4/5 star safety rating in their tests which is a pretty strong result. The shell is also available in 3 sizes and I have weighed this motorcycle helmet, which is a size S and it came in at 1500 grams.
Talking about the shell though, we get to what makes Arai an interesting company, at least in my opinion. They focus on a different aspect of safety. Essentially they try to make their helmets glance off of impacts and focus on directing impacts. For that reason, everything is smooth and round. This is so that you can't catch on something and the ventilation is designed to break away for this purpose. There is a thick belt of material at the bottom to prevent energy being transferred to your body and the VAS system lowers the visor in order to offer more protection at your temple.
Visor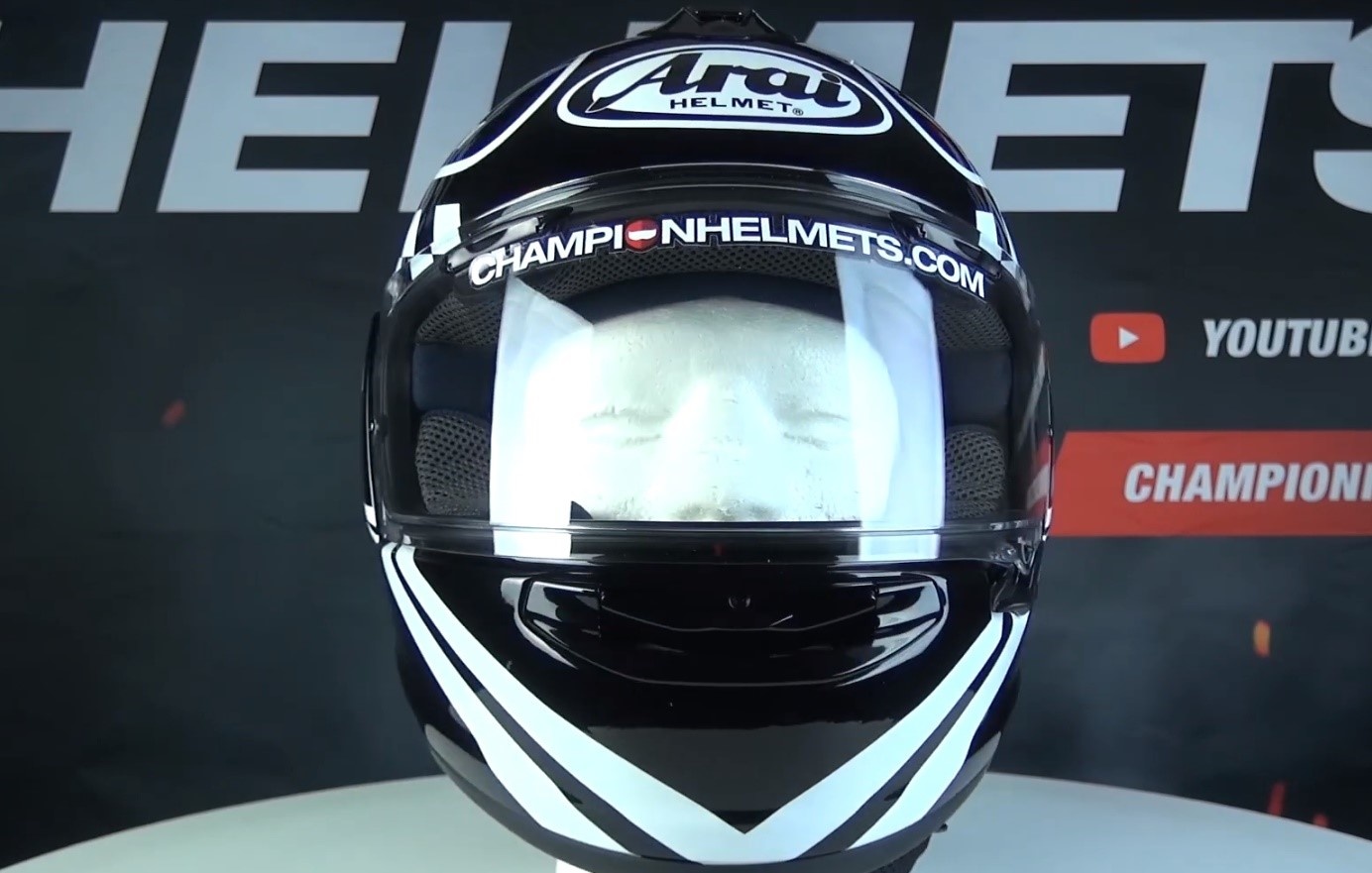 Let's focus a little more on this VAS system and the visor though. The visor itself is called their VAS Max Vision and it comes in that unique Arai shape to match the VAS system. There is no sunvisor but you do get a pinlock lens provided in the box for you. Taking the visor off requires to use the mentioned side pods though. They protect the mechanism and help with your glancing off factor. Taking it off is pretty easy though.
Ventilation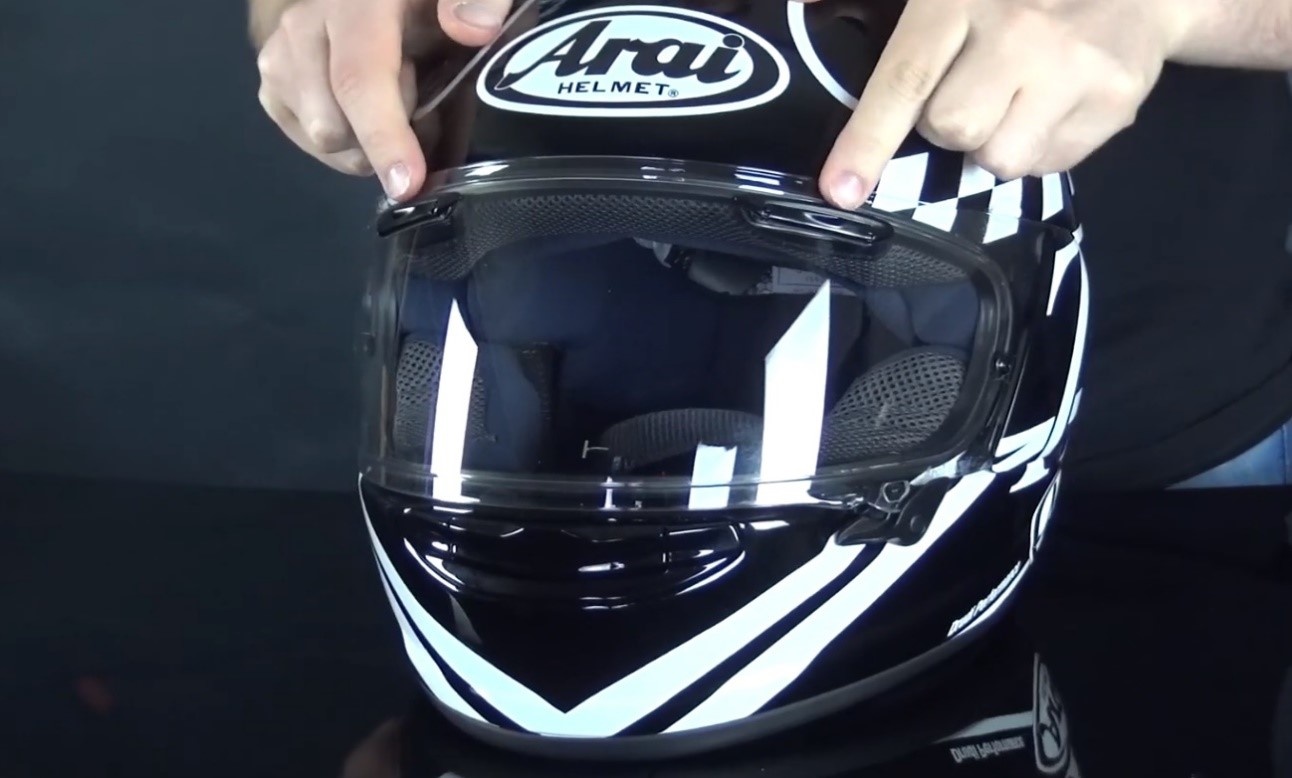 The Arai ChaserX comes with a pretty effective chin vent which will direct air to the visor. It can be used in one of three positions as well. There are 2 brow vents as well, though they are situated on the visor, Arai have done this so that they can reduce the amount of holes in the EPS and shell and increase overall safety. They also direct air into these vents by the brow and around the liner to circulate that air. There is a big scoop on top of the head as well and this can be adjusted to one of three positions as well. For air to escape, we have 2 possibilities. 1 is via the spoiler on the back and then via the liner by the neck. Ventilation is very strong on the Arai Chaser- X.
Liner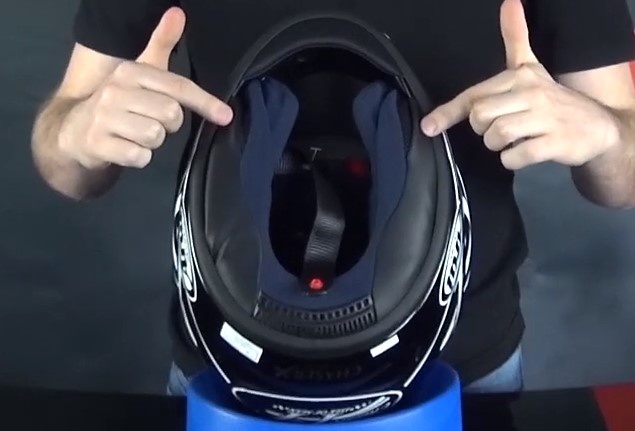 Now when removing the liner, we get to see some of Arai's cooler features. The liner itself is the Facial Contour System and this is meant to be thick and tight on your face for safety. The liner is removable, washable and antibacterial. The finish on the cheeck pads and head liner is of a high quality and I have no issues with it. Inside the helmet, it is pretty clean and there aren't any ventilation channels. They've done this to enhance the protection of the EPS and it does reduce ventilation somewhat.
Beep test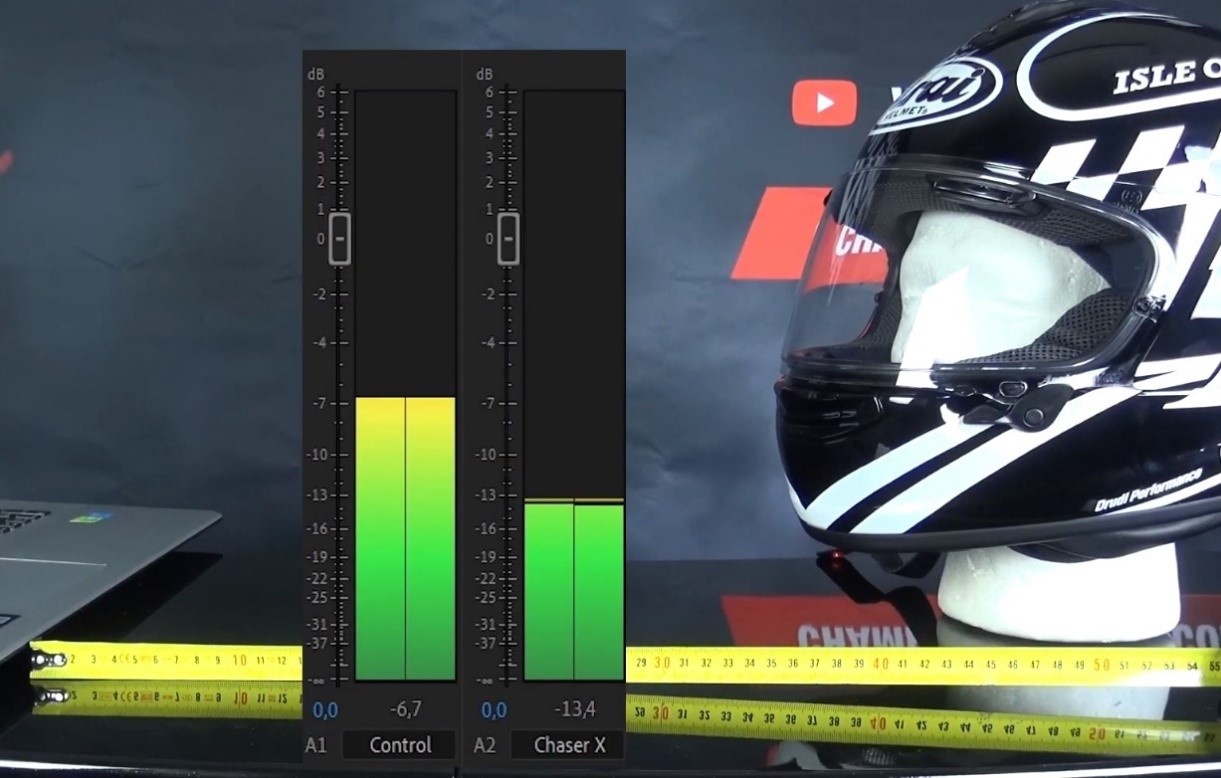 Now we are at the beep test. We put it through this grueling test and we found that it comes in at 14 against a control of 7 . This is very quiet and a good result for Arai. When it comes to wind noise, the Arai Chaser X is by all accounts, a very quiet helmet. The chin curtain, strong seal on the visor and smooth aerodynamics all come together to make this very strong at reducing wind noise.
Safety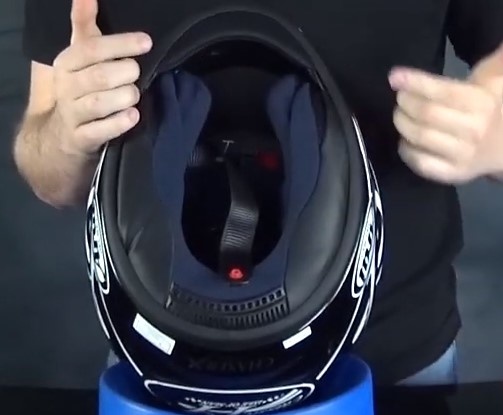 So to round out this helmet, it comes with a double D ring enclosure system at the bottom. It is prepared for a communication system with speaker cut outs. Arai are known for their top quality and they are backing that up with a 5 year warranty on the Arai Chaser- X as well. Despite their heavy focus on safety at Arai, they haven't given us an emergency quick release system which is a bit of a disappointment because it would have really put the cherry on top of this helmets safety.
Conclusion
Now if you guys are considering picking up an Arai Chaser X, you should consider Champion Helmets and the product bundles. You can get yourself a free dark smoke visor or about 100 dollars off of either a Sena 10U Communication System or Cardo Scala Packtalk Slim JBL Communication System.
This has been our review of the Arai Chaser X, touring sports helmet. This helmet isn't cheap but it is full of the extreme quality and safety that Arai is known for. If you guys want to know anything more about the Chaser X, Arai or motorcycle gear, subscribe to Champion helmets on Youtube. Alright guys, Thanks for reading!