Posted on
By Sebastian Sirotin
Posted in B 901 R, B-901R, B901R, Bluetooth, comms device, comms system, Communication system, Guide, installation, mounting, N-Com, Nolan, Review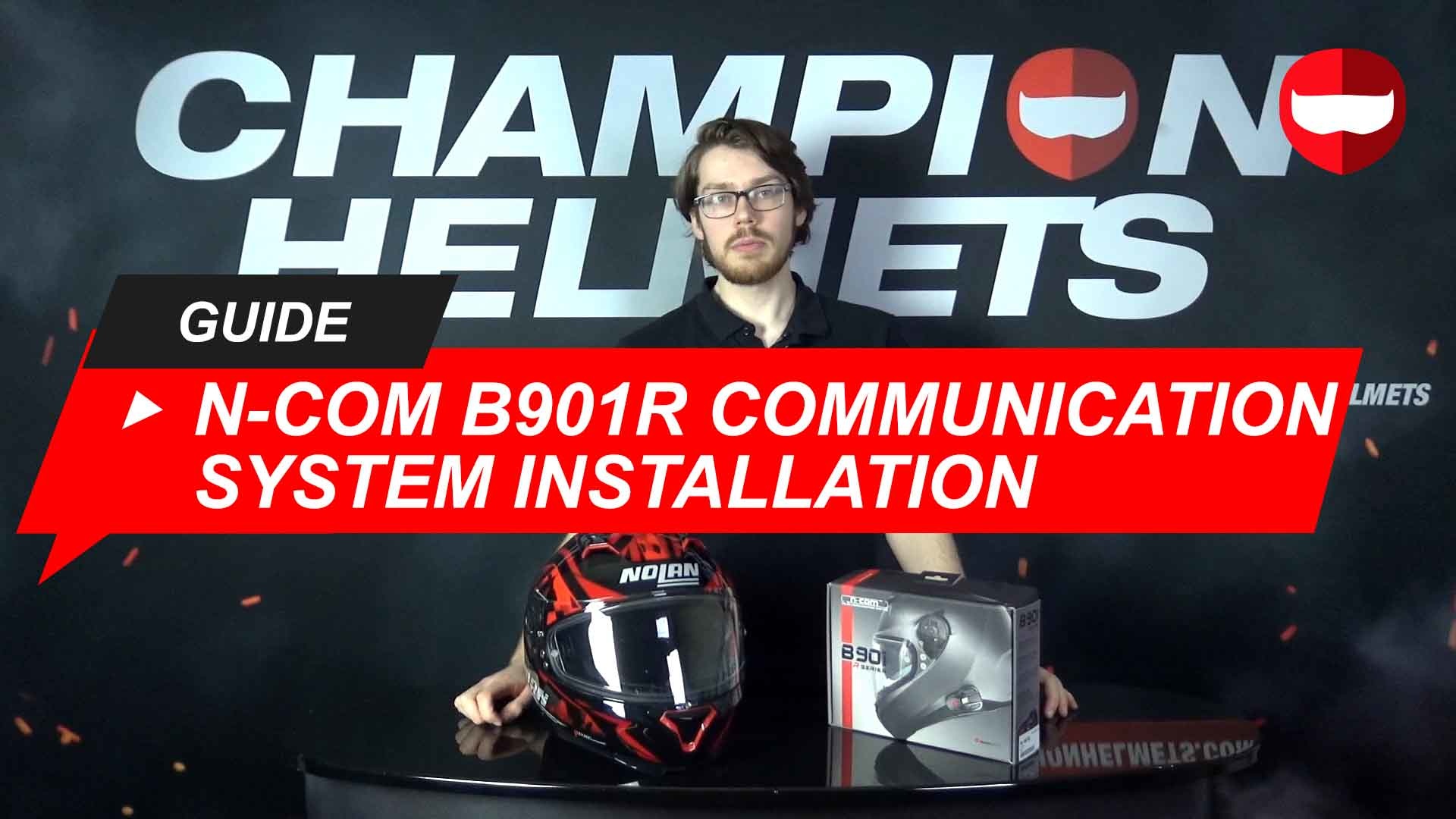 The N-Com B901R Bluetooth Communication System is a decent system that'll let you talk to others in you Nolan helmet. So we've reviewed and shown how to install it.
You'll need the N-Com B901R Bluetooth Communication Device if you want to communicate in your Nolan N87 or Nolan N100 5 helmet. N-Com, part of the Nolangroup, was tasked with creating a intercom systems to integrate seamlessly with Nolan's helmets like the Nolan N87 and Nolan N-87 Plus and they have delivered the B901 series. This device will be coming in at a recommended retail price of about 280 Euros or around 310 US Dollars and out of the box it comes with an additional hex key, microphone cover replacement, USB communication cable, and AC adapter. So, this puts it at about middle of the range in terms of price compared to Sena and Cardo and it'll be competing with the Sena 10 U Communication System and the Cardo Scala Rider Freecom 2 Plus Duo Communication System. It also has a sister system: the N-Com B901L Bluetooth Communication System, equipped with an additional N-Com ESS Emergency Stop Signal.
Device Control
The N-Com B901-R system features a 4-button system for the helmet control. The buttons are large so it's more comfortable to use when you're wearing gloves. Though direct integration does force you to stick with these systems for Nolan helmets, the benefit of this is that you have a smaller helmet profile rather than a large clamped on device, which may compromise your helmet in a crash. Using these buttons you can use the bike call function for a bike to bike call, and perform play pause stop skip functions. The 900 series N-Com systems are a Bluetooth system so you will be able to connect it to your phone listen to music with an MP3 player function, take phone calls, and communicate with up to 4 riders on a single call. According to N-Com, the N-Com B901 R has effective Bluetooth up to 700 meters, or around 0.4 miles, in an open field. This is a shame since I don't really know how many of you are riding your bikes in open fields and it's also short compared to Sena systems that can go up to about a mile, or around 1600 meters. The system, is also compatible via bluetooth with a satellite navigator. The N-ComB901R also is compatible with all Nolan systems except the Bluetooth kit and Bluetooth kit2.
To take some more control of the device, there is also got a N-Com app for your phone and you can connect it to your PC via mini USB cable for management from PC.
Audio
Looking at the earpieces, they're not too bad. The earpieces are also directly integrated into the helme,t though if you've already broken it in, you'll find you'll have to give a bit extra effort since the speakers will take up some of that extra space. The N-Com B-901R will give you some voice command ability, pretty standard, as well as giving you some music sharing options with up to one helmet, which is pretty good. Since there were some issues with this between different Sena Communication systems. It's also got an integrated radio with radio stations 6 pre-sets and you can search for radio stations. If you enjoy music, you can share A2DP music-music sharing. You can also communicate with others via the smart conference group intercom, use an intercom simultaneous conference call, and use universal conference chain intercom features.
Installation
For installation, the N-Com B901R is a bit more involved than with the Shoei GT Air 2 and the Sena SRL 2 Communication System, but it's fairly simple. You need to remove the liner of the helmet, which requires unscrewing the back of your helmet and then pulling the bottom plastic layer out. Then, you need to take the foam inserts in the ear grooves out to fit the speakers. While you're at this stage, you'll need to remove pieces of the plastic lip in the back and side to let the control console clip in place and to allow for a battery recharging opening. Then you slot the speakers into the sides, the battery into the back, and the microphone on the side with the EPS groove in the cheek built into the helmet. Lastly, you snap the control console into the lip and snap everything into place.
N-Com have done well with the B901R in terms of battery life since it should stay alive for about 15 hours on a rechargeable lithium-ion battery and it has the added function of a power saving mode where it'll turn off when it's not actively being used.
Overall, the device should only add about 110 grams or so, so that's also not too bad. 
Summary
While the B901R isn't from the giants Sena or Cardo, N-Com have put together a decent comms unit. Given it already integrates well into Nolan helmets, which are already coming in at lower prices, you're getting a pretty good bargain overall. If you still have questions, be sure to watch our N-Com B901R Bluetooth Communications System Review and Installation Video.