The Shark Spartan and Spartan Carbon are two popular, full face helmets that seem to cram so much value into a mid range helmet. So of course, we needed to take a look at them both.
Shark Spartan and Spartan Carbon Review
You might have guessed this from the title but there are 2 versions of this full face, sport touring helmet. We have a fiberglass version and also a carbon fiber version. But we will be looking a little more into the differences between these helmets further on. The Shark Spartan is a very versatile helmet and it comes in as a mid of the range option. The base Spartan will come in at 370 USD RRP and the Spartan Carbon will start at around 420 USD. So they fit very easily into that mid-range.
Shell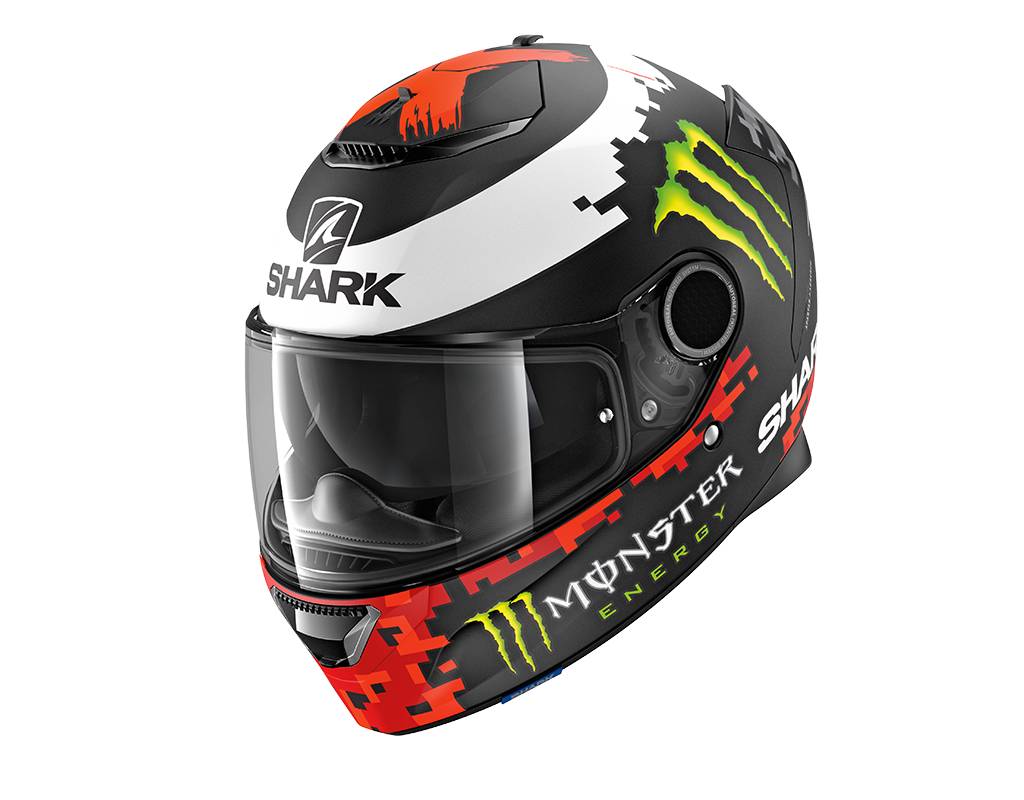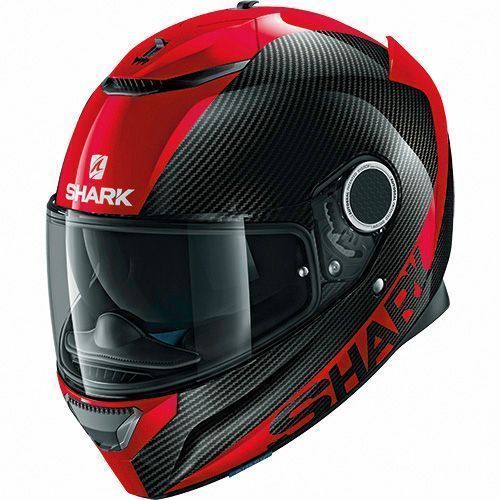 Alright so let's start with that shell material and, aside from graphics, the shell is the only difference between these helmets. The original Spartan is made out of fiberglass and comes in at a weight of 1.55kg. Then the Spartan Carbon is made out of carbon fibre and weighs in at 1.45kg. Both these helmets are a size L, so they are heavier than the smallest size, which you often hear quoted for its weight. Sadly there was only 100 grams between them in terms of weight, which is obviously not much. Both shells come in only 2 sizes as well.
Now a real strength for the Carbon version is the Sharp safety rating test. It scored 4 out of 5 stars which is a very strong result. The fiberglass Shark Spartan only scored 3 out of 5 stars though and you can see that it did quite poorly in the side impact test. I was a little surprised by this result as they are aerodynamically the same and it actually goes to show the strength of carbon fiber as a shell material. So that is it for the differences, now they are pretty much the same helmet. Speaking of aerodynamics, the Spartan was designed using computational fluid dynamics in order to glide through the air.
Ventilation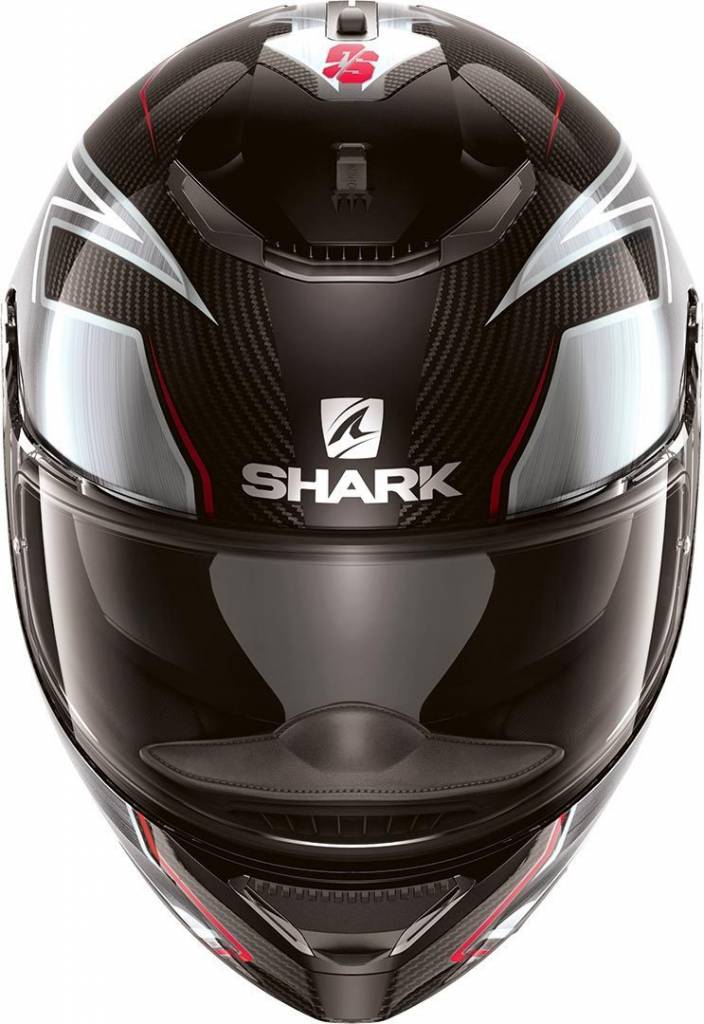 When it comes to ventilation the Spartan is pretty strong. You can see the scoop at the top of the helmet has been made to work in a touring and a sports position. The chin vent is similar but the more tucked you are, the more effective it will be. Both vents are easy to open or close with your gloves on as well. At the back, under the wings, we have a couple exhaust vents as well. Overall, this helmet has strong ventilation.
Visor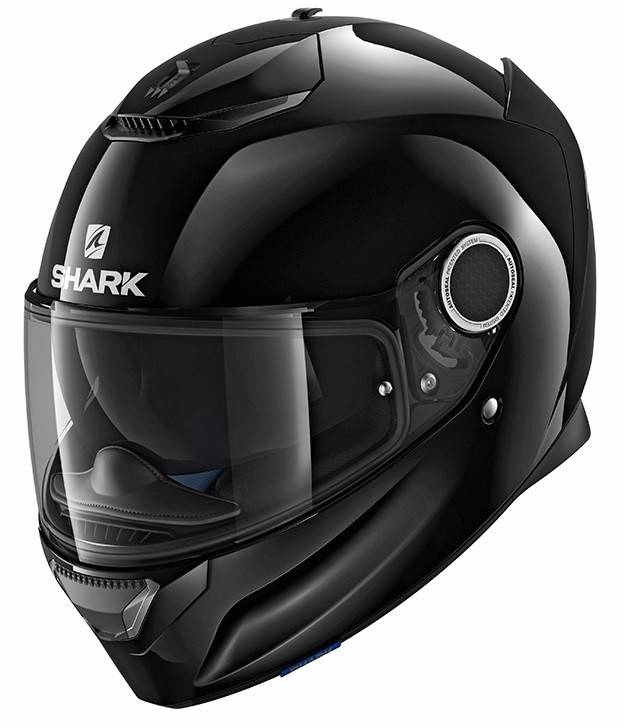 Now, if we move onto the visor, we will find it in the normal place on the helmet. It has an auto seal system to close onto the shell and this does work pretty well at staying air tight. It is prepared for a Pinlock Max Vision anti fog lens and you can find that lens in the box. There is no cracked city position with the visor though, which is a bit of a let down for the tourers out there. Taking the visor off for the first time is a little nerve racking though because you have to just rip it off but the system is easy when you get used to it.
In good news for you guys riding in very sunny weather, we have an internal sunvisor. You can see the slider for it at the top of the helmet of the helmet , which is an interesting position. It works fine, even with gloves on but personally I find it an annoying spot that you have to get used to. The visor itself drops really low down but it can fog up, so keep an eye out for that.
Liner
I guess its time to pull this liner out and this is another personal thing for me, I don't like the way the liner is attached to the helmet. It uses tabs and they are frustrating to put back in. If you plan on washing the liner a lot, enjoy that. So obviously it is washable and the head liner is thick. It is very spongy and that is pretty comfortable. There is also a collapsible chin curtain that you can't remove but it is a pretty handy addition and it has a double D ring system.
On the inside, the channels for the ventilation are deep and in combination with that thick liner, allow good airflow. Up top you have some material glued onto the EPS and I don't know what Shark uses but they need better glue. It comes off so easily and I highly recommend that you treat anything glued down very carefully. It is also prepared for the Sharktooth communication system which is made by Shark for their own helmets. So the inside of the helmet isn't Sharks strongest area and we see this across a lot of their range.
Noise Test
Now to figure out how quiet this helmet is, we put it through our beep test. This test is designed to show how many decibels of hard noise are blocked by the helmet. Noise from you engine or something like that, wind noise is another issue entirely. Sadly the Spartan scored pretty badly in our test. It scored 20 against a control of 17, which means it only blocked 3 decibels of sound. This is definitely below average. With wind noise it is a better story though. The visor seals nicely and it has been aerodynamically designed, so in terms of wind noise it is fairly good but some people have reported it as being very loud, while others have reported it as very quiet.
Conclusion
Alright guys, this has been our review of the Shark Spartan and the Shark Spartan Carbon. These are 2 strong mid-range helmets which will suit pretty much any sports tourer on pretty much any bike. If you have enjoyed this review or you want to see more, make sure that you subscribe to our YouTube channel. Thanks for reading.