Posted on
By Kees Klippel
Posted in 2019, 2020, Airwave, Champion Helmets, Championhelmets.com, English, jacket, Livestore, Revit, Review, Revit Airwave 2, YouTube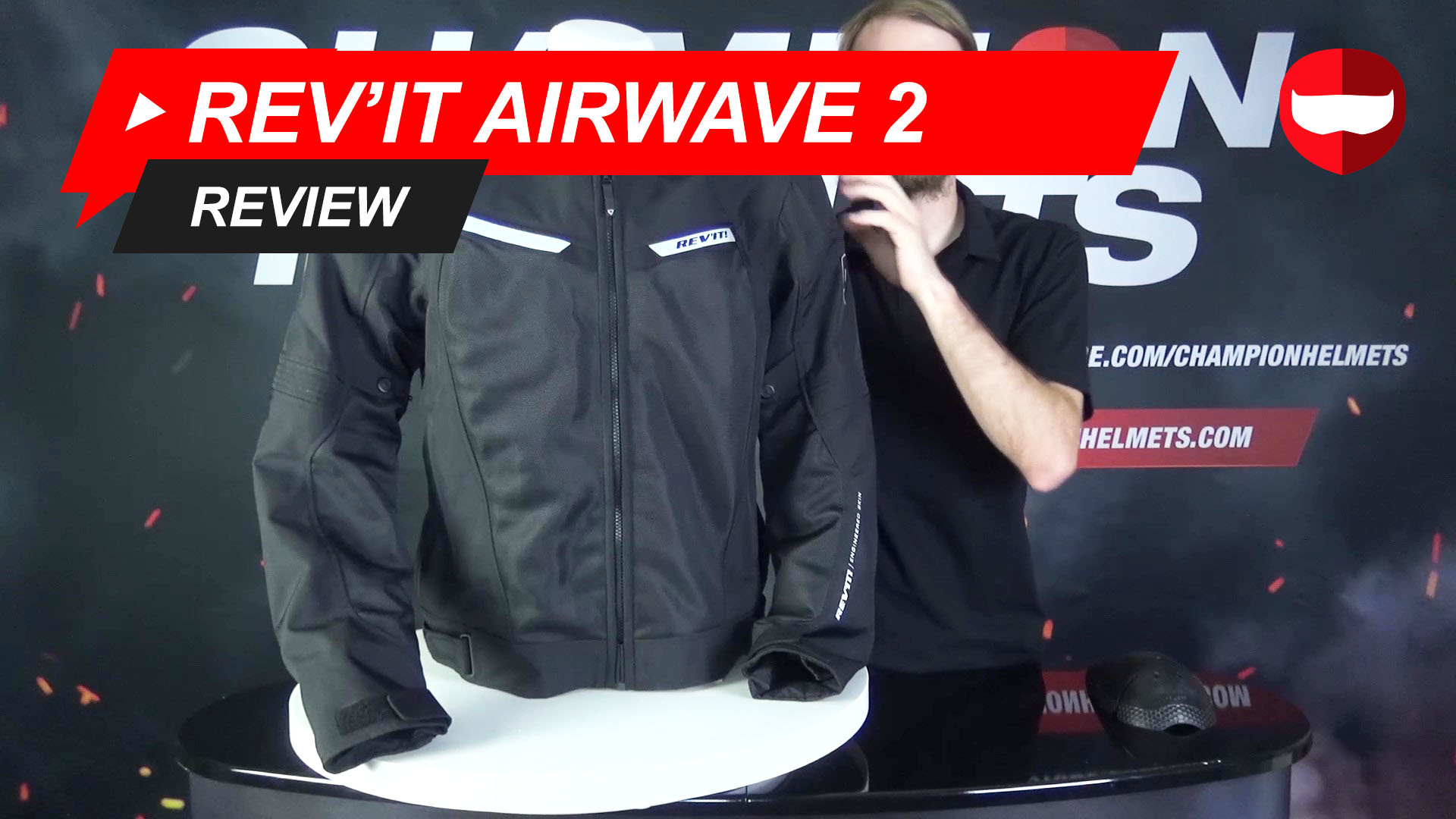 Hi Everyone, Kees here with Champion Helmets. Today we'll be taking a look at a jacket that is meant to keep you cool during those hot summer months, the Revit Airwave 2. Let's get started.
Revit Airwave 2 Review
As you can probably tell by the name, this is the second iteration of the Airwave Jacket by Revit. Coming in at a little over 200 dollars this jacket is designed to keep you cool during hot and warm weather riding while still providing you with some protection.
But before we get started, if you want to see any of our other dedicated jacket reviews, head on over to our YouTube channel and look under our jacket review playlist.
The Jacket
Taking a look at the jacket, we find that it is 100% textile, more specifically it uses high density polyester and Lorica. You also see there is a lot of mesh on this jacket, this is what gives the jacket such good airflow. There is mesh all up the torso, on both sleeves, and also down the back. The mesh is a tightly woven power-shell mesh, so it provides a lot of breathability while still providing a sturdy look and feel. And we also have one pocket on each side of the jacket, and those simply zip open and closed and have a mesh interior.
Protection
Moving on to talk about protection, we find removable Knox flexiform CE approved protection in the elbows and shoulders. I've taken one out just to give you a closer look. It's very flexible so it remains comfortable, and it has 12 holes in it so that it remains breathable. There is also an insert for an optional Seesoft level back protector type RV, but this back protector is not included with the jacket, though it's nice to know the option is there. And while we're on the topic of safety, this jacket does have some reflectivity on all sides, you see reflective strips on the front, reflectivity around the Revitlogo on each sleeve, and a large reflective strip at the bottom of the back.
Adjust the Fit
The Airwave 2 offers quite a few areas where you can adjust the fit. Around the collar we have a snap in order to tighten or loosen that collar. It would have been nice to see a way to hold the collar open, especially since this jacket is meant to keep you cool. The zipper is autolocking, so it should stay in place wherever you put it, which is a nice addition. On the sleeves we have a snap on the bicep, and at the bottom of the sleeves we have Velcro adjusters around the wrist. Down on the waist we see a large synch on either side so we can make sure it is tight and comfortable around the waist. The inside of the waist also has a belt loop and a 7 inch connection zipper to attach the jacket to any Revit riding pants, which will work to prevent the jacket from coming up in the event of a crash.
Inside
Finally taking a look inside the jacket, there isn't much to see, we find some basic mesh and some pockets. It would have been nice to see a waterproof liner, or at least the option to insert a waterproof lining, but at this price it is excusable. The jacket does have the option to zip in Revit's challenger cooling vest if that is something you are interested in inserting.
Conclusion
Remember, if you are interested in purchasing the Revit Airwave 2, head on over to our website at ChampionHelmets.com and visit that product page where you can earn 5% champion cash back, free shipping, and the lowest price guaranteed.
The Airwave 2 is a good jacket for the price. You are getting a light jacket, with excellent ventilation and airflow, that is sure to keep you cool during those hot and warm months, while also giving you some protection and making you look pretty cool. If you have any questions about this jacket please leave them in the comments section below, and if you like this video please subscribe to our channel for more content. Once again, my name is Kees with champion helmets, and I hope to see you again soon.