Posted on
By Kees Klippel
Posted in 2019, 2020, boots, Champion Helmets, Championhelmets.com, Discovery, English, Livestore, Review, Revit, Revit Discovery H20, YouTube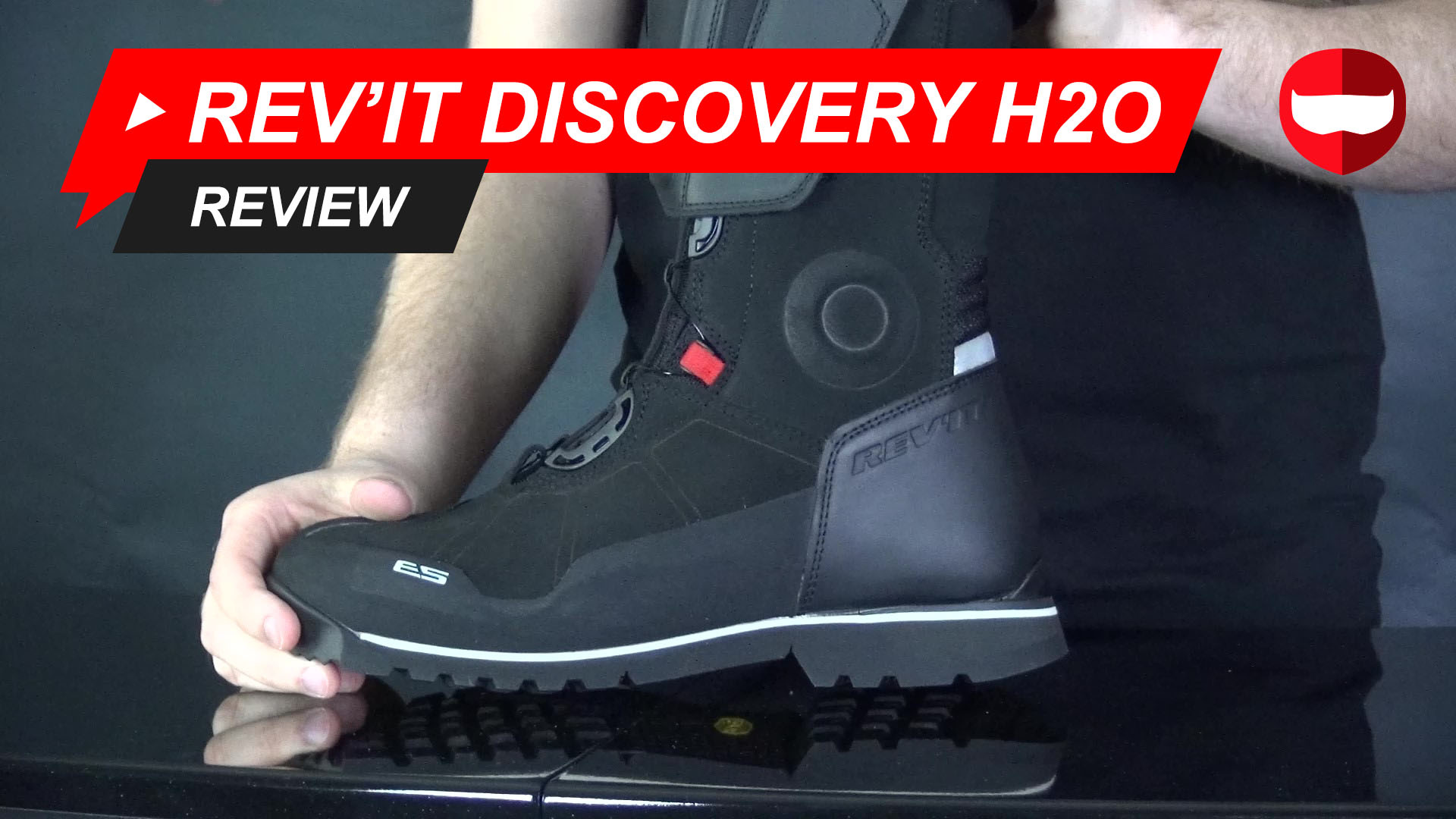 Revit have revitalised their ultimate adventure boot with the Discovery H2O, so we're going to review it.
Revit Discovery H2O Boots Review
The Revit Discovery Out Dry was a very popular, high end adventure boot but they have done away with the Out Dry weather proofing. Now instead we have the H2O version and this uses the Hydratex material, which is Revits own take on waterproofing. Now this boot doesn't look much like an adventure boot but believe me, it is. Instead of the stand out protection we get on other adventure boots, we have something that looks much sleeker, with armour that is more hidden. Now this premium boot comes in at 500 USD or 380 Euros at the recommended retail price. This places it as one of the most premium adventure boots both on and off the road.
Before we head into this review, make sure that you guys check out our Live Store. In Episode 9 we looked at this boot, as well as other adventure and touring boots. You can watch that back if you want to know more about these kind of boots and make sure you join us in the next Live Store. You can find more info at championhelmets.com/livestore.
Sole
There's a lot to talk about on this boot so I will start off with the sole. This is a Vibram sole, which is made by a third party company, well known for the quality. First of all, this sole is tough. It has multiple sections that can be replaced and these have different densities to protect against a larger range of impacts. You can see it best on the heel, where we actually have 5 layers here, each with a different density. Then for the tread we have different areas. At the toe and heel, there are some smoother areas for when your foot brushes the ground while riding. Then the main tread is big and deep, which gives you more grip when walking off road. The middle section is rigid though and lets you stand on your pegs comfortably plus gives you grip. Finally we have a shank for strength as we would expect.
Materials
Moving up slightly away from the sole, we get to the main materials. We have leather on the heel at the back, to give us some abrasion resistance and wear resistance as well. Then we have this hard rubber material which serves as a hard to see sort of armour. It goes all the way around and becomes the shifter guard as well. You can see that it overlaps with the leather as well. Then we have suede over the rest of the boot which is softer and more comfortable. Plenty of double stitching as well so that nothing falls off.
Inside
Moving up the inside of the boot ever so slightly, we come to a grey suede material. This offers some grip against your bike and will also serve as a heat shield, protecting you from your engine. While we're here you can see this round section that stands out. This is an ankle protector and we have another on the other side of the boot. This gives us a little rigidity in this weak area, as well as impact absorption and abrasion resistance. On the inside there is a soft material so you don't have to worry about discomfort. Keep in mind though that this isn't really a full on ankle support system which protects your from twisting and so on.
Then up top and on the front we come to another piece of armour. This is covered in leather and the armour itself is a flexible shin guard. We can open this up by pulling it off of this Velcro here. On the inside it is soft for comfort and you can see that it has some give to it. Underneath we have the BOA system which acts as your laces. No zipper, no buckles. Instead we have this system that's easy to use. To tighten it you just twist it. To release it you pull it out and this gives us an easy to use system that is also tough and subtle.
Liner
If we open this up again we come to the inside of the boot. The liner is a 3D mesh lining. This gives you comfortable padding as well as air movement. Then we have silver ion in the lining as well which makes it stay fresher for longer because it is antibacterial. A big feature though is the Hydratex membrane which is Revit's own type of waterproofing. This is the main difference between the older Out Dry version and the H2O, and this offers strong waterproofing, as well as breathability.
Conclusion
If this boot is the kind of discovery that you have been looking for, then head to championhelmets.com. We offer a lowest price guarantee, free shipping and a 5% Champion Cashback, so make sure to check that out.
This Revit Discovery H20 is a strong adventure boot, despite the fact that it looks a lot more like a standard touring boot than others on the market. But we have plenty of safety, strong weather proofing and a comfortable boot that holds up on and off the road. A true, adventure boot then. Now if you guys enjoyed this review then subscribe to us on Youtube because that's the best way to see more like this. Alright so that is it for this review, thanks for watching everyone.