Posted on
By Kees Klippel
Posted in 2019, 2020, Champion Helmets, Championhelmets.com, Comparison, English, Evo One, Livestore, Review, Shark, Shark Evo 2 vs Shark Spartan Carbon, Shark Evo One 2, Shark Spartan Carbon, Spartan, YouTube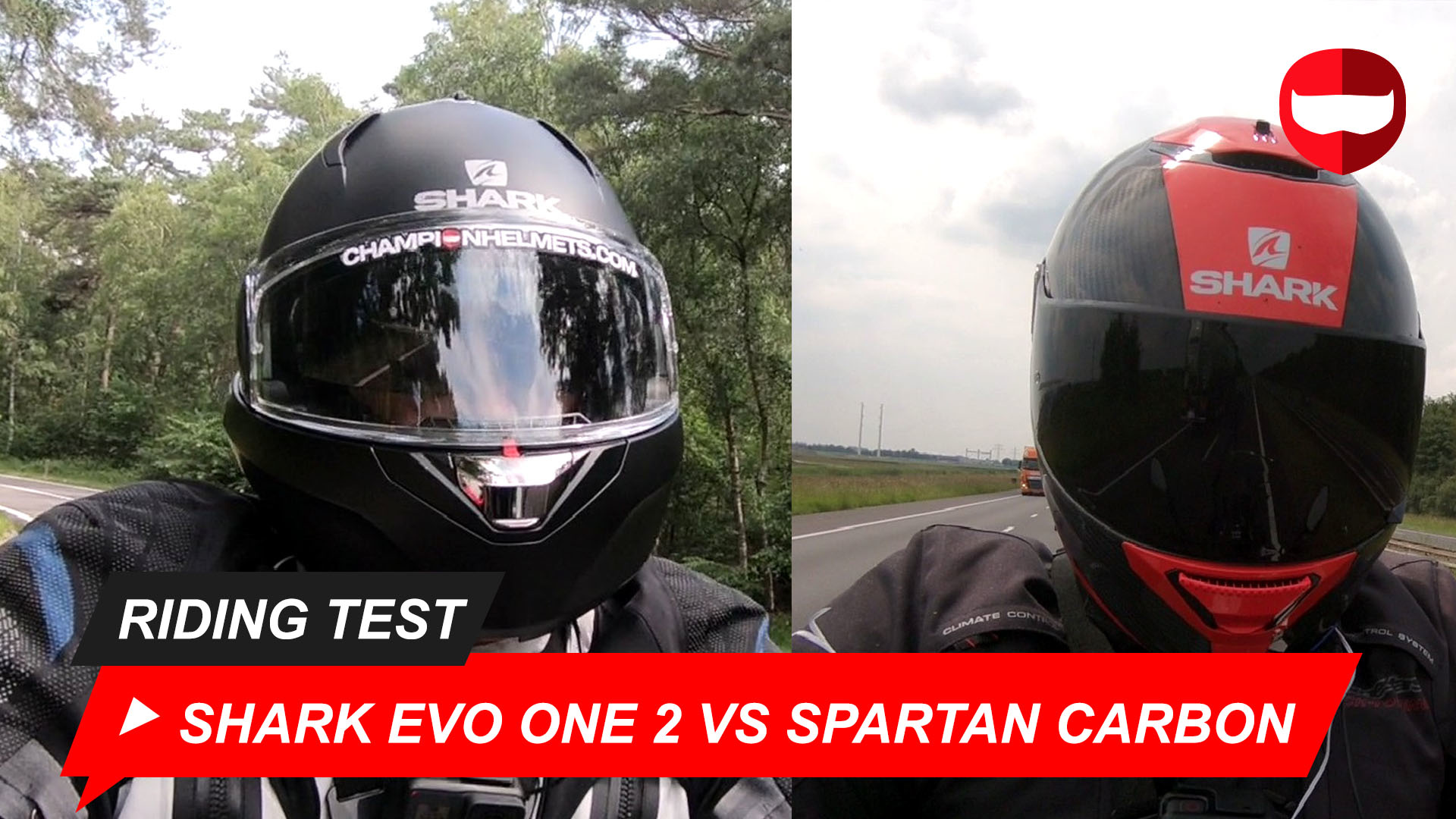 Hey there everyone, Kees from Champion Helmets here, and today we'll be putting two siblings to the test, the Shark Evo One 2 and the Shark Spartan Carbon.
Shark Evo One 2 Vs. Shark Spartan Carbon
Shark Evo One 2
To start with some general specs for the Shark Evo One 2, it's a modular helmet that can go all the way back. The shell itself is made of Polycarbonate, weighs 1700 grams, and comes in 2 sizes. The visor, it is anti-scratch, has an anti-fog pinlock, and has a wide field of vision. The visor also moves smoothly to the upright position, which is important in a modular helmet.
It also comes equipped with a vent in the chin, 2 in the brow, and an exhaust in the rear spoiler. The helmet also has a sun visor operated by a slider on top for those sunny days. Finally, the liner is removable and washable, with a micro ratchet chin strap, and can fit a communication system. If you want to know more about the Evo One 2 make sure to check out our full review of the helmet on our YouTube channel. So, with the general specs over with, let's see how this helmet did on our riding test.
Before we go over how the helmet did, just a quick note on how we measured our data. On the left monitor, we're taking the helmet's internal temperature in degrees C through a sensor placed by the ventilation channels. The middle screen is where we're measuring the noise in  decibels inside the helmet with a microphone placed by our rider's ear. On the right, you can see a phone with the windspeed in km/h and, finally, on the dash is our rider's speed and the outside temperature.
Roadtest
So how did the Shark Evo One 2 perform on the road? We found the average outside temperature was 26 degrees C and the average windspeed was around 125-130 km/h. The thermometer inside the helmet showed an average of 31 degrees C. This means that there was a 5 °C difference between the outside and inside temperate proving the ventilation was not particularly effective. I found this to be a bit disappointing. However, the helmet's noise reduction showed a much better result with 102 decibels inside the helmet driving at 130 km/h, which is good for a modular helmet, though we can find quieter helmets including the very high end modular helmets such as the Shoei Neotec 2 and the Schuberth C4. We can say that the Evo One 2 did quite well in noise isolation. So, overall, mixed results, but let's see how it compares to Spartan Carbon.
Shark Spartan Carbon
First, just a few general specs. The Spartan Carbon is a Full-Face Sport-touring helmet and the shell is made of carbon and fiberglass, which makes it both light and durable, weighing about 1300 grams. The visor comes with pinlock in the box and the helmet is equipped with a sun visor, controlled by a slider on top of the helmet. If you want to learn more about the Spartan Carbon, make sure to head over to our dedicated review of the helmet.
Roadtest
Now, let's see how the Shark Spartan Carbon performed on the road. We collected data while travelling at an average speed of 130km/h on long stretches of highway with the windspeed varying between 125-130 km/h, and the average outside temperature was about 20 degrees C. So, pretty good conditions for a fair comparison. During the ride, we clocked interior temperature at slightly below 22, a fairly small difference of only 2 °C to the outside temperature. So when it came to ventilation the Spartan Carbon performed really well. For noise isolation, our measurements showed an average of 104 decibels, which is pretty loud, which our rider also confirmed. Although it is just 2 decibels louder than the Evo One 2, this small difference is still very noticeable in this range. So we can say that Noise isolation was a little weaker on the Shark Spartan carbon.
Comparison & Rating
Now for the moment we've all been waiting for, let's see how the two helmets stacked up. I must admit, it was a very close race, but before giving an overall verdict, let's see how many stars each got. The Shark Evo One 2 is a pretty heavy helmet, and being made of polycarbonate and with only two shell sizes, we decided on 2 stars for the material and 3 stars for the weight. Though being made of carbon did help the Spartan Carbon, the offering of only 2 shell sizes brought it down to 3.5 stars for material, but the carbon fiber came back swinging to give the helmet 5 stars for weight. Despite the Evo One 2's weight, we did like the visor, as it gives you a good field of view and has pinlock in the box, and, since the Spartan Carbon has the same features, they're both tied at 4 stars each. The noise isolation was fairly average for the Evo One 2 so that gives us 3.5 stars while the Spartan Carbon performed more poorly, leading to 2 stars in the noise isolation category. Since the Evo One 2 helmet was hot, its score did take a hit resulting in 2.5 stars for ventilation and 3.5 stars for comfort. This brings the Evo One 2 to a grand total of 3 stars and, with a recommended retail price of about 330 euros (or 365 US Dollars), that gives us 21 euros per star. While the Spartan Carbon performed much better with 3 stars for ventilation and 4 for comfort, the noise isolation proved a big sticking point which gives it a total of 3.5 stars and, with a recommended retail price of around 355 euros (392 US dollars), the Spartan Carbon gives you 17 euros per star.
So, what does all this data mean? Well, we would say it's the Spartan Carbon scored better overall. Not only did it get half a star more than the Evo One 2, but, despite the slightly higher price tag, it gives you a greater value for money with 17 euros per star. The Spartan would be the more all-round helmet which you will see on different types of bikes, both touring, sport and even naked bikes. While the Evo One is more tailored to Touring. So it ultimately really depends on your riding style.
Conclusion
If you're interested in purchasing the Shark Spartan Carbon or the Evo One 2, then make sure to head over to our website at ChampionHelmets.com where you can find the product in a variety of colors as well as our bundle deals. Remember, we have a lowest price guarantee, so, if you find either of these helmets cheaper elsewhere, make sure to send us an email and we won't only match the price but we'll give you a better deal too.
So there we have it, the battle of the Shark Evo One 2 and the Spartan Carbon is over with the Spartan Carbon declared the winner. Though it was a loud helmet, it will keep you cool, it's light and durable, and has good vision. If you decide to purchase the Spartan Carbon from our store, remember that if you find it anywhere else for less, we will match the price. Thank you all for reading, I'm Kees from Champion Helmets and I'll see you next time.