Posted on
By Sebastian Sirotin
Posted in Comparison, Full-face helmets, GT AIR 2, GT AIR II, Guide, Helmets, motorcycle helmets, road test, Road Tests, Shark, Shark Spartan, Shark Spartan GT, Shark Spartan GT Carbon, Shoei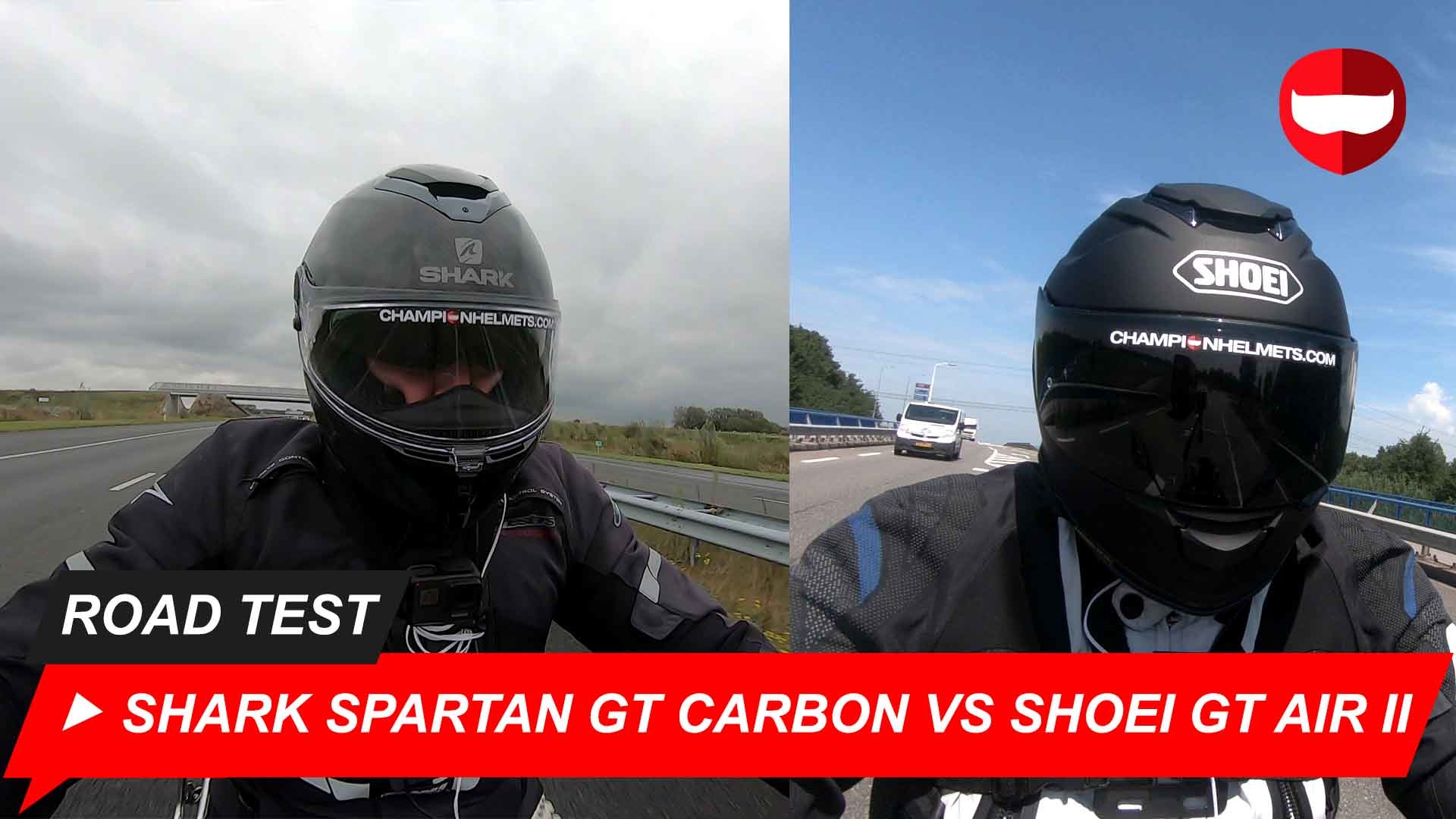 Today, we'll be comparing the Shark Spartan GT Carbon with the Shoei GT Air II on our road test, especially since both have such coincidentally similar names.
Besides both helmets sharing an eerily similar name, both are meant as higher end full-face sport-touring helmets. Both come in at about the same price as well since the recommended retail price of the Shark SpartanGT Carbon is about 480 Euros, or around 530 US Dollars, while the Shoei GT Air 2 comes in at about 530 Euros, or around 590 US Dollars. And, though we were tempted to include the original GT Airs, to have a maximum level of GTs, we decided against it. So, let's take a closer look.
Shark Spartan GT Carbon
The Shark Spartan GT Carbon is Shark's newest helmet in the Spartan line. This helmet, obviously, has a shell made of carbon fibre available in 2 shell sizes weighing in at about 1450 grams in a size M. For the ventilation system, there's one large adjustable vent on top, two small adjustable vents in the chin, and an adjustable exhaust vents in the back. The visor has a new locking feature that the Spartan Carbon doesn't have to improve safety. The visor is also pinlock prepared and in the box, not to mention this helmet comes with an internal sun shield. The liner of the GT Carbon is removable, washable, and anti-bacterial. This helmet also comes prepared for the Shark Prime Bluetooth communication set with grooves in the ear. So, let's test out the Spartan GT.
Road Test
When we tested the Spartan GT Carbon on the road it was 14 degrees Celsius and we had a wind speed of 100-115 km / h. As always, we test our helmet at a speed of 130 km on long sections of the highway. The inside temperature was 14-15 degrees, so that's a 1 - 0.5 degree difference to with the outside temperature. The noise measurement for this helmet was about 100-102 decibels, which is pretty loud.
Our driver found the helmet performed very similarly to the Shark Spartan Carbon, which was unexpected but he said it was comfortable to ride in.
Shoei GT Air 2 Specs
The Shoei GT Air II is one of the major players of the sport touring category (as opposed to the Neotec II which is mainly touring and is modular). This Shoei helmet a great all-around helmet that offers us a bit of everything while still delivering on quality, especially for noise reduction since it reduces noise very well. This helmet is made of Shoei's multi-ply matrix AIM material and organic fibers, comes in 3 shell sizes, and weighs about 1450 in a size M. This helmet comes with a large adjustable vent in the chin, one on top of the helmet and one in the chin, with the hot air coming out exhausts in the back. The visor of the GT Air 2 is sturdy, comes with an anti-fog pinlock, and has an integrated sun visor. The liner of the GT Air 2 is Shoei's max dry liner and is multi piece, fully removable, washable, and anti-bacterial and even has emergency release straps in the cheek pads. It's also got a multi-layer EPS liner to enhance it's performance. So, with that over with, let's hit the road.
Shoei GT Air II Road Test
We tested the GT Air on a sunny day with our rider travelling at about 130 km/h along long stretches of highway. The outside temperature was about 26 degrees and the wind speed was about 130 km/h. During the ride, the GT Air 2 performed fairly average for ventilation, since the interior temperature was about 27 degrees C, so one degree hotter. The GT Air 2 also did very well for noise isolation since we got a measurement of about 97 decibels. Our rider confirmed that it was as comfortable as Shoei had said. So, let's get to the grand finale and see how the two helmets stacked up with their stars.
Champion Helmets Score
For material, both helmets did well. The Spartan Carbon GT is made of Carbon and comes in 2 shell sizes, so that's 4 stars for the GT. The GT Air 2, being made of Shoei's AIM material and coming in 3 shell sizes also did well, bagging itself 4.5 stars. So pretty close so far. If we look at the helmets' weight, the Spartan GT did pretty well, getting 4 stars for a weight of 1450 grams while the GT Air 2 gets another 4 stars since it has about the same weight. For the visor, both do well since they're both pinlock prepared and in the box and give a good field of view, so that's 4 stars for each helmet. If we look at ventilation as well, both helmets performed with one degree difference so each gets 3 stars again. Now that we get to noise isolation though we really see the helmets diverge. Since the GT Carbon got a result of 100-102 decibels, which was pretty loud, that's 2 stars. In contrast, the G Air 2 was about 97 decibels so that gives it 5 full stars. In comfort as well, the GT Air 2 outperformed the GT since the GT got an average 3 stars, while the Shoei received 5 stars. This brings the Spartan GT to a total Champion Helmets score of 3.5 stars and a Euro per star rating of 23, which is respectable though a bit on the expensive side. If we look at the GT Air 2, we've got a total Champion Helmets score of 4 stars due to its superior performance for noise isolation and comfort, giving it 20 Euros per star, giving it a better value for money than the Spartan GT.
If you'd like to purchase the Shoei GT Air2 or the Shark Spartan Carbon GT, then make sure to head to ChampionHelmets.com where we have a lowest price guarantee and bundle deals with visors on both helmets.
Conclusion
So there we have it, the Shoei GT Air II did perform stronger than the Shark Spartan GT Carbon. However, being a more premium helmet, this is to be expected. Nonetheless, despite this higher price tag, the Shoei GT Air 2 gives a much better value for money with 20 Euros/star to the Spartan GT Carbon's 23, not to mention, the GT Air 2 had such a phenomenal result for both comfort and noise isolation.
If you'd like to learn more about how these two helmets stack up, be sure to check out our Shark Spartan GT Carbon vs Shoei GT Air II Road Test Video!