We got the new Shoei GT Air 2 into our shop and we gave it a few tests. A lot of people have been waiting a while for this premium full face helmet, us included. So when we finally got it into the store, we took a look at it, under it and inside to see just what it is made of.
Shoei GT Air 2 Review
We finally have our hands on the Shoei GT Air 2, so of course, we've reviewed it. The Shoei GT Air 2 has been a much anticipated full face helmet. We first saw it unveiled at the Shoei booth of Intermot 2018 and I have been waiting since then to get it into the store. This is going to be a premium all-rounder, full face touring helmet with a focus on versatility. The GT Air 2 also comes in at 600 USD RRP for a solid colour. The GT Air 2 is of course a sequel to the original GT Air and that helmet was pretty popular among riders, which is why we are excited to see how they've improved with their second version. We will be going into this helmet specifically for this review but if you want to see designs, comparisons and more of the GT Air 2, make sure to subscribe to our YouTube channel and stay up to date with everything GT Air related. First up now is the shell.
Shell of the Shoei GT-Air 2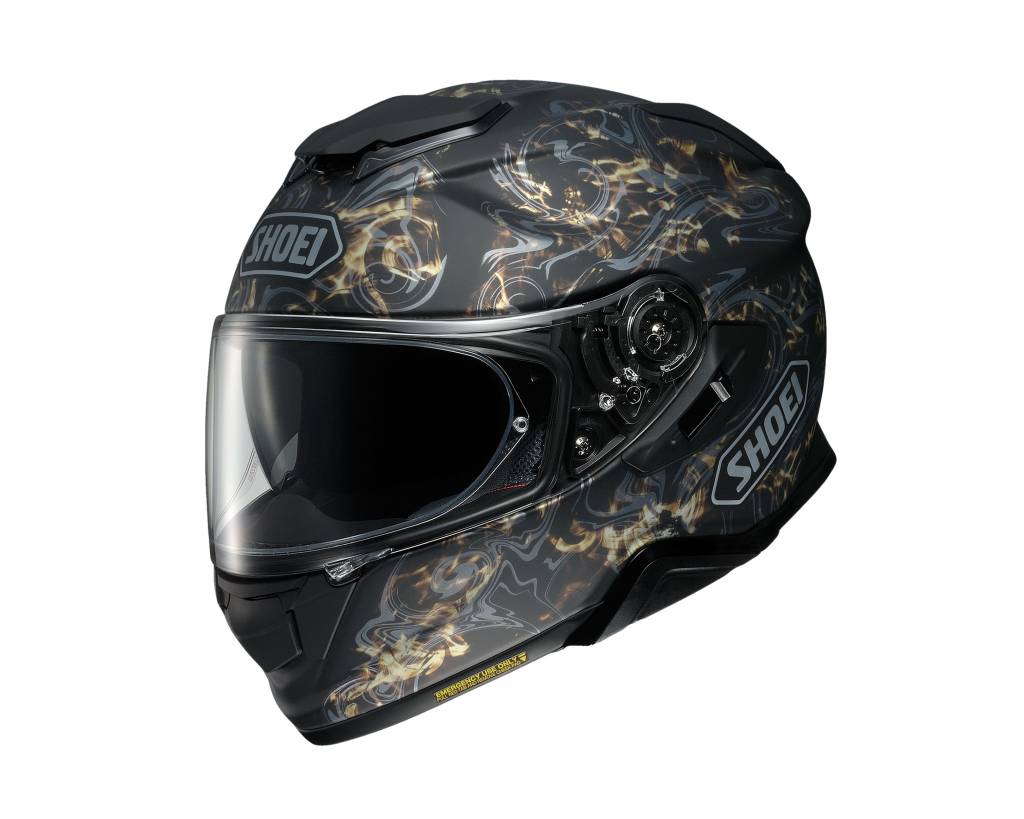 The outer shell is made of Shoei's Multi Ply Matrix Aim material. This uses multiple layers of fiberglass, organic fibers and resins in order to give the shell the toughness it needs to survive shocks. These materials also have the benefit of being lightweight which is pretty handy on a premium helmet. The helmet has not yet been tested by SHARP but the original GT Air only scored 3/5 stars which was disappointing, so we are hoping the GT Air 2 will perform better. It has been DOT and ECE rated though.
The GT Air II is available in 3 different shell sizes as well. So we weighed this GT Air II on our scales and it came in at 1.45 kg which is pretty good for a touring helmet with an internal sun visor and all of that. The size of the helmet we weighed was an M as well, just so you know.
Ventilation of the Shoei GT-Air 2
Down on the chin you can see some of the ventilation system. The chin vent is quite large and obviously this is good for airflow and this was improved since the last version. This vent brings air up onto the visor. It is the same story up top with upper air intake vent and it can of course be adjusted. The vents are easy to use with your gloves on as well. At the rear, the exhaust vents are always open and there are technically 5 of these around which will let hot air escape. So there are plenty of ventilation options on this helmet.
Visor of the Shoei GT-Air 2
To the visor now and there are a couple new things here. First of all, let´s start with the basics. It comes with an anti-fog pinlock lens in the box so you can just throw that on if you want to straight away. The visor is also Shoei's CNS 1, which is the same visor model as the original GT Air. The visor is easy enough to take off and replace as you can see. Then when you close the visor, it will actually be pushed into place by a spring. This is a big thing from Shoei and helps to really seal the visor shut. The visor can now be cracked to a city position as well which is pretty handy when touring.
The Internal Sun Shield 
Of course we have an internal sun shield that has been integrated into the shell of the helmet. You can use it with a slider on the side and the sun visor got some improvements to it. It is now a full 5mm lower and while it doesn't seem like much, it is a nice improvement. Basically it offers just a little more coverage than the original and plenty of people were asking for this. They've not removed any of the EPS to fit the sun visor in as well so it keeps it's protective value. You can see a raised section by the brow which I believe is to fit the sun visor. The design of this helmet is also sleeker when compared to the original GT Air and will block a little more sun glare.
The Inner Liner
I have taken the liner out and checked everything on the underside of the helmet but first we will start by looking at the liner. It is removable, washable and dries twice as fast as traditional liners, well according to Shoei. Overall the liner is pretty comfortable and does what it claims pretty well. There are multiple layers of the liner and you can pick up new cheek pads if you want a different fit or something like that. Overall there isn't much different from the last helmet and it was pretty easy to put the liner back in which I appreciate.
The Beep Test
I've also given the GT Air 2 our beep test. So for this test we want to see how much noise is blocked by the shell and this indicates how quiet it is. We are specifically looking at how this helmet blocks things like engine and environmental noise. As a helmet with a touring focus, it should do well here. Now the results of the test were a little bit disappointing. We made our control which came in at a score of 18 and then the GT Air 2 came in at 23. So we only blocked about 5 decibels. The Shoei Neotec 2 was able to block 13 decibels which is a major difference. So we can say that based on our testing, the amount of noise blocked by the GT Air 2 was disappointing. Noise reduction overall has been decreased with this helmet though because of their seamlessly integrated intercom system and aerodynamics testing.
The Communication System
Something that Shoei has been pushing lately is their partnership with Sena, the communication system brand and this is something of a controversial topic. We saw with the Neotec 2 that people didn't really appreciate this push towards Sena and that's because it is more difficult to attach 3rd party systems onto this helmet. The system on the GT Air looks like the Neotec II's but the GT Air is made specifically for the Sena SRL 2 system. It is a newer system and watch out for a review of the SLR 2 in the future. If you don't want or have a Sena SRL2, you can attach a 3rd party system onto this helmet. You just need to place it a little higher up and it can be something of a small inconvenience. The compartments here are made for the Sena system and it prevents bulky com systems from sticking out of the shell and impacting things like aerodynamics and noise isolation.
Summary Of The Helmet
Alright so now if we kind of round out everything left, there are a couple things. First the enclosure system is a stainless steel micro ratchet. A lot of people prefer the Double D ring system but we don't have that here. So this is I think because of the focus upon touring with the GT Air and while it functions as a sports helmet, it does kind of lean more towards touring because of little things like this. The inner EPS liner is also made out of multiple layers in order to absorb a wider range of impacts.
If you check the GT Air out on our website, you can scroll down and find the product bundles. So with this helmet you can get the Sena SRL 2 or you can get a free Dark Smoke visor (worth 60$)
So this has been the Shoei GT Air 2. I hope you've found this review useful and remember that you can find more Shoei helmet reviews on our YouTube channel. Thanks for reading.