What are the top Modular Helmets for 2019? This article covers only the best of the best high-end Modular Helmets. What makes each modular helmet earn a spot in this list? All this is clearly explained in this video and it gives you all you need to know to make a good decision.
Interested in buying a high-end Modular Helmet? I'll give you a quick run down on what a modular helmet is, just for you guys that are new or maybe as a refresher course. A modular helmet, or a flip-up, whatever you want to call them, are helmets that you wear on a motorcycle. They look just like full face helmets but they have the advantage of being able to flip up at the front here on the chin bar
So modular helmets have always been a compromise between the freedom and comfort of wearing an open face helmet and the safety and environmental protection of a full face. Historically, it has really been a case of not being that great at either but the 2019 modular helmets have done a pretty good job of bridging that gap. I will note though that most do have quite some way to go before they truly capture the advantages of both styles without the disadvantages. Some helmets also toe the line between open and full face helmets more than others. The Roof Boxxer Carbon, for example, is much more like an open faced helmet than a full face.
Without further adieu, here are our picks at Champion Helmets for the best modular helmets of 2019.
Shark Evo One 2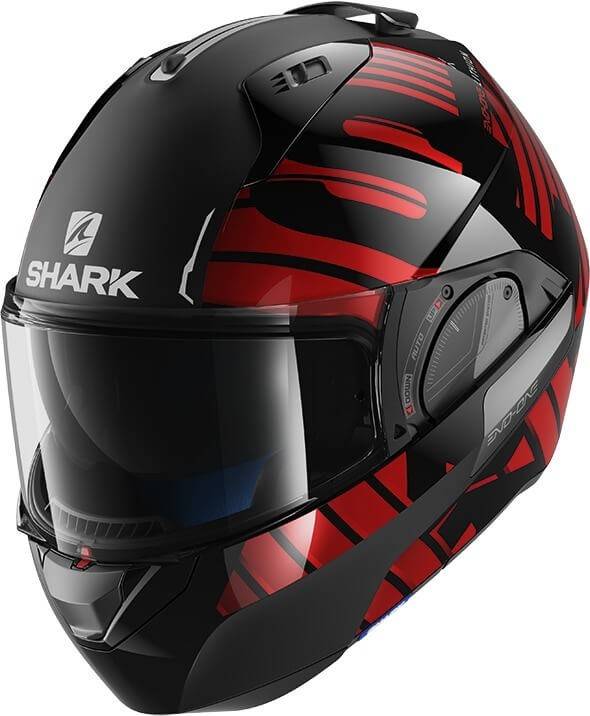 So if I start with the least expensive helmet, that will be the Shark Evo One 2. So the Evo One 2 has some pretty decent advantages to it. Now there are plenty of cheaper modular helmets in the world but none can offer the type of value that the Evo One 2 can. This helmet will give you a taste of those top end comforts plus it combines safety and build quality into what is essentially a great starters modular helmet. If you have ever tried out a low cost modular helmet you will probably know that they take all the disadvantages of an open faced helmet and then slightly minimise them. The Shark Evo One 2 has taken a punch at some of the helmets that sit higher on our list despite being in a much lower weight class. That being said there were some small compromises made to do this. The shell is made out of a polycarbonate, which isn't bad but not as good as some of the more advanced shells of the others, plus the sound and weather proofing and general comfort isn't as good. Plus the chin bar retracts all the way to the back of the helmet so that when you "aren't" riding with it up, so it won't cause much drag. The Shark Evo One 2 is a great value or budget modular helmet that will do everything you want from a more expensive helmet. It comes at a price point of 378 USD and everything will be done in USD just for a simple comparison.
HJC RPHA 90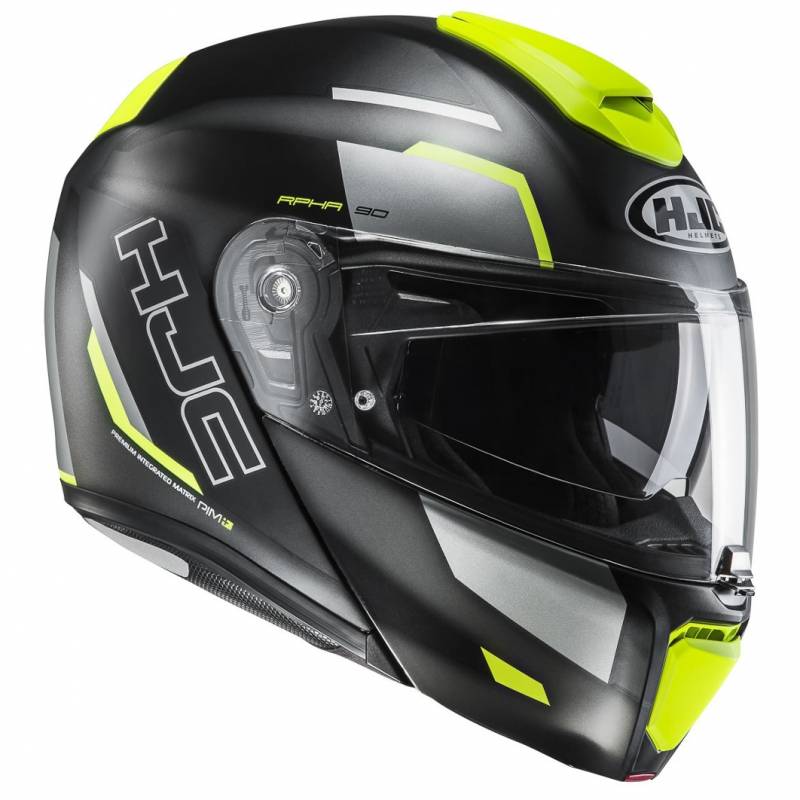 The HJC RPHA 90 is a step up upon the Shark Evo One 2 in everyway, including price. This helmet is a little more expensive but it again competes better against the Shoei and Schuberth heavyweights of the modular game. This is an all-rounder helmet, so it will be tough, stable, quiet, light and easy to use. If we compare it to the Shark Evo One 2, you will notice that it is just a bit better in everyway but the chin bar only comes up to here. So the price difference is well justified and I would feel comfortable calling this the Neotec 2's little sibling. It hit's almost as hard but is still a featherweight in terms of price but only barely. It has a nice clean design though and definitely doesn't look out of place when compared to some of the harder hitting helmets for 2019. It comes at a price point of 453 USD
Roof Boxxer Carbon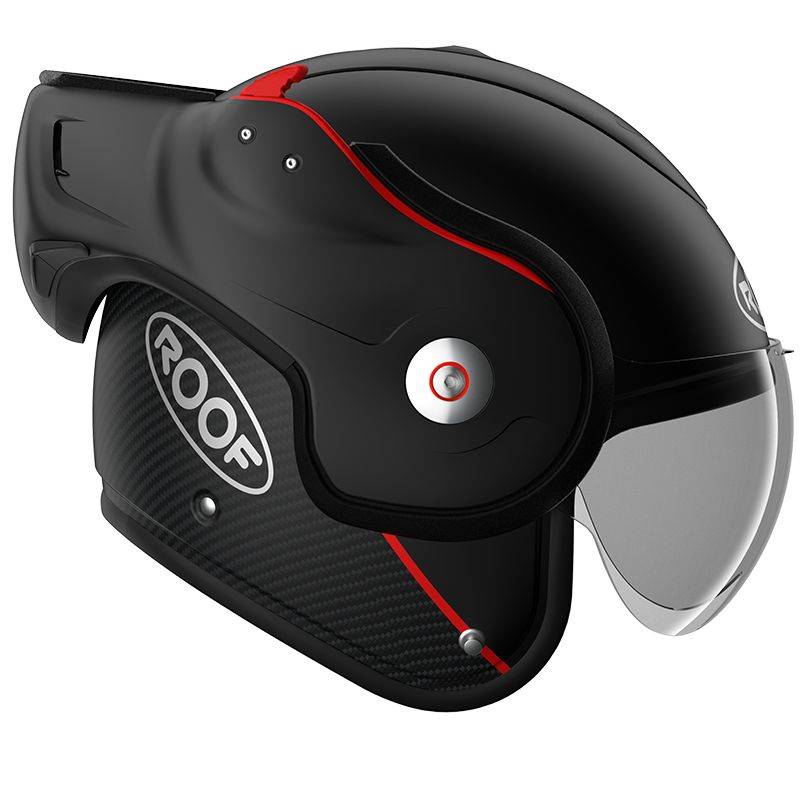 Here we have the most stylistic helmet of 2019. Let's be fair though, this helmet has looks going for it and not much else. That isn't bad though. There are plenty of people who want this and really love their Roof Boxxer Carbons. It all comes down to what you want. The Boxxer has a chin bar that retracts all the way back but while the Shark evo One 2 looks like your dad's helmet when the chin bar is up, the Boxxer looks stylish and impressive. For the price, the quality is lacking, although it is a definite improvement over the older Roof boxer V8. The Boxxer Carbon also leans more towards the open face helmet category, the most in this list, and that is because it can be worn while riding in the open position. This will make sure that you look legally as good as possible and all things considered, the lack of environment proofing has probably been a result of this decision. In this context the Roof Boxxer Carbon is a heavyweight in it's own category, rather than being an all rounded modular helmet. It comes at a price point of 500 USD.
Shoei Neotec II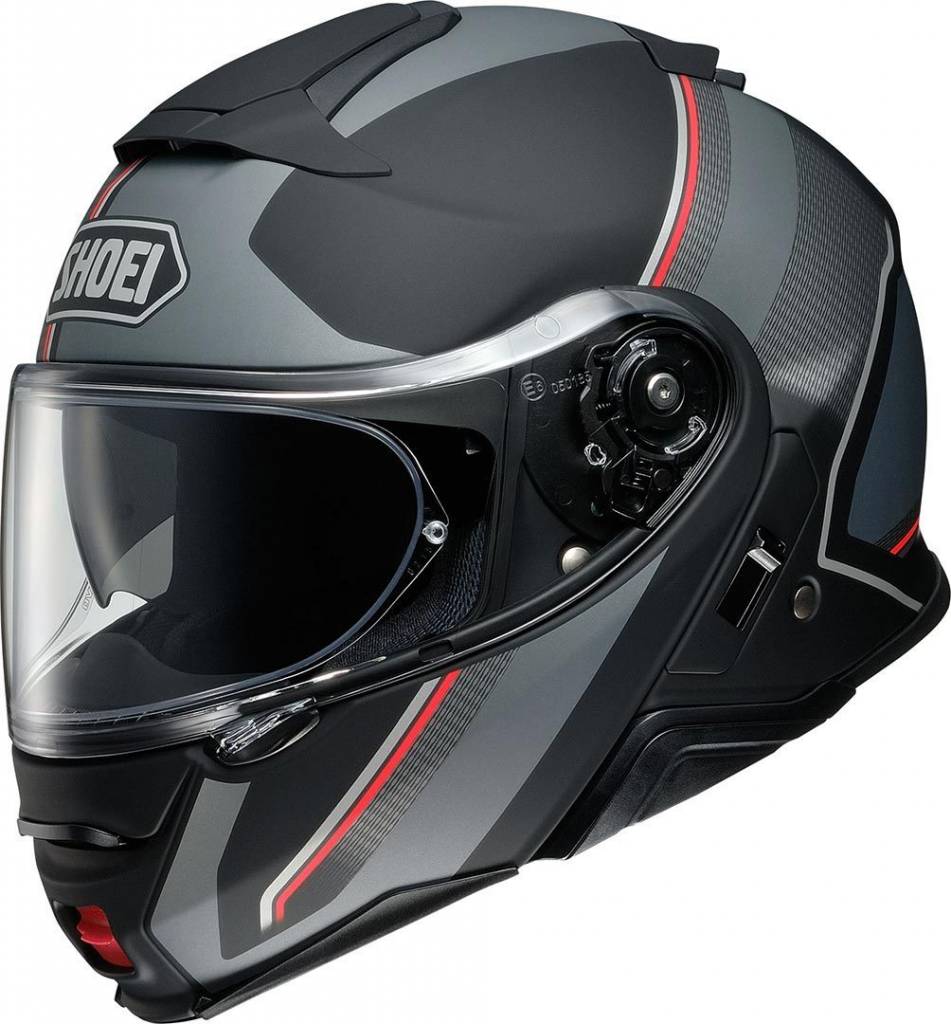 This is it everyone, the Shoei Neotec II. This helmet stole the title from Schuberth for quietest modular helmet and really upset the world of modular helmets. The Neotec II improved by leaps and bounds upon the original Neotec and has taken the world of modular helmets by storm as a top quality helmet. For many people, the Shoei Neotec II is their favourite modular helmet because it does everything so well, except in terms of weight but you will pay for this. It is very quiet. You won't get this kind of silence out of any other modular helmet and this has influenced the comfort and the ventilation too. Shoei had to beef up these areas to make the Neotec II so quiet and it shows. It has top build quality and is just a powerhouse of a modular helmet. There is a reason that I compared the HJC RPHA 90 to this helmet. It is the undisputed champion of modular helmets. Now all this quality has one downside. It weighs about 1850 grams, which solidly places it at the bottom of our list of lightest modulars. The Neotec II is a top helmet with a plethora of features, titles and a price to match. It comes at a price point of 565 USD.
Schuberth C4 Pro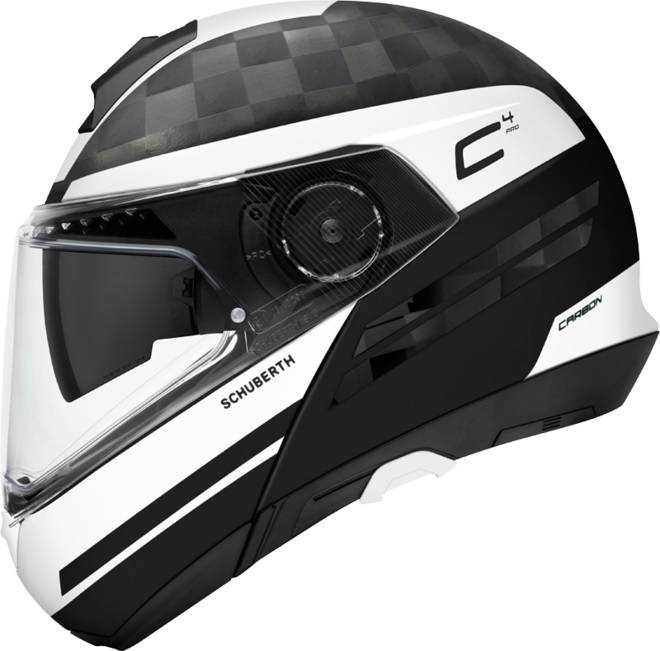 Schuberth missed the mark somewhat with their C4 modular helmet but they have struck back with the C4 Pro. The C4 Pro took what worked on the C4 and kept it, then changed what didn't work. The pinlock lens is much improved, the ventilation, noise isolation and build quality got much needed improvements and it came down a little in price. All up this has made the C4 pro a very competitive helmet that goes blow for blow with the Neotec II. A special feature of the C4 Pro is that it comes ready to go for a Sena com system, so it is essentially just a plug and go system. This is handy and just one of those luxuries that you get by paying top dollar for a top of the line helmet. The liners are really comfortable, the aerodynamics are top notch and it is a very quiet helmet. These top of the line modular helmets tend to lean a little more towards the full-face categories while reserving their modular chin bars for traffic lights and breaks between riding. This makes sense because there is a lot of effort that goes into making a modular helmet that can be comfortable, quiet, weather proof and useable. Schuberth is a top brand because it dedicates a lot of effort to these areas. Like the Neotec, the Schuberth C4 Pro is a heavy helmet, although it is a little lighter, but not by much. The competition between these 2 modulars is the real showdown of the modular helmet world. It comes at a price point of 566 USD.
AGV Sportmodular
Coming in at the most expensive modular helmet of 2019 in our guide is the AGV Sportmodular. This is a third contender for best modular helmet. It is a simple yet advanced helmet. It is made out of carbon entirely for the shell and weight has been a big factor for the Sportmodular. It weighs almost 1300 grams which makes it way lighter than the Neotec II or C4 Pro. To this extent though we have less luxuries than with those helmets. It looks just like how it feels, smooth. That is because it sits great on your head with strong aerodynamics and a good comfortable fit. AGV have taken some features from their Pista GP R full face helmet, like the lightweight design and added that to the Sportmodular. Something to note with the Sportmodular is that it lacks a pedigree. What I mean with this is that the Sportmodular is AGV's first attempt at a modular helmet. The problem with modular helmets is that they typically take some experience to make well and while AGV has plenty of other high quality helmets, it will be interesting to see how the Sportmodular holds up over time. Also the helmet is very light but what does that really mean? Will you really feel the weight if you ride for 45 minutes every Saturday? Most of us aren't riding for so long that the extra few hundred grams will make a large difference. It comes at a price point of 661, which is really high and it is a nice helmet but still.
Sportmodular, C4 and Neotec II
This is the same with the price for the Sportmodular, the C4 Pro and the Neotec II. If you only ride when the sun shines for a bit of fun, than these more expensive helmets will kind of not earn themselves back. If you ride an hour to work and then back again every day in any weather, then buying a more expensive helmet like these makes sense but if not, maybe you should save some money and get a HJC RPHA 90 or Shark Evo One 2. Those helmets aren't as luxurious but they will protect you well enough and keep the cost down on those top quality features that you may not use. They are all safe enough to use and it can be like buying a 1000cc superbike to cruise around town at 50km/h. My tip, is don't fall into the trap of buying the most expensive and best helmet around, because it may not be perfect for you. The Roof Boxxer Carbon could be your perfect helmet so why pay for a Sportmodular when you don't need to. These are not the cheapest helmets on the market but they are, in our opinions, the best in their own fields and for their prices or like the Neotec and the C4 Pro, the 2 strongest competitors.
Conclusion
So these have been our top modular helmets for 2019. I hope that this has helped you guys get your perfect helmet or at the very least given you something to consider. If you have any tips, recommendations or comments then leave them down below. That is the kind of thing that really helps the community out. Also if you have any questions, all you have to do is ask them and I will answer or you can contact us at Champion Helmets for a more personal conversation. Remember, the best thing that you can do is figure out exactly what you need and then make a decision. Take care!