Posted on
By Sebastian Sirotin
Posted in Beginner Gear, Beginner Motorcycle Gear, Beginner motorcycle gear tips, Dainese York, Dainese York Air, Dainese york D-WP, Entry-level gear, entry-level motorcycle gear, Revit Sand 3, Revit Vertex Jacket, Revit, Revit Jackets, Starter motorcycle gear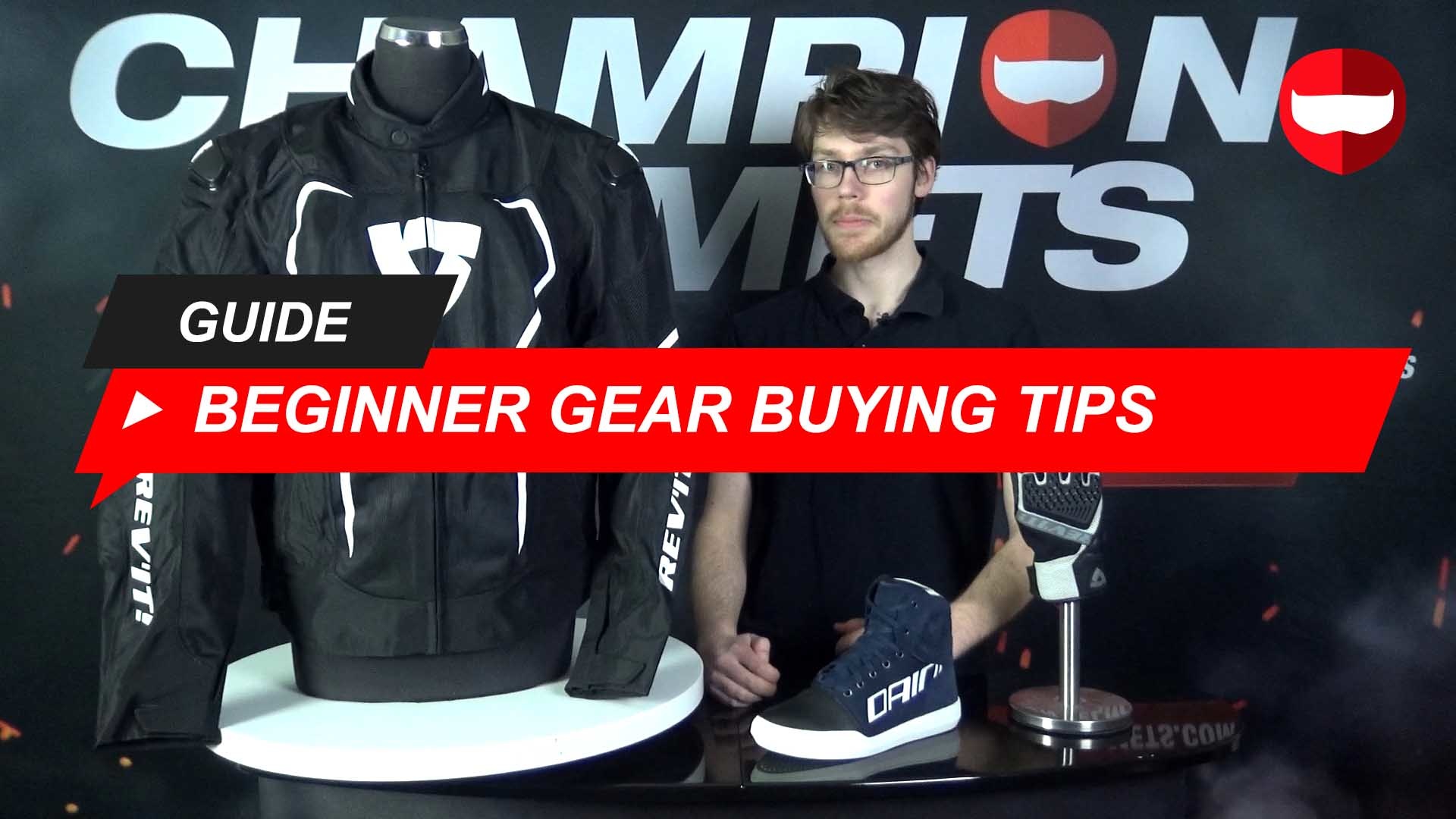 If you're new to riding and you're still trying to figure out what you should wear beyond a black leather jacket, then we've got a couple tips to help you out.
What to look for when buying beginner motorcycle gear
When you're first getting into the world of motorcycle gear, the first thing you'll run into is the dizzying array of different types, brands, and styles for jackets, gloves, boots, and pants. To make matters worse, these items can range in price from less than a hundred to over a thousand Euros. So, where is the best place to start? Well, we've gone through several key features that you may find helpful when you're looking for your own gear. And don't worry, we'll also include an example to illustrate.
We won't cover beginner helmets or best practices for buying online since we've covered both these topics in our Top 5 Entry-Level Helmets Road Test and 4 Tips for Buying Motorcycle Gear Online videos.
Beginner Motorcycle Jacket Tips
First, let's take a look at jackets and pants, since this is one of the biggest purchases other than your helmet and they generally come together as a matching set. In this case, the best things to look for, besides cost of course, is the level of protection on offer, the jacket's adjustability, and the jacket's versatility since you ideally want a jacket that you can use in a variety of situations to maximize the value for money.
If you stick around, you might begin to notice that versatility will be a recurring theme.
In this case, we've settled on the Revit Vertex Jacket and compatible Revit Enterprise 2 Pants as an ideal example of what you should keep in mind.
Style-wise, the jacket is neutral though it does fall a bit on the sportier end of the spectrum with full TPU protectors in the shoulders. But this means you can pair it with a variety of bikes and styles for riding through city streets. This jacket comes in two versions as well, so if you are strapped for cash and only plan to ride in the summer, you can go for the comfortable and lightweight Air version of the jacket for about 180 Euros, approximately 196 US Dollars. Or, if you want to maximize value for money and your riding time, you can go for the Vertex H2O for about 230 Euros (or about 250 USD), since it comes with a detachable thermal liner and a built in Hydratex-G liner. It would depend on when you're planning to ride, but the waterproof version will really let you extend your riding season so you can get as much riding and practice in as possible.
The jacket will also keep you protected, the outer shell is 600D polyester and it comes with CE level 1 SEESMART protection in the shoulder and elbows. The jacket is also prepared for the SEEFLEX CE Level 2 back protector.
You can also adjust it to help it fit your form and get better comfort when riding. You can find waist adjustment straps, a Velcro cuff, and a 2 snaps in the bicep.The jacket does have matching pants, the Revit Vertex GT Pants that you can connect to the jacket using a built-in zipper. These leather pants also feature CE level 1 protection in the hips and knees and have sliders in the leg. You can grab them at a discount in our product bundle but since they're a bit pricier and race oriented, we'd suggest something more like the Rev'It Enterprise 2 Trousers.
The Revit Enterprise 2 pants are textile over pants, that you can just slip on, adjust to your size, and they're also waterproof. For safety, they also include CE level 1 protection already in the hips and knees. They come at a recommended retail price of about 160 Euros, or about 180 US Dollars, so they're a versatile and budget friendly option for those who are just beginning.
Beginner Motorcycle Glove Tips
If you're just starting out, then the most important thing you'll want for your hands is comfort and plenty of protection. Let's face it, we all fall some time or another and at the beginning you'll want something that'll properly cover your hands for when you reach out to break your fall. You also want something that will keep your gloves at the right temperature. So, you should consider whether you want your gloves to be ventilated, waterproof, or insulated depending on when you're riding.
Since most people do end up riding in the summer, we've chosen the Revit Sand 3 Gloves as a prime example of a decent starter glove. They're coming at about 100 Euros, or about 115 USD and have tons of protection. These gloves are made of a mix of abrasion resistant goatskin and ventilating 3D air mesh which will keep your hands cool. The Rev'It Sand 3 gloves feature TPR inserts across the knuckle and the fingers, and there is additional reinforcement on the bottom of the palm. They also include a phone friendly fingertip to help take the edge off if you're at a traffic light and trying to sort out your GPS or your music. If you do end up riding in slightly colder temperatures, you can also always slip a pair of thin gloves or something similar underneath to keep your hands warm or you can purchase a waterproof and insulated glove like the Dainese Tempest D-Dry Gloves. Ideally, you may also want a longer glove for a bit more wrist safety, but this does mean the glove will come generally in costing a little bit more. But then again, who can put a price on safety?
Beginner Motorcycle Shoe Tips
For shoes as well, you'll definitely want to aim for versatility and a good level of protection since this area of protective equipment is very easily ignored. You need to be aware of what time of year you're planning to ride in for whether you want a pair of shoes that will keep your feet cool or if you want something that will be waterproof. Another consideration is looking into what options you get for protection. While a lot of shoes offer some basic ankle protection, you may also want to consider more advanced shoes with higher abrasion resistance and more reinforcement in areas like the sole, toe, and heel.
So, as an example of a basic shoe, we've gone with the Dainese York sneakers. While they are a little pricier than Revit's sneaker range at about 160 Euros, or about 180 USD, they do offer the option of either a waterproof shoe or a perforated air version. These shoes are mainly made of cowhide suede and they are CE Category 2 certified sneakers. They have rigid inserts on the ankles and a gear shifter guard that will help keep them from wearing out. The shoes don't have reinforcement on the toe or the heel.
If you're looking for more safety (and that's always a good idea) you may want to consider a different shoe like the Revit sneaker line if you want more protection. Revit will also save you a bit more money, we went with Dainese here thanks to the versatility of their line.
If you want something that offers the complete package of being even safer than Revit and is also waterproof, you can also take a look at the Dainese Street Darker Gore-Tex. These sneakers are both comfortable and the special rubber sole has been specially developed to provide grip and comfort. Though they do come at a recommended retail price of about 200 Euros, or about 220 US Dollars, they rank very highly for safety and are a worthwhile investment with a good guarantee of Dainese protection.
If you'd like to purchase any of the equipment mentioned here or take a look at our full collection, make sure to head to ChampionHelmets.com where we have a lowest price guarantee and plenty of bundle deals to help you save that much more! If you have any questions about the gear, make sure to reach out to us via our live chat on our site.
Summary
Overall, these suggestions all together should come in at about 650 Euros maximum (about 700 US Dollars) and they'll provide you not only with value for money but also much needed safety, which is incredibly important when you're just starting out.
A final word would be to also make sure to invest in high visibility equipment since it will only help in making sure other drivers notice you out on the road. If you're still curious about the gear we've mentioned, make sure to head and subscribe to our YouTube channel where we have our Beginner Motorcycle Gear Tips Video and the individual reviews of each piece of equipment.