Posted on
By Sebastian Sirotin
Posted in Casual Riding shoes, Casual Riding Sneakers, Dainese shoes, Dainese Street Darker Gore-Tex, Dainese Street Darker GoreTex, Dainese York Air, Dainese york D-WP, Dainese York DWP, motorcycle shoes, motorcycle sneakers, revit jefferson, Revit Shoes, Revit Taylor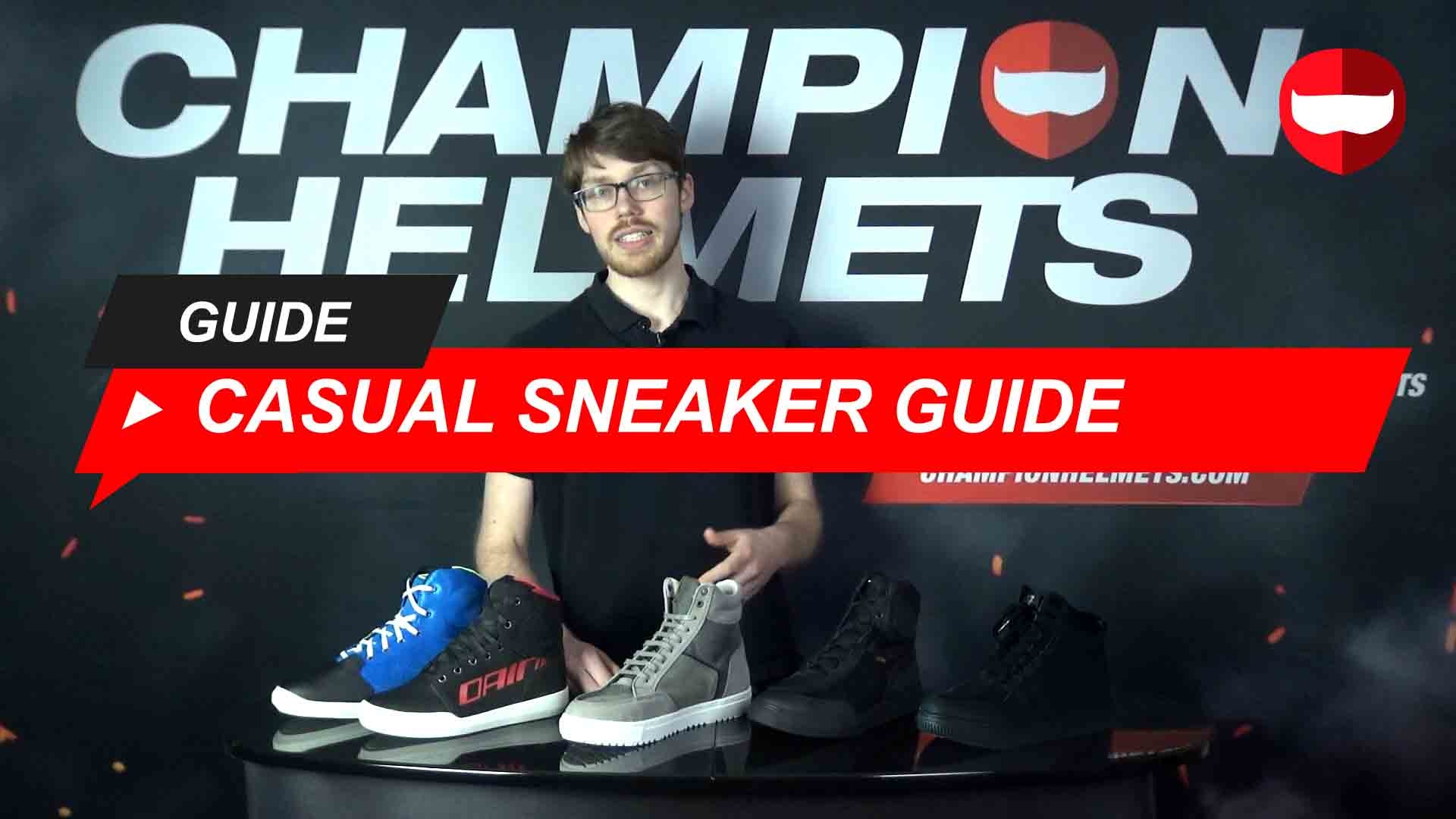 Want to look cool and still get some decent level of protection? Then welcome to our Best casual riding sneaker guide, where we'll be going over a couple of our top picks for sneakers that will actually offer some protection and still look great!
Casual Motorycle Shoes Guide + Video
With casual riding shoes, we've definitely seen the casual motorcycle gear segment really grow over the years and no where have we seen this more than in the abundance of motorcycle sneakers we've seen churned out by Revit, Alpinestars, TCX, and Dainese. These sneakers are focused on urban riders who are willing to trade a bit of style and convenience for a little bit of protection since these shoes do come with less protection compared to your standard motorcycle boot.
Though there are plenty of other shoes in the casual riding category, today we've stuck with just sneakers since these are still the most popular by far and we've mainly taken our selection from Dainese and Revit due to their high quality, good protection, and solid prices and we've chosen a range of styles, features, and prices. So today we've chosen the Dainese York, the Revit Taylor, the Dainese Street Darker Gore-Tex, and the Revit Jefferson sneakers
Dainese York Air and Dainese York D-WP
First off, we've got the Dainese York Air and Dainese York D-WP sneakers, the new version of probably one of if not the most popular sneakers in this category: the Street Bikers. These shoes come at a recommended retail price of 140-160 Euros depending on if you go for the perforated version or the waterproof version of the sneaker. Not only are these shoes versatile and extra stylish, but they're also bringing you CE Level 1 protection.
For material, these sneakers are made of cow suede to give them a soft feel and a normal sneaker look. For the waterproof shoe version, you also have an additional neoprene cover to keep the water from trickling down. However, underneath these shoes include a nylon heel cup and rigid ankle inserts, as well as a reflective panel at the back.
These are shoes that you'll have to break in a bit, but once you do they'll be very comfortable and the main drawback of these shoes is the lack of a hard toe protector.
Revit Taylor
Next up, we've got the Rev'It Taylor sneakers. These stylish sneakers from Revit are a little bit more out there in terms of style, but this does mean these high tops bring you plenty of protection and ventilation. These sneakers come in at a recommended retail price of 160 Euros, and are made of a variety of materials.
The heel, collar, toe, and the area around the shoe's laces is made of nubuck leather. Underneath the leather, you have suede leather along the sides and just behind the toe. Lastly, holding these different layers together, you've got ventilating Dynax mesh for abrasion and tear resistance and ventilation. These shoes also include thermoformed reinforcements in the heel and the toe as well as an injected ankle cup in the ankle to give you more effective protection.
While these shoes have seen some issues with fitment, being narrower, they do offer plenty of comfort and protection.
Dainese Street Darker Gore-Tex
On the fully waterproof end of the market, we've got the Dainese Street Darker GoreTex. These are great shoes and if there were any failings found in the Dainese York, then these shoes more than make up for it. Though the Dainese Street Darker GTX are coming at a recommended retail price of about 200 Euros, or about 220 US Dollars, they are meant to be high quality.
This model is constructed of a high tenacity polyamide fabric, with a breathable Gore-Tex membrane which offers robust protection from the elements. This means these shoes could even be worn all year long, if you wanted, thanks to their high tear and abrasion resistance and great waterproofing. For protection, these shoes also do better than most Dainese shoes in this category. They'll be coming with a nylon insole, reinforced TPU heel, TPU ankle reinforcement, and rigid ankle inserts all to bring these shoes up to CE level 1.
These shoes will also run narrower, so it may be a good idea to see if you may need to go for a half or full size up.
Revit Jefferson
Lastly, we come to the Rev'It Jeffersons. These sneakers are new to Revit's line for this year and we've already seen them flying off the shelves. These shoes are coming in at a great price (about 130 Euros or approximately 145 US Dollars) and have plenty in terms of protection.
These shoes are mainly made of a mix of nubuck cow leather and artificial leather for abrasion resistance, while the tongue and cuff are made of washed canvas where things are a little less exposed. For protection, these shoes include a thermoformed heel cup and a thermoformed toecap, which is a medium amount of protection for these types of sneakers.
However, some nice additional features are this shoe is partially perforated for ventilation, and it comes with an Ortholite insole for the anatomically shaped foot bed, and an extra pair of laces in a different color already in the box.
If you'd like to purchase the Dainese York, Revit Taylor, Dainese Street Darker Gore-Tex, or Revit Jefferson, make sure to head to ChampionHelmets.com where we have a lowest price guarantee. So, if you find them cheaper anywhere else, let us know and we'll give you a better deal.
Conclusion
That's it for our sneaker guide, you've seen a small selection of a variety of styles and features in these different shoes and by no means is this the end of the line in terms of casual riding sneakers, since there are simply so many. Though one thing to pay attention to would be to check the fit since most European companies like Revit and Dainese tend towards a narrow fit.
If you'd like to learn more about the casual sneaker category, make sure to check out our Casual Riding Shoe Video Guide.