Posted on
By Sebastian Sirotin
Posted in 4-season jackets, Dainese, Dainese Antarctica, Dainese Antartica, Dainese Antartica Jacket, Dainese Antartica Pants, Dainese Antartica Trousers, Dainese Jackets, Gore-Tex Jackets, motorcycle jackets, Review, Textile Jackets, Touring Jackets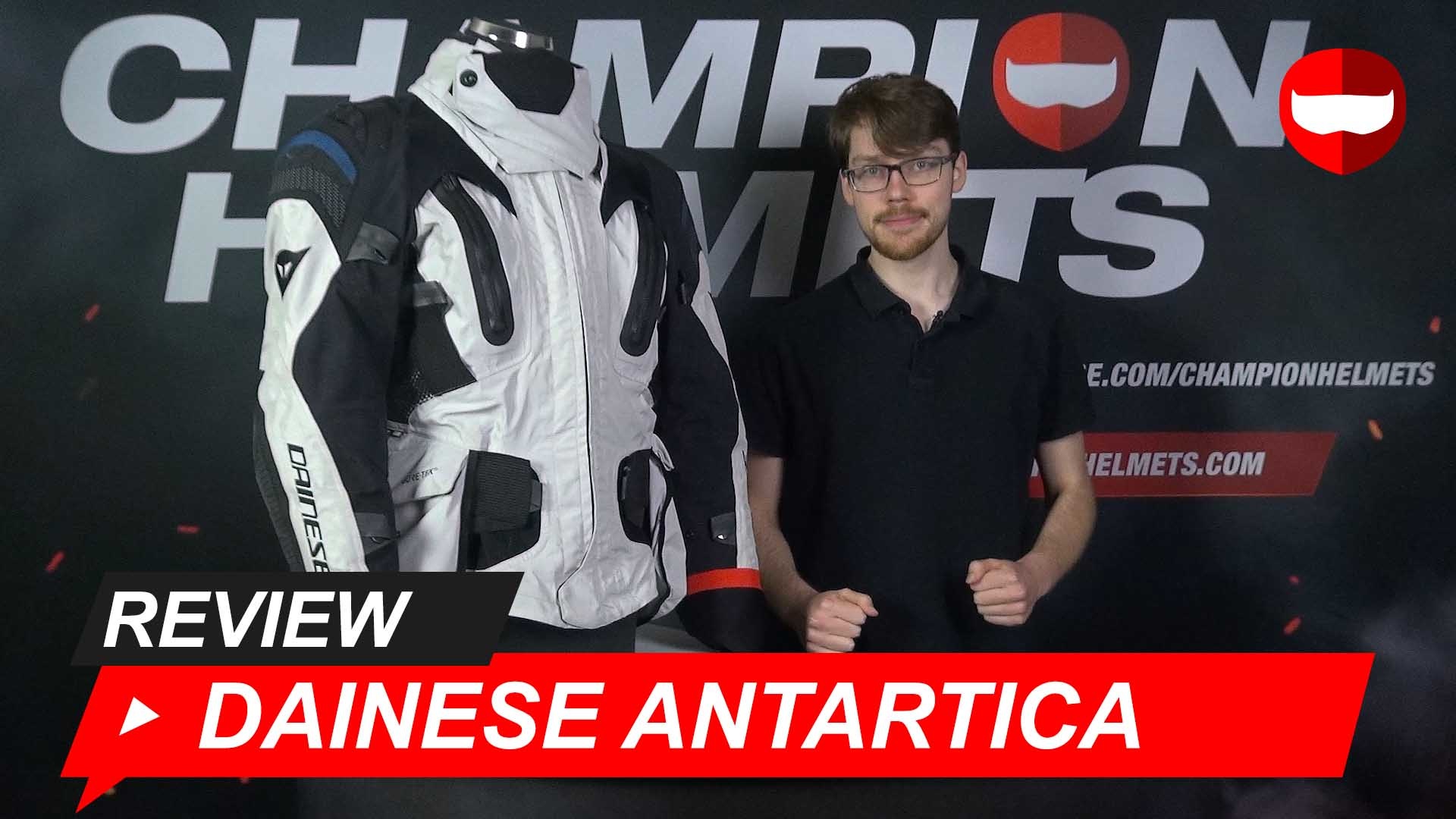 The Dainese Antartica jacket and pants set is one of the top pieces of touring gear currently on the market. So, we'll be running through how and why in our review.
Dainese Antartica Jacket and Pants Review + Video
The Dainese Antartica Jacket and Dainese Antartica Pants are about as premium as you can get for Dainese touring gear thanks to their waterproof construction, weatherproofing, and premium construction. So, for this review we'll first look at the jacket, before moving onto the Dainese Antarctica pants.
This Dainese Antartica Jacket is coming in at the top of the Dainese line and as always, Dainese have designed the jacket with extreme attention for detail. The jacket is built to keep you protected against the elements in 4 seasons with its removable inner goose down jacket, removable collars, and perfect ventilation in warmer situations. Not only is it meant to handle the weather, but long distances as well with its lumbar belt to reduce fatigue and tough outer shell.
The only downside of all these great features is that the touring jacket is coming at a recommended retail price of about 1400 Euros, or 1660 USD. This means the jacket will be competing with other top tier touring offerings such as the Revit Poseidon 2 GTX, Alpinestars Revenant, and the Klim Kodiak Jackets.
Material
The main material used on the Dainese Antartica Motorcycle Jacket has been Nylon 6.6, which is a highly abrasion resistant fabric to take care of any contact with the road. However, in the high abrasion zones of the shoulders and elbows, Dainese have also made sure to add their D-TEC TRIXIOR material.
This is the latest material coming from Dainese that's taking their great D-Stone fabric and beefing it up to be even more abrasion resistant, durable, and tear-resistant all while remaining flexible. All the things you'd want out of your touring jacket.
Another added feature of this material is that it also incorporates reflective threads that blend into the rest of the jacket's design while keeping you visible. All this means that the jacket is also prEN 17092 certified.
Safety
Since the Dainese Antartica Gore-Tex Jacket is coming at the top of Dainese's textile touring jacket range, it will also come with top safety. This means that it is coming with removable composite protectors in the shoulders and elbows, both certified to EN 1621.1 CE Level 2 and thanks to the Velcro inside, they are adjustable. To show that this really is top of the Dainese touring range, the Antartica even comes with a Pro-Armor Level 2 back protector included.
But if you want to further raise the jacket's level of safety, it is also prepared for a Dainese divided chest protector. The Antartica also comes with a jacket to pants zipper that won't just help keep the elements out but will also ensure that the jacket will cover you correctly if you end up on the road.
Comfort
Starting with the weatherproofing, of course, it's going to be top tier. So, you're getting a laminated Gore-Tex waterproof membrane straight in the jacket. If things end up cold and windy, there are neoprene gaiters in the sleeves, a removable long sleeve 700 fill goose down jacket, and a removable Stormguard collar.
The collar is made of the same tough waterproof material as the jacket with a neoprene trim and a large panel in the front to prevent any chafing. To remove it, you simply open the collar and unzip it.
Ventilation
If things do end up nice and you're riding in warmer conditions, then you do also have some options thanks to the 2 direct to body vent zips on the chest. These can be opened thanks to large top of the range Tizip waterproof zippers with a toggle is designed to be easily opened with gloves and easily used in riding. There are also elastic panels at the top, you can just tuck the toggles away while riding.
These are among some of the best waterproof zippers available and they define a new standard in keeping your goods dry.Since these are direct to body, you'll also be able to really feel the air flow through the jacket, thanks to the mesh interior.
To let this air out again, you have another waterproof zippered vent in the back, just above the rabbit pouch. Lastly, up top you have a collar snap, which will let you open that area up to let some additional air in.
However, given the number of vents, and their main focus on the chest, it would make sense that this jacket has definitely been designed with more of a cold weather focus rather than full all-season riding since you don't get quite so many vents as on the Klim Kodiak or even the Revit Poseidon 2 Gore-Tex.
Adjustability
To adjust the jacket, Dainese have added adjustment snaps in the forearm as well as the bicep and you do get a Velcro collar fastening to get a perfect fit. Though you don't get anything in the cuffs, you do have the neoprene, which will make sure that you get a wind proof fit without having to worry about doing up the Velcro as tight as you can.
Around the outside circumference of the jacket, Dainese have also included a kidney belt to help offer more lumbar support for longer rides and you can easily adjust it on the go, which is a really smart touch, since you usually see these belts on the inside of the jacket.
For storage, Dainese have also thought things through really well. First off, you get two cargo style pockets in the front, which are fastened with a snap and a zipper to make sure that they can keep the water out.
While we're talking about these pockets, there are also two snaps along the hem. Those are there since the outer pockets are designed to be semi-detachable, which means that even if you have items tucked away inside, you can partially detach them and not have any uncomfortable restrictions on your movement as you ride.
On either side of the chest, Dainese have added clever glove pockets where you can stick them underneath your arms without having to worry about them falling out. These open with a snap and a pull tab and they'll be these mesh pockets on either side of the chest. Lastly, in the back of the jacket, you get another waterproof rabbit pouch for keeping any additional liners or large items.
Interior
To open up the jacket, you first have a double headed zipper to undo with a Velcro tab at the bottom to just make sure that it doesn't scratch your tank. You then come to a waterproof flap to prevent any water leaking further into the jacket, followed by another zipper on the inside.
On the interior, you can there is the thermal liner, which can be worn both in the jacket or off the bike since it's fastened in with snaps. Again, this is a 700-fill power goose down jacket that will keep you warm on rides in the coldest conditions, so it is designed to keep you warm. Behind the liner now, you can also see the mesh interior of the jacket. Now, let's take a look at the Dainese Antartica Pants.
Dainese Antartica Pants
Now, we've got the Dainese Antartica Pants, meant to match with the Antartica jacket. This means you're getting the same high-quality construction, weatherproofing, and safety. Though, similar to the jacket, this does mean that the pants will be coming at a recommended retail price of about 800 Euros, or 950 USD. This means that they'll be competing with the Klim Kodiak, Alpinestars Revenant, and the Revit Poseidon 2 GTX Pants.
Material
The pants, like the jacket are made of the same tough Nylon 6.6 fabric with TRIXIOR D-TEC Engineered Textile fabric on the high impact areas in the knees and shins to ensure that these areas have the proper level of abrasion resistance. These panels, like on the Antartica Jacket, also integrate reflective threads for improved visibility on the road. These pants are also prEN 17092 certified.
Safety
For protection, the Antartica pants are equipped with removable composite CE Level 2 protectors in the knees and removable Pro-Armor CE Level 1 hip protectors, which are designed for flexibility and comfort. You also have a jacket to pants zipper in the back, which will also allow you to complete the Antartica set. So, nothing to complain about here since these are all top-notch safety features that Dainese have built into these pants.
Comfort
Again, these pants are coming with a laminated Gore-Tex waterproof membrane straight onto the interior of the pants, which will make sure you stay dry, and they also come with a removable thermal liner. However, for hotter weather, they also come with two large direct to body vents located in the thighs, which are opened with those nice big glove-friendly zipper toggles.
Adjustability
For fastening, the Dainese Antartica Trousers use a slide lock and a zipper with a gusset behind both to keep out any water, and the pants also come with a good set of options for adjustability. This means that you're getting quick adjust straps in the waist, the pants already come with suspenders included, and there is a zip and Velcro in the cuffs to allow you to fit the pants over your boots.
In addition to the Velcro, Dainese have also used the same clever neoprene construction in the cuffs as in the sleeves of the jacket to make sure you don't get any cold air coming up through the bottom of your pants.
The only thing that really is missing on these pants are pockets but given the number of pockets located around the Antartica jacket, this won't be as big of an issue.
If you'd like to learn more about the Dainese Antartica Jacket and Dainese Antartica Pants set, then make sure to head to ChampionHelmets.com where we have our lowest price guarantee and you can find the pants at a discount in a bundle deal with the jacket.
Summary
Overall, Dainese have done an excellent job with this touring set, making it a solid choice for if you are looking for a truly premium set that will keep you covered out on the road and in various types of weather.
If you're curious to learn more about the Dainese Antartica Jacket and Pants, then make sure to check out and subscribe to our YouTube channel where we have our Dainese Antartica Jacket and Pants Video Review.
 You can also find our data driven road tests where we head out with helmets on our test bike, measure their performance, and bring you back the facts.