Posted on
By Sebastian Sirotin
Posted in Dainese, Dainese Storm, Dainese Storm 2, Dainese Storm 2 Jacket, Dainese Storm 2 Jacket and Pants, Dainese Storm 2 Pants, Dainese Storm II Jacket, Dainese storm II Pants, Dainese Storm2, Rain gear, Raingear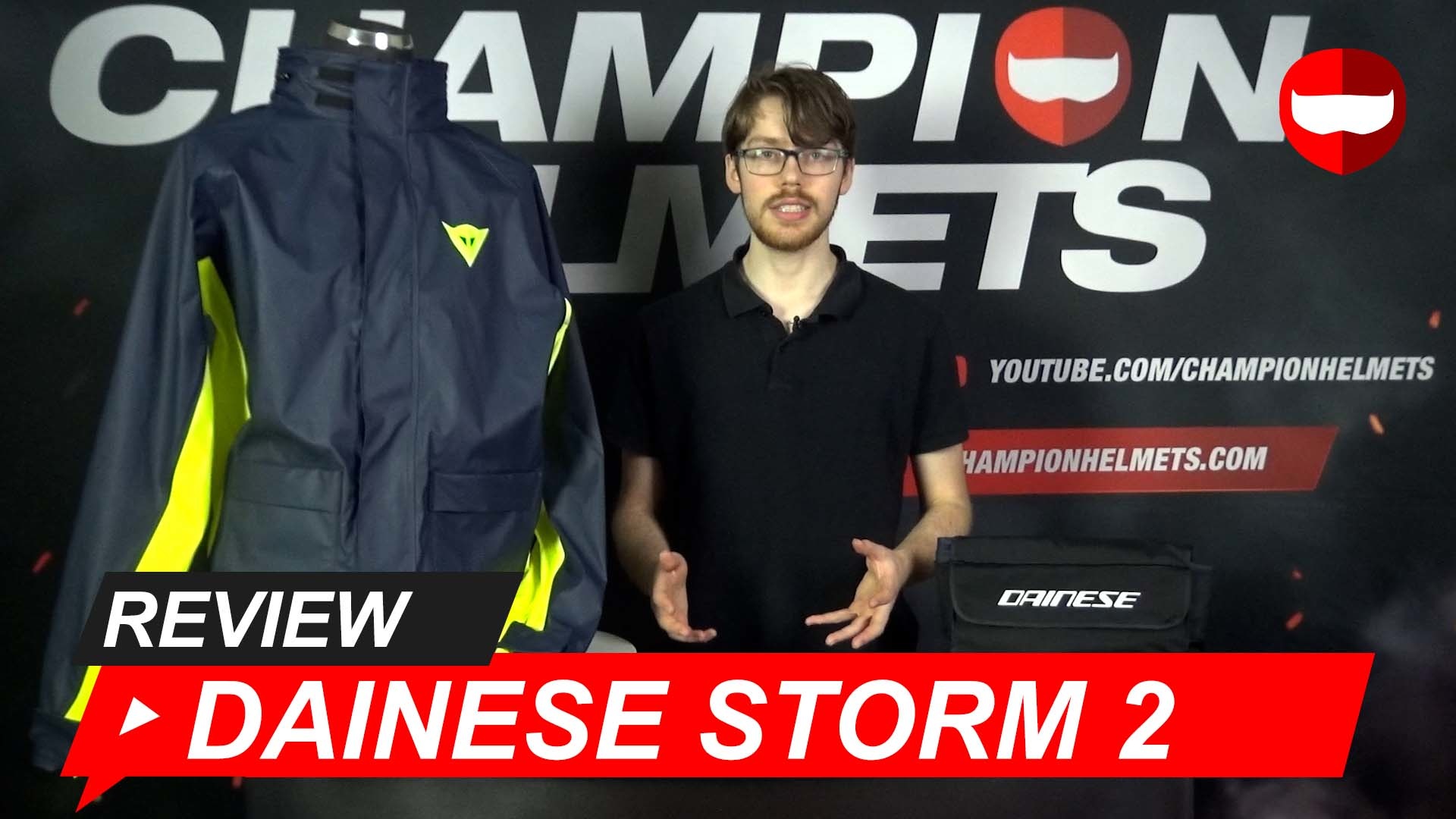 The Dainese Storm 2 set is the latest gear set from Dainese meant to fit over your standard gear to keep you dry when the weather turns against you. So, stick around as we run through it in our review.
Dainese Storm 2 Jacket and Dainese Storm 2 Pants Review
The Dainese Storm 2 Jacket and Dainese Storm 2 Pants set is the latest foldable waterproof layer set coming from Dainese. This waterproof layer is ideal for facing the toughest weather conditions if you end up caught in the rain and you don't have a waterproof jacket. An extra layer like this will come in very handy since it is generally an inexpensive solution to an uncomfortable problem, not to mention it is easily carried. Both are also coming designed to be packable.
So, we'll be running through the jacket, which is coming at a recommended retail price of about 110 Euros, or 130 USD, before moving on to the Storm 2 pants. The jacket and pants set will also be competing with the Klim Forecast, Revit Nitric 2 H2O, and Revit Cyclone 2 H2O rainwear sets.
Material
The Dainese Storm 2 Unisex Jacket combines extraordinary comfort with excellent weather protection thanks to the seamless ultrasonic welding 4-way stretch fabric construction. is made from a fully waterproof material with an ultrasonic welded construction to ensure that there are no seams, which will make sure the jacket does what it was meant to do.
While the previous Storm set came in a men's and women's cut, the new jacket is now unisex with a grey and neon yellow design to improve visibility. It also includes reflective inserts and hi-vis mesh fabric so the jacket has even been European EN ISO 20471 approved for high visibility clothing. Another improvement has made sure that the jacket is lighter and even easier to pack than the previous version.
Comfort
As far as fitment, this has been improved on the Dainese Storm II Jacket to allow it to fit more comfortably over your jacket. This means that they have included Velcro cuff adjusters in the sleeves along with improving the overall construction and there is a toggle around the neck of the hood to keep water out.
For storage, Dainese have added 2 pockets in front, and though they are not waterproof, their flap construction should help keep water out. As a final nice feature on the outside, the hood zips into the collar so that you can hide it away while riding and can pull it out when off the bike.
To unzip the Dainese Storm Two Motorcycle Jacket, you have a waterproof front zipper closure, which will make it easy to quickly slip into. Lastly, you also have an inner waterproof pocket for more sensitive valuables. Now, let's take a look at the Dainese Storm 2 Pants.
Dainese Storm 2 Pants
The Dainese Storm 2 pants will be offering a lot of the same features as the jacket as well as being foldable and lightweight so they can be carried on any outing for rapid access. This includes their high-quality waterproofing, ergonomics, and improved packability, all of which mean that it will be coming at a recommended retail price of about 80 Euros, or 90 USD, and it will be competing with the Klim Forecast Pants.
Material
The Dainese Storm 2 Trousers are made of the same waterproof material with ultrasonic welded seams to ensure that the water stays out. Just as with the jacket, Dainese have added reflective inserts and a neon high-viz strip down the leg, and it is lighter and more packable than the previous pants.
Comfort
The pants come with an elasticated waist to also make it easier to quickly put them on and to fit a wider range of sizes over your riding pants. To make sure no water gets in through the bottom of the pants, Dainese have also added an adjustable Velcro leg bottom to fit over your boots.  
If you'd like to learn more about the Dainese Storm 2 set, then make sure to check out ChampionHelmets.com where we have our lowest price guarantee and plenty of bundle deals including a matching pair of pants at a discount with the jacket.
Summary
The Dainese Storm 2 Jacket and pants set does offer a nice set of improvements over the previous Storm ensemble while still delivering on the same strong waterproofing performance. This means that you can more comfortably and easily slip into a waterproof outer suit without having to waste time getting wet or losing out on riding protection.
If you you're curious to learn more about the Dainese Storm 2 Jacket, then make sure to check out our YouTube channel where we have our Dainese Storm 2 Jacket and Pants Video Review as well as our data driven helmet road tests where we bring you the facts.