Posted on
By Sebastian Sirotin
Posted in Dainese, Dainese Gloves, Dainese Motorcycle gloves, Dainese Thunder Gore-Tex, Dainese Thunder GoreTex, Dainese Thunder GTX, Dainese ThunderGTX, Gloves, Gore-Tex Gloves, Motorcycle gloves, Review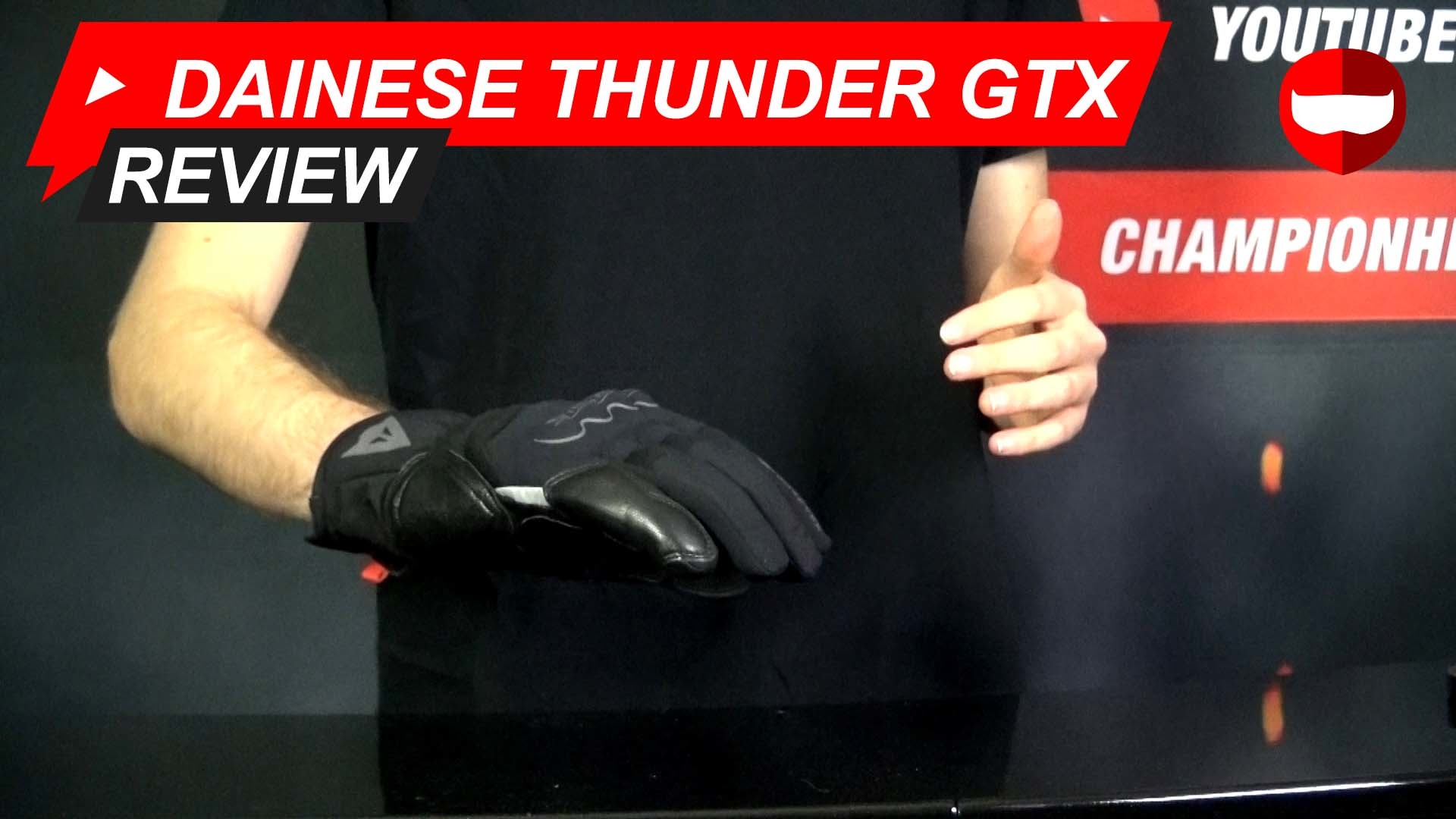 The Dainese Thunder Gore-Tex glove is the latest cool weather short glove that comes with some safety improvements along with its Gore-Tex liner. So, we'll be running through it in our review.
Dainese Thunder Gore-Tex Glove Review + Video
The Dainese Thunder Gore-Tex are positioned as a basic good quality touring glove. Positioned alongside the Dainese X-Tourer D-Dry Jacket, this glove will be perform somewhere in the range of just under the Dainese Scout 2 Gore-Tex and above the Dainese Tempest D-Dry Gloves. Though it is a short glove, Dainese have now added a strong level of full leather protection in the palms of these mid-range textile gloves, which is a big change.
The Dainese Thunder GoreTex Gloves will be coming in at a recommended retail price of about 160 Euros, or approximately 180 USD. At this price point, it will also be competing with the Revit Cayenne Pro, Klim Adventure Gore-Tex, and the Revit Taurus Gore-Tex Gloves.
Material
For material, the Dainese Thunder Gore-Tex Motorcycle Gloves are made of high tenacity fabric for abrasion resistance and waterproofing. The glove uses a short cut and soft leather palm to make it more comfortable. The glove also includes a few reflective inserts along the top, front, and sides of the glove to help raise how visible you are. The thermal dexfil padding and insulation offered by the Gore-Tex gloves will also keep your hands warm.
Safety
For protection, the Dainese Thunder Gore Tex Gloves mainly rely on rigid knuckles with Techno technology inserts. This knuckle protector is mainly made of a composite that has been inserted into the glove without compromising its strength in any way. Again, the palm has been reinforced with goatskin leather covering the side of the little finger and the rest of the palm. There are also additional soft inserts in the fingers of the glove and the heel of the palm.
Comfort
To put the gloves on, you have a large Velcro strap in the wrist with additional elastication a little further on in the gloves. The knuckle and the fingers themselves have been elasticated to make moving easier. The fingers have also been pre-curved to make gripping the handlebars more comfortable.
To keep your hands dry again, the gloves are using a Gore-Tex membrane that is breathable and waterproof and is the best you can get for keeping water out. As a last few nice features, you've got a visor wiper on the left thumb and Dainese Smart Touch in the fingertip to make it comfortable and practical in every situation from touring to urban riding. Two particularly useful features for people going on tour since it just makes things a bit easier.
If you'd like to learn more about the Dainese Thunder GTX Gloves, make sure to head to ChampionHelmets.com where we have a lowest price guarantee and if you have any questions, feel free to contact us via our livechat.
Summary
The Dainese Thunder Gore-Tex Waterproof Gloves are a great if you're looking for a waterproof and breathable short glove with Gore-Tex for cold and wet mornings and afternoon rides in the winter.
While it does offer great touring features, it comes in only in a short version right now so you'll need to keep that in mind as far as jacket choice and layering. Either way though, this glove is offering good options at a fairly low price including not only its Dainese make but also the Gore-Tex liner.
If you still want to learn more about the Dainese Thunder GTX Winter Gloves, then make sure to check out and subscribe to our YouTube channel where we have our Dainese Thunder Gore-Tex Video Review. While you're there don't forget to also take a look at our data driven helmet road tests where we take the latest helmets out on the road, measure their performance, and bring you the facts.