Posted on
By Sebastian Sirotin
Posted in Dainese, Dainese Pants, Dainese Track, DAinese Track pants, Dainese Track Trousers, Dainese Trackpants, dainese Trackpants Trousers, Dainese Trousers, Pants, Pants Review, Review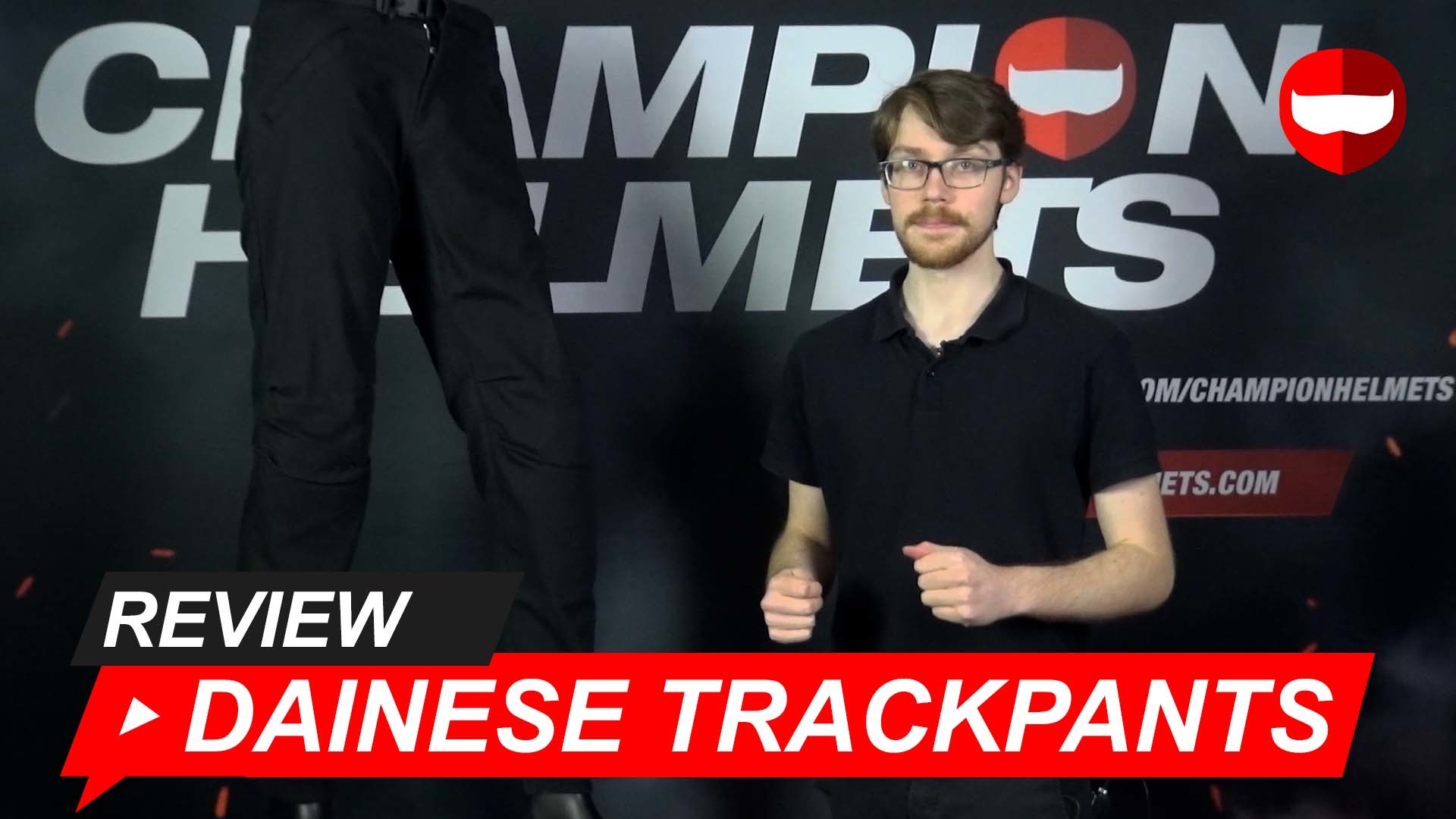 Today, we've got the Dainese Trackpants here on for review, to go for the ultimate level of casual out on the streets. So, stick around as we run through the pants in our review.
Dainese Trackpants Trousers Review + Video
The Dainese Trackpants Trousers will be for riders looking for that next level of casual wear that can also serve off the bike. With their Armalith outer layer and trackpants styling, these two things shouldn't be any problem. The Dainese Trackpants have a recommended retail price of about 300 Euros, or approximately 350 US Dollars, and come in black and olive in both men's and women's cuts.
So, the Dainese Track Trousers will be competing with the Revit Moto TF, Revit Cargo, Klim K-Fifty 1, Klim K-Fifty 2, and the Revit Philly 2 Pants.
Material
The Dainese Trackpants Jeans are mainly made of the engineered cotton Armalith. This means that these will be very tough, abrasion resistant pants constructed in a single layer yarn with no additional layers underneath. Since Armalith is composed of a mix of cotton, Lycra, and ultra-high molecular weight polyethene the Armalith fabric is a soft fabric that offers hightened protection, consistency, and fit as normal cotton pants do.
So, you get an incredibly tough single layer outer shell with the look and feel of denim. For added safety, these pants have been assembled using a seamless construction in the cuffs, which means that when subject to abrasion that the seams are protected and will be more durable. Lastly, the pants are pren 17092 Class AA certified.
Safety
For safety, the technical motorcycle garment combines Dainese safety with comfort. The Dainese Trackpants Pants offer protection in a single Armalith outer shell, which will serve for abrasion resistance and is designed to be even better than Cordura or aramid fiber.
These urban pants come Pro-Shape 2.0 armor certified to CE 1621.1 2012 standards to CE Level 1 with protectors at the knees and hips. The pocket for the knee protector is also adjustable in addition to being removable, which is also a nice feature since it means that you can get a better fit and better safety.
Comfort
Lastly, the Dainese Track Pants will be very comfortable pair of pants as any trackpants are. The Armalith fabric and ProShape armor is flexible and won't restrict any of your movement or lead to any pressure points when you're riding. And the pants use a clever magnetic buckle attached to a belt, a zip fly, and a snap at the waist.
There is also elastic in the waist for a more comfortable fit. Lastly, they have 4 pockets, so that's two pockets at the front fastened with a snap, and two in the back. The pant cuffs are elasticated as well to make sure they fit correctly.
If you'd like to learn more about the Dainese Trackpants, then make sure to head to ChampionHelmets.com where we have a lowest price guarantee and our bundle deals with a matching pair of sneakers, and if you have any questions you can always contact us via our live chat.
Summary
The Dainese Trackpants offer a great level of versatility in their safety, style, and comfort. Using an Armalith outer layer and robust fastening system, the Dainese Trackpants model combines the comfort of sport pants and heightened protection.
If you want to learn more about the Dainese Trackpants, then make sure to check out ad subscribe to our YouTube channel where we have our Dainese Trackpants Video Review and our data driven helmet road tests where we bring you the data straight from the road.