Posted on
By Sebastian Sirotin
Posted in Carbon Fiber Helmets, Glasses friendly helmets, Helmets, HJC, HJC ARFA 11 Carbon, HJC R PHA 11 Carbon, HJC Road TEst, HJC RPHA 11 Carbon, HJC RPHA11 Carbon, motorcycle helmets, racing helmets, road test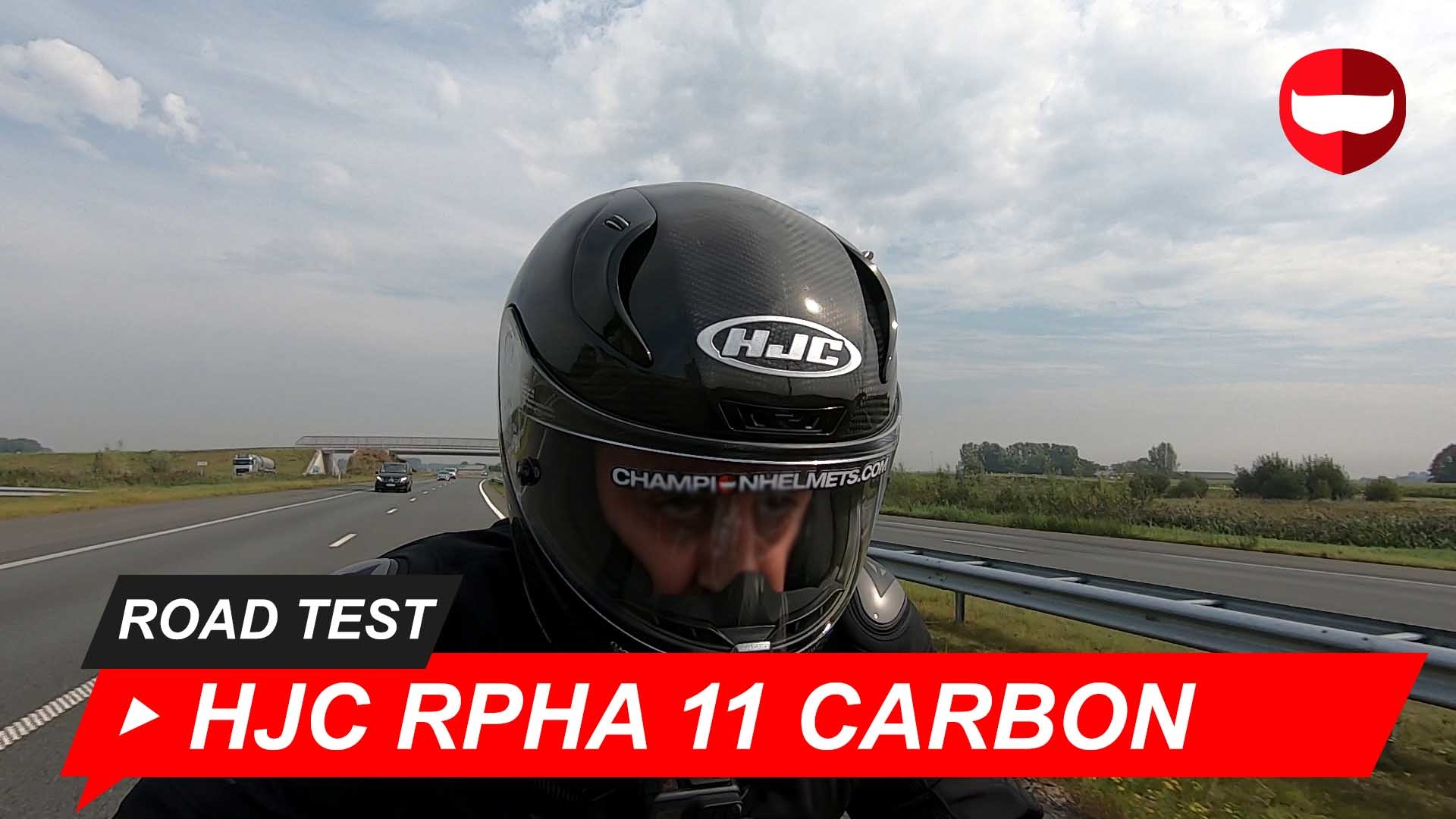 The HJC RPHA 11 Carbon is already top notch among the wallet friendly race helmets, but today we'll finally be taking the helmet out on our road test where we'll measure its performance and bring you the data.
HJC RPHA 11 Road Test + Video
The HJC RPHA 11 Carbon is the newest version of the already famous RPHA 11, and we've finally got our hands on it for testing. This full-face racing helmet will now be coming in at the top of HJC's range so how could we not test it out? This helmet will also be offering updated features to the HJC RPHA 11, which is about 3 years old now, like being prepared for a dedicated Bluetooth system.
So, the HJC RPHA11 Carbon, still faithful to its mid-range roots, will be coming at a recommended retail price of about 530 Euros, or 580 US Dollars, which is up from the 360 Euros, or 400 US Dollars, of the original. So, you're paying an extra 170 for that carbon fiber shell.
So, the RPHA 11 Carbon will compete directly with the X-Lite X-803 RS Ultra Carbon in addition to the AGV Pista GP RR, Shoei X-Spirit 3, Shark Race-R Pro GP, and the Arai RX-7V.
HJC RPHA 11 Carbon Specs
The shell of the HJC R PHA 11 Carbon is made from Premium Integrated Matrix (PIM) Plus Carbon, which means you'll be getting a similar aramid, carbon, and fiberglass blend but with a higher carbon content. This ensures that you get an even lighter helmet at about 1300 grams, or 2lbs 13oz, in a size M, which is lighter than the RPHA 11.
The helmet was designed with an aerodynamic shell structure for extreme performance at maximum speeds. And The RPHA 11 Carbon will also be coming in 3 outer shell sizes, which is about average for this mid-market segment and will make sure that you can get a better and more comfortable fit.
For fastening, the HJC ARFA 11 Carbon uses a double-D ring chin strap and comes with an intermediate oval to round head fit. Though the RPHA 11 Carbon hasn't been tested by SHARP yet, the RPHA 11 has and it earned 3 stars out of 5, and both versions of the helmet are ECE 22.05 certified.
Since it was wind tunnel tested, the RPHA 11 full-face helmet has an optimized shell design. The visor is tear off and anti-fog pinlock prepared. And it comes with the insert lens and an additional dark smoke shield already in the box. For added convenience, the HJC RPHA 11 Pro Carbon uses a simple and secure shield ratchet system with ultra quick tool-less removal and installation for efficient operation.
For improved safety, the helmet visor includes a wider eye port to provide better peripheral vision for riders and it includes a superior automatic shield locking system with a spring controlled lever.
For ventilation on the helmet, you have one adjustable vent in the chin with two always open vents on either side. There's an adjustable vent in the forehead and two further back on either side. To let this air out, you have air outlets under the spoiler and two side exhausts that are also always open.
The liner of the RPHA 11 Carbon is HJC's Multicool liner. So, the crown and cheek pads are fully removable and washable, anti-bacterial, moisture wicking, and it fits glasses. Lastly, the helmet includes emergency release cheek pads and has been prepared for the SMART HJC Bluetooth comms system.
Road Test Setup
If you are unfamiliar with our road tests, then here's a refresher. We took a temperature reading for the interior of the helmet through a thermometer on the top of the helmet. For noise, we used a decibel meter taking measurements from a microphone placed near our rider's ear. For the day's airspeed, we used an anemometer mounted on our bike.
Lastly, we performed our test with our rider going at about 130 km/h or 80 mph on long stretches of highway.
HJC RPHA 11 Carbon Road Test
The day's average airspeed was at about 130km/h. The outside temperature during the test was 28 degrees Celsius, or 82 degrees Fahrenheit, while the helmet's interior temperature was also 28 degrees Celsius, so no difference there, which is great.
Since the RPHA 11 is a sport helmet, you can also expect it to perform even better for ventilation in a sport position. As you can see, the decibel meter is reading 102 decibels which is pretty good for a sports helmet, especially considering they are not designed to stop noise. So overall this helmet is bringing you a good experience and great HJC quality.
Our rider found the RPHA 11 Carbon performed very well and was very comfortable throughout the ride. He also commented on how strong the RPHA 11 Carbon's ventilation was, noting that HJC had done an admirable job. Now, let's see how many stars the RPHA 11 Carbon earns.
Champion Helmets Ranking
For material, since the RPHA 11 Carbon is made of carbon fiber in 3 outer shell sizes, the helmet earns 5 stars. For weight, since the RPHA 11 Carbon only weighed 1300 grams in a size M, it earns 5 stars. Since the visor is Pinlock prepared with the insert in the box, the RPHA 11 Carbon's visor earns 4 stars. Since the ventilation in the helmet was also strong, with no difference to the outside temperature, the RPHA 11 earns 4 stars.
For aerodynamics, with an optimized shell and great stability, the HJC helmet earns 4 stars. Lastly, for comfort, since the interior is HJC's Multicool interior the HJC helmet earns a great 4 stars. Overall, this means that the RPHA 11 earns a total of 4 stars with a value for money of 20 Euros per star, which makes it very budget friendly helmet with a lot of bang for buck.
If after seeing the HJC RPHA 11 Carbon Motorcycle Helmet perform on the road you'd like to learn more, make sure to head over to ChampionHelmets.com where we've got a lowest price guarantee and bundle deals with a free visor or a discounted communication device.
Summary
So that's been the HJC RPHA 11 Carbon Helmet out on the road. Though it is coming in at much more of a premium than the normal RPHA 11, both helmets still offer a great set of race features with a fantastic value for money.
If you'd like to learn more, then make sure to subscribe to our YouTube channel for more data driven road tests and check out our HJC RPHA 11 Carbon Road Test Video.