Posted on
By Sebastian Sirotin
Posted in Casual Jackets, Casual Shirts, Icon, Icon Flannel, Icon Jackets, Icon Upstate, Icon Upstate Flannel, Icon Upstate Mesh, Icon Upstate Shirt, Jackets, motorcycle jackets, Motorcycle shirts, Shirts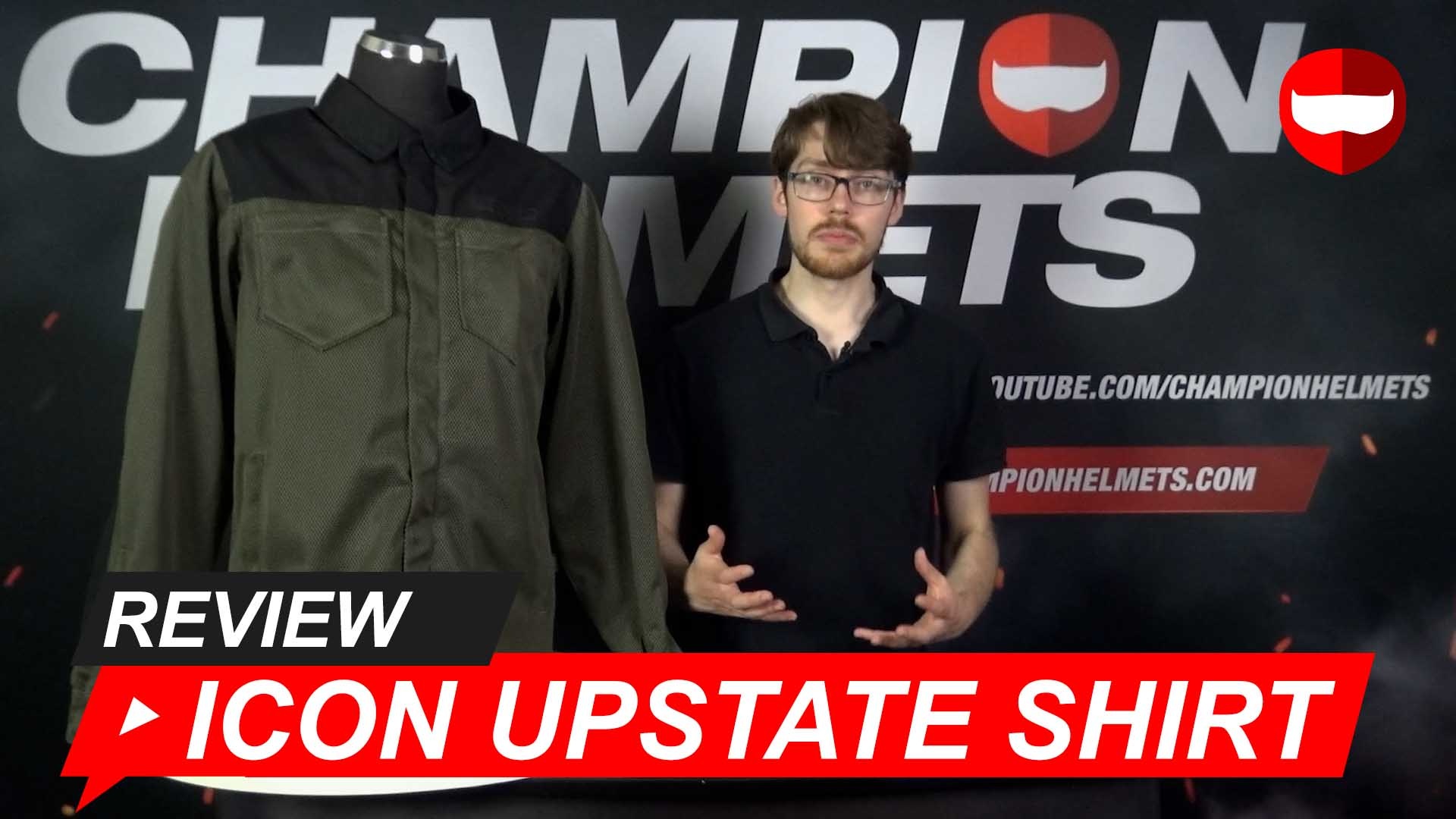 The Icon Upstate Riding Shirt is designed for summer riders looking for a cool and casual outer layer. So, we'll be running through the specs in our review.
Icon Upstate Riding Shirt Review + Video
The Icon Upstate Riding Shirt is a warm weather-focused piece of riding gear where clean and minimal styling lends to a casual look. The Upstate riding jacket has been designed to look more or less like a regular shirt and will go a long way in bringing that casual look to your bike without giving up too much safety.
The mesh shirt is coming in Icon's Iron Weave Mesh with a full set of D3O protectors for a basic level of safety and plenty of airflow while the flannel version will keep you warm on chilly mornings. The Upstate Flannel shirt has the same style, protection, and cut, but comes with a heavy-duty flannel and Cordura construction for cold weather rides.
So, the Icon Upstate Mesh Shirt will be coming at a recommended retail price of about 240 Euros or 290 USD and will be competing with the Revit Burn and Dainese Mayfair D-Dry Jackets.
Material
The main chassis of the Icon Upstate Jacket is composed of Icon's Iron Weave Mesh paneling for a high level of abrasion resistance and ventilation. To round out the jacket's construction, you also have abrasion resistant overlays of Cordura canvas in the abrasion zones of the forearm and around the collar. Cordura is a tough canvas material, specially designed for strength.
Just underneath the Cordura collar, reflective hits add to your visual conspicuity. The jacket comes with a relaxed fit, which will make it a bit looser and it can even be worn with additional layers underneath.
The Icon Upstate Flannel Shirt is made from a durable flannel material for better insulation, and it also comes with the same level of Cordura reinforcement with additional vents in the chest pockets.
Safety
For protection, the shirt is paired with removable D3O impact protectors mounted in the chassis. So, you are getting removable D3O elbow, shoulder, and back impact protectors certified to CE Level 1, which will make this a solid choice for city riding. D3O armor is a great choice for the Icon jacket as well, since the armor is designed to be both light and flexible, which will make it barely noticeable when you are wearing the jacket.
Comfort
Lastly, we now come to the bike comfort in the Upstate jacket.  Starting in the front, you're getting plenty as far as storage. You've got two chest pockets at the top fastened with a single snap to keep them from flapping and you have another set of hand warmer pocket closed with a zipper.
Since this gear is designed in the style of a shirt, it doesn't come with any adjustability, but this is fine, and it does include a snap and a zip in the sleeve cuff to make putting the jacket or putting gloves on a little easier. While we're still on the outside, the collar can also be raised if you like since it is being held down by an additional snap on either side.
To open up the shirt, you first have several rivet snaps followed by a large double headed YKK zipper. And the advantage of this is that it makes sure you can adjust the jacket's closure while sitting on the bike.
On the inside now, there is also another Napoleon pocket in the left-hand side fastened with a zipper.
If you'd like to see more on the Icon Upstate Shirt, then make sure to head to ChampionHelmets.com where we have our lowest price guarantee and plenty of bundle deals including a matching pair of pants at a discount.
Summary
The Icon Upstate Motorcycle Shirt is another strong entry into the casual riding market. From its great warm weather ready mesh to the D3O already included, the shirt does a good job in keeping you covered and stylish.
If you're curious to learn more about the Icon shirt, then make sure to check out and subscribe to our YouTube channel where we have our Icon Upstate Shirt Video Review and our data driven helmet road tests where we bring you the facts.