Posted on
By Sebastian Sirotin
Posted in air bag, Airbag, Airbag Jacket, Airbag Vest, Klim, Klim A i1 Airbag, Klim A i1 vest, Klim Ai-1 Airbag, Klim Ai-1 Jacket, Klim Ai-1 Vest, Klim Ai1 Airbag, Klim Ai1 Jacket, Klim Ai1 Vest, Motorcycle air bag, Motorcycle Airbag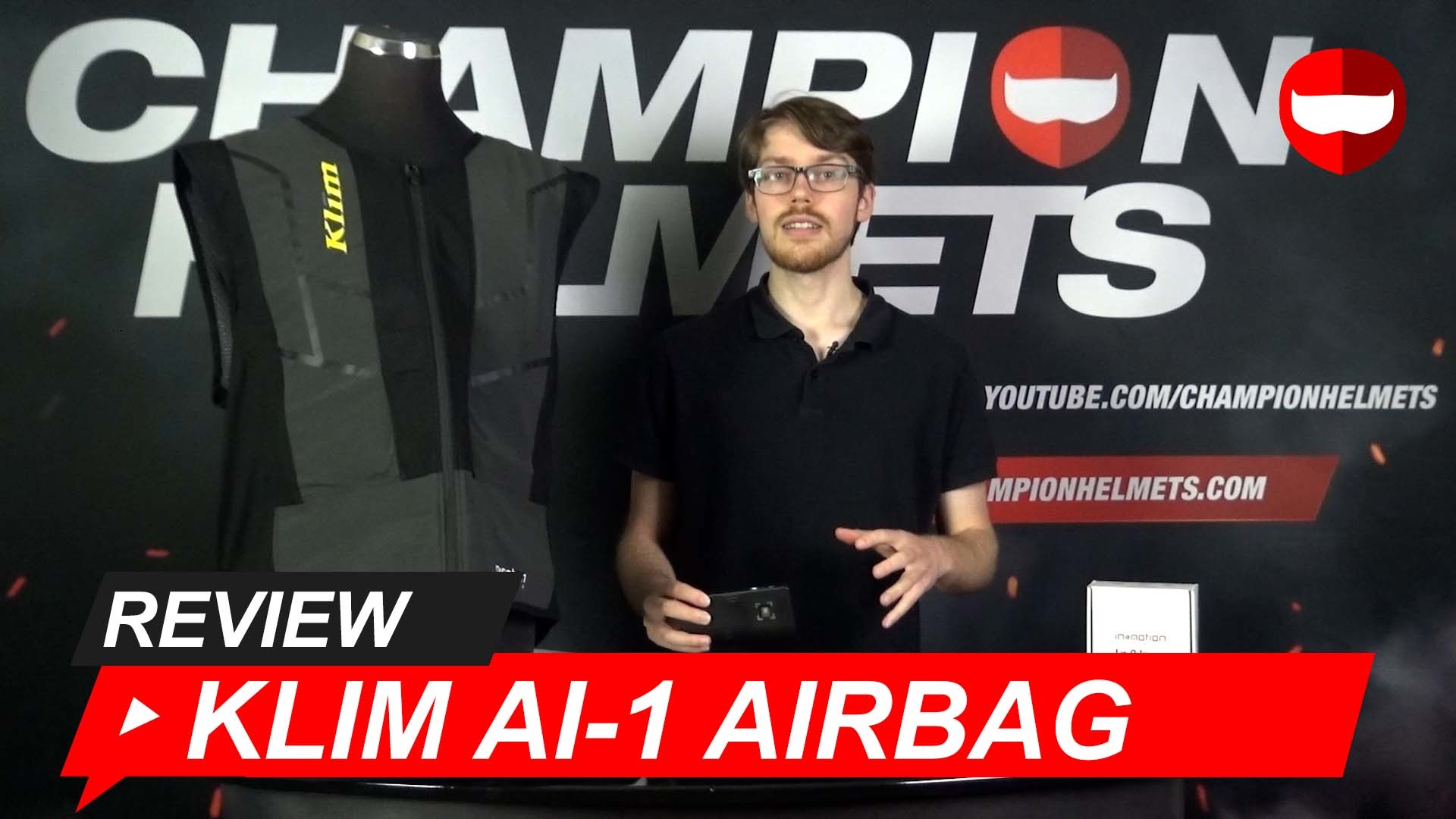 The Klim Ai-1 Airbag vest is the result of the collaboration of Klim and well-known airbag manufacturer In and Motion. So, we'll be seeing what the two have come up with in our review.
Klim Ai-1 Airbag Vest Review + Video
The Klim Ai-1 Airbag Vest is a motorcycle airbag vest built by Klim and In and Motion to take you to that next level of protection while riding. Motorcycle Airbags are growing increasingly popular, and with more and more algorithm-based airbags like the Dainese Smart Jacket, they are more than welcome since they come with the added advantage of not requiring a tether and their algorithms can be updated for better performance. Afterall, MotoGP riders are not the only ones who would like a high level of protection.
So, Klim, working with In&Motion, have gotten in on the game as well with their algorithm driven system with a couple interesting innovations that we'll go over.
With a recommended retail price of about 420 Euros, or 470 USD, the jacket will also be competing with other cutting-edge airbag systems like the Dainese Smart Jacket. But we'll be going a bit more into the airbag's price later on.
Ai-1 Vest Specs
The way you need to view the jacket is that you're actually buying into two pieces of gear, the AI powered In&Motion In&Box which runs the airbag, and the Klim produced airbag itself.
The "brain" of the Klim Ai1 Airbag is the In&Box DPP (detect, protect, perfect) detection Module housed in the polypropylene shell vest in the back. And the vest is designed to cover the abdomen, spine, neck, and thorax, which is slightly more coverage than you get in the Dainese Smart Vest, which does not cover the neck.
The DPP module of the Klim Ai1 Air Bag is a powerful piece of technology that measures for abnormal activity 1000 times/second. Aside from the continuous coverage and measuring, the device has a total battery life of 20 hours (or 15 days when in standby) and only takes 3 hours before fully charging to more or less give you a full day of riding coverage.
The mini USB charging cable is also included in the box. You can remove the box if you need to charge it, since it just snaps into the slot. You need to place it in and slide it until it clicks, and the light turns green.
Another nice bonus is the system is autonomous since it receives updates via Wi-Fi, does not need to be connected to the bike, and it can be removed from the jacket for easy charging and access and it's designed to be worn under any jacket as long as you leave enough space for the system to inflate.
In&Motion DPP Module
Continuing with the box, there are a couple things as far as how it works. Klim have kept the lights here very simple. Basically, green means the system is installed and ready to go, and red is the system is either not fully installed or it required reinflation.
To turn it on, you just press the power button on the front twice and before using the device, you must make sure to register it online or via your phone to activate it. If the device is not turning on, then you'll need to check on the side for a second small on / off switch that you'll also have to set to on.
In&Box Pricing
Now for the not quite so great news. In&Motion have given you two ways to register and activate the module. You can buy the device and the platform for an additional 400 Euros, or 470 USD where you get a limited warranty and no chance to upgrade. So, this takes you to a total airbag cost of 820 Euros, as opposed to the Smart Jacket's 600 Euro recommended retail price.
Alternatively, In&Motion also give the option of leasing the platform with a choice of a street or track subscription plans. The street option is about 12/month or 120/year subscription (in Euros) in case you ride seasonally or all year. For the track option, it's 8 Euros a month, or 25 for a year and you can control these via a smartphone app. So, if you go for the subscription options, these include continuous algorithm updates and mobile app support, unlimited in&box warranty, anytime cancellations, and VIP support services.
So, the benefits suggest a stronger push for the subscription model, but this has already proved controversial since this will also mean you're still paying to keep your jacket functional in the long term. So, this is not just a further technological development but a pricing one too.
Safety
Looking at the actual safety of the Klim Ai-1 Jacket, Klim have done very well. The outer shell of the vest is certified to prEN 17092-6 CE class C, which is the standard for motorcycle airbags and the C ranking means that the vest is certified as a housing not designed for significant abrasion resistance. So, it must be worn under your riding jacket. Nonetheless, it is among one of the highest rated motorcycle airbag systems with 5 stars from SARL, the French airbag authority.
The vest also comes with a back protector, which is certified to CE Level 1 standards.
Airbag Recharging
If your airbag does deploy and, after checking it, it's in a good enough state that you can reinflate it with the recharge capsules, then Klim have also made this a fairly easy process. All you need to do is unzip the inflator housing, unclip and remove the inflator and then check the integrity of the airbag. So, we do get some nice innovation with this system since you won't need to send it back for servicing immediately.
For checking this, you can unzip the back of the airbag where you'll find the inflation cannister connected. The cannister uses a mix of Argon and CO2 and you can get a replacement for about 100 Euros. You can use the inflation adapter provided in the box with your replacement cannister and you can inflate the vest with a bicycle pump to check that everything works as it should.
Klim also do a good job of explaining this in their instruction manual. If it does, you can screw in the new inflator and you're ready to go. This is a really nice feature since, provided everything with the jacket is still okay, you can do this three times before you need to send it in to Klim for servicing, which means you can ride protected for longer.
Comfort
Lastly, for comfort, the Klim A I1 Vest will also be comfortable. It's been designed with a polypropylene shell on a moisture-wicking, breathable stretch mesh chassis which will flow air and still keep you cool inside your jacket. And it won't even add any substantial weight since it comes in weighing at about 1500 grams, or 3.3 lbs, which also isn't bad.
However, the one downside of the airbag is it is designed only for being worn underneath a jacket, its not waterproof and its not designed for abrasion, so you'll always need to keep that in mind with your jacket. In contrast, though the Dainese Smart jacket doesn't cover the neck, it does give you more freedom since its built to be worn either over or underneath a jacket and it is also water resistant, making it much more universal.
If you'd like to see more on the Klim Ai-1 Airbag Vest, then don't forget to check out ChampionHelmets.com where we have our lowest price guarantee so if you see the vest cheaper elsewhere let us know and we'll match the price, and, if you have any questions you can always reach out to us via our livechat.
Summary
The Klim Ai-1 Airbag Jacket offers numerous innovative features that offer a high level of safety. And though the pricing represents some tough choices, Klim usually comes at a premium and the airbag has the added bonus that you can re-inflate it yourself, without having to send it to a dealership right away, which is clever.
If you'd like to learn more about the Klim airbag, then make sure to check out and subscribe to our YouTube channel where we have our Klim Ai-1 Airbag Vest Video Review and our data driven helmet road tests. During our road tests, we make sure to actually record data and we the actually bring you the facts.