Posted on
By Sebastian Sirotin
Posted in Klim Pants, Klim Riding Pants, Klim Switchback Cargo Motorcycle Pants, Klim Switchback Cargo Motorcycle Trousers, Klim Switchback Cargo Pants, Klim Switchback Cargo Trousers, Klim Swithcback Cargo riding Pants, Klim trousers, Motorcycle pants, motorcycle trousers, Review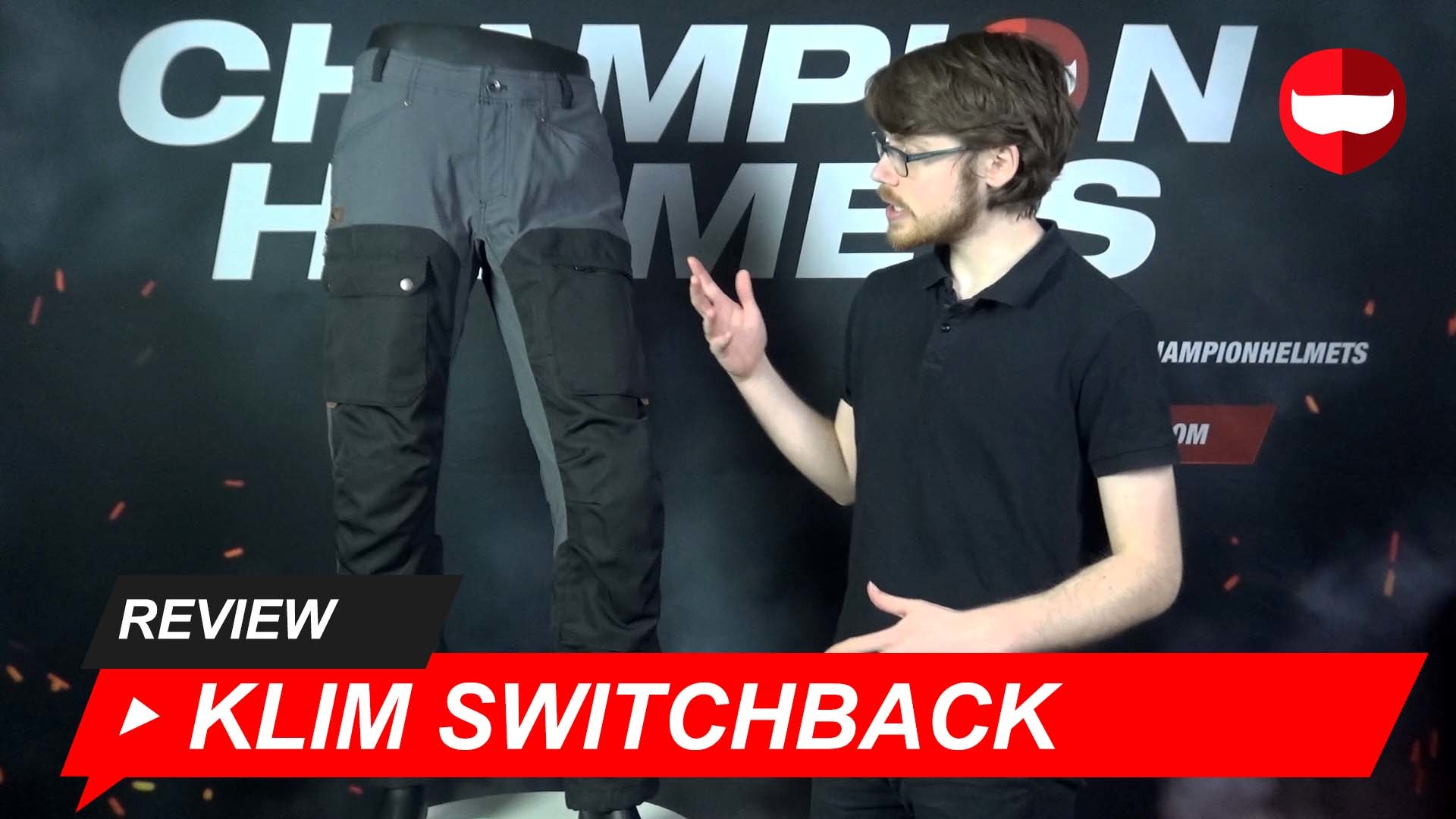 The Klim Switchback Cargo Pants are Klim's casual pants answer for those looking to mix their adventure riding with their time off the bike. And we'll be giving them a closer look in our review.
Klim Switchback Cargo Pants Review
The Klim Switchback Cargo Pants offer a great deal of clever features and slim design that make them great for touring and other casual uses. Made of a tough nylon outer shell, with Karbonite micromesh for ventilation, these are a tough pair of pants. They come with D3O armor in the knees and hips, and the pants have been engineered to perform as a pair of technical everyday pant. Klim have done this by integrating smart pockets for armor with intelligent ventilation for the flexibility of a technical motorcycle garment.
Coming with a recommended retail price of about 290 Euros, or 315 USD, these pants will be competing with the Dainese Tonale D-Dry and the Revit Sand 3 Pants.
Klim Switchback Cargo Material
The Klim Switchback Cargo Trousers use a nylon chassis with Klim Karbonite micromesh along the front of the pants for ventilation. This means that they will be both abrasion resistant and breathable. Though they aren't waterproof, they have been given a water-resistant treatment. The pants are prEN 17092-3 Class AA certified and when folded the cuffs will also show 3M Scotchlite reflective material.
Safety
For protection, the Klim pants come with CE Level 1 D3O LP1 vented armor in the hips and knees. One of the best features about this pair of pants is that you can remove the knee armor without having to take them off. So, if you are off the bike for any length of time, you can take the armor out for more comfort.
You can take the D3O armor out by undoing the Velcro hidden underneath the front thigh cargo pocket and sliding the protector out. The protector is vented for better airflow and it's also very flexible. Inside the pants, you can also adjust where the protectors are so you can get better protection.
Comfort
These will be a comfortable pair of pants thanks to the stretch panels integrated into the pants as well as having pre-articulated legs. Starting at the top, the Klim Switchback Pants are fastened with the classic button and zipper, though it can't be adjusted, so you'll need to run a belt through the belt loops to tighten the pants.
The main adjustability features on the Klim Switch Back Cargo Pants will come in the cuff where you get a double zipper system combined with buttons. These will make it easier to put these pants on, as well as fitting them over your motorcycle boots.
These pants come with two thigh pockets, one zippered and the other buttoned, two hand pockets up above, and two pockets in the back that are also zippered. For ventilation, you have two zips on either side of the thigh that will blend in nicely when they're closed, while also letting in plenty of air once you're riding.
If you'd like to purchase the Klim Switchback Cargo Pants, then make sure to head to ChampionHelmets.com where we have a lowest price guarantee and plenty of bundle deals. If you have any questions, you can also always reach out to us via our live chat.
Summary
The Klim Switchback Cargo Pants are a pair of pants that have prioritized both style and practicality. While they come with a simple everyday style, they offer a lot more in terms of protection than your ordinary pair of style-focused cargo pants.
If you still want to learn more about the Klim trousers, then don't forget to check out our Klim Switchback Cargo Pants Video Review on our YouTube channel.