Posted on
By Sebastian Sirotin
Posted in Alpinestars Copper 2, Alpinestars copper V2, Alpinestars Jeans, Denim Jeans, Denim Pants, Jeans, Klim Jeans, Klim K-fifty 1, Klim K-fifty 2, Motorcycle Jeans, Revit Jeans, Revit Detroit TF, Revit Philly 2, riding Jeans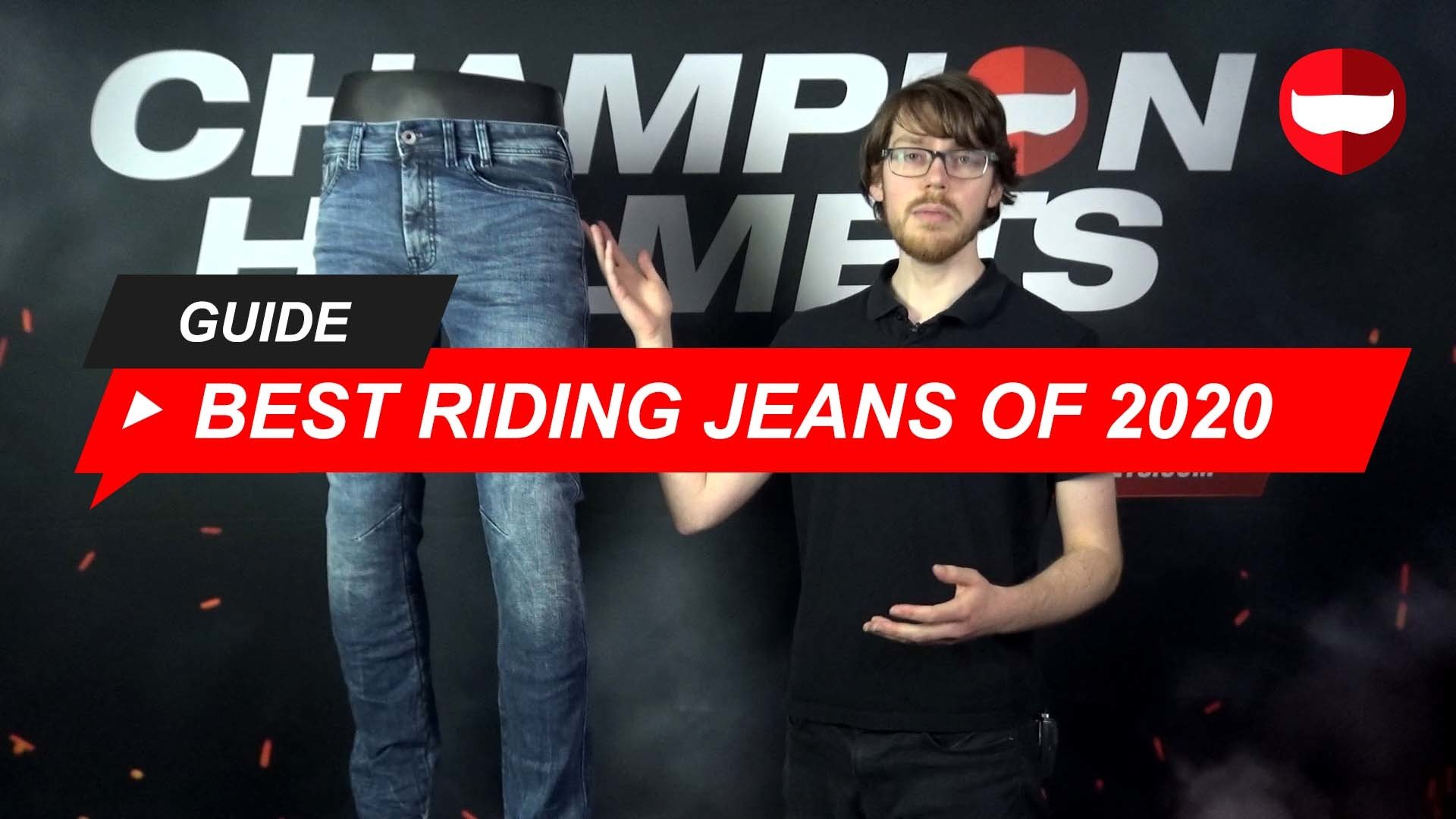 Casual, classic, and somewhat crash ready, today we'll be talking about our top motorcycle riding jeans picks for 2020.
Best Motorcycle Jeans of 2020 Guide + Video
Motorcycle jeans have been one gear category that has been growing incredibly fast. Whether made out of Cordura, Aramid, Kevlar (which is a Dupont Aramid brand name), enhanced denim, or any other of the increasingly available abrasion resistant jeans have quickly become a viable riding category.
Motorcycle denim jeans now offered in an ever-wider range of colors and cuts (including loose, tapered fit, slim fit, and regular to name a few), and they're starting to catch up with ordinary jeans in their style. Riding jeans have even started coming with discrete impact protectors in the knees and, sometimes, in the hips as well to further up their game.
So, since we're seeing a lot of new jeans collections drop for 2020, we've collected our top choices. These include the Revit Philly 2, Revit Detroit TF tapered fit jeans , Alpinestars Copper 2 denim pants, and the Klim K-Fifty 1 and Klim K-Fifty 2.
Revit Philly 2
First up, we have the Rev'It Philly 2 Jeans. These are a staple in Revit's line well known for their quality construction, good level of protection, and great comfort. Coming at a recommended retail price of about 200 Euros, or 220 USD, these are a pair of jeans you might want to consider if you're looking for something with a loose fit.
The outer shell of the denim pants is made of Cordura denim to give it that classic look and feel. The Cordura also includes a moisture wicking function by coolmax elements in the fabric. Not only will Cordura have better abrasion resistance than denim, but Revit have also added an additional layer of PWR Shield the seat and knees to help them perform on the road. PWR shield here is Revit's own special material with high abrasion, cut, and tear resistance.
For safety, the Revit Phillie 2 come with CE Level 1 SEESMART armor and are prepared for a pair of hip protectors. For comfort the pants have a polycotton twill liner and it has a mechanical stretch fit weave for comfort.
Revit Detroit TF
Next up, we've got our other favorite pair of Revit jeans, the Rev'It Detroit TF, these are a pick from the new 2020 collection, but they've quickly proven themselves.
These jeans will have a tapered fit, like its suggested in the name, so they will be normal in the thighs but slim down from the knee on. Nonetheless, Revit has ensured extra comfort by mechanical stretch in the textile weave. They're also coming at a recommended retail price of about 220 Euros, or 240 USD, so not much more than the Philly 2s.
The Revit DetroitTF made of stretch Cordura denim again and come in various blues and greys. The jeans are fully equipped for safety with CE Level 1 protection in the knee and hip, and double internal layering with PWR shield for additional abrasion and tear resistance.
Alpinestars Copper 2 Jeans
Now, we come to the Alpinestars Copper 2 Pants. With these jeans you get the option to go for either the normal Alpinestars Copper V2 Jeans or the Copper 2 Out Jeans, the only difference being that you can remove the armor of the Copper 2 Out without having to take the pants off. The pants come at a recommended retail price of about 180 Euros, or 200 USD, so a bit lower than the Revit options.
The jeans are made of stretch denim with additional inner aramidic knit panels in the liner in high impact zones in the hips and knees for better protection. The pants come with CE Level 1 Bio Flex knee armor that allows high levels of movement and an option for hip armor. They're certified to CE category II PPE Regulation EU 2016/425. The pants also come with reflection in the hem that you just turn up to be more visible on the bike.
Klim K-Fifty 1 and 2
Lastly, we come to the Klim K-50 1 and Klim K-50 2 Jeans. In this case, you have either the Klim K50 1, which are regular fit, or the Klim K50 2 , which are straight leg fit jeans. So, there's only a slight difference between the two in terms of their sizing, but nothing else. The K Fifty jeans do come at a premium with a recommended retail price of about 340-360 Euros, or 370 to 400 US Dollars.
These jeans are made of Cordura denim, so it's that same durable nylon/cotton blend. Inside, they also come with reinforced interior Kevlar panels. And, as usual they're fastened with a zipper and a button. The jeans come with D3O Evo knee and hip pads for flexibility and comfort and the knee armor is even adjustable.
The jeans even come with a Poron XRD tailbone pad and it is prEN 17092 certified to class AA.
If you're looking for your next pair of motorcycle riding pants, then make sure to head to ChampionHelmets.com where we have our lowest price guarantee and bundle deals with a discounted safeway belt for Revit products.
Summary
Motorcycle jeans are a great option for when you're looking for something that will safely ride your bike while on your commute or running errands around town. They come in varying levels of discreteness, safety, and type of materials to give you as much comfort as possible.
If you'd like to see more on these jeans, then don't forget to check out our YouTube channel where we have our Best Motorcycle Jeans of 2020 Video Guide, gear reviews, and helmet road tests.