Posted on
By Sebastian Sirotin
Posted in Adventure Gloves, Gloves, Goat leather gloves, Leather Gloves, Motorcycle gloves, Perforated Gloves, Revit, Revit Cayenne Pro, Revit Cayenne Pro Gloves, Revit Gloves, Summer Gloves, Touring Gloves, water-resistant gloves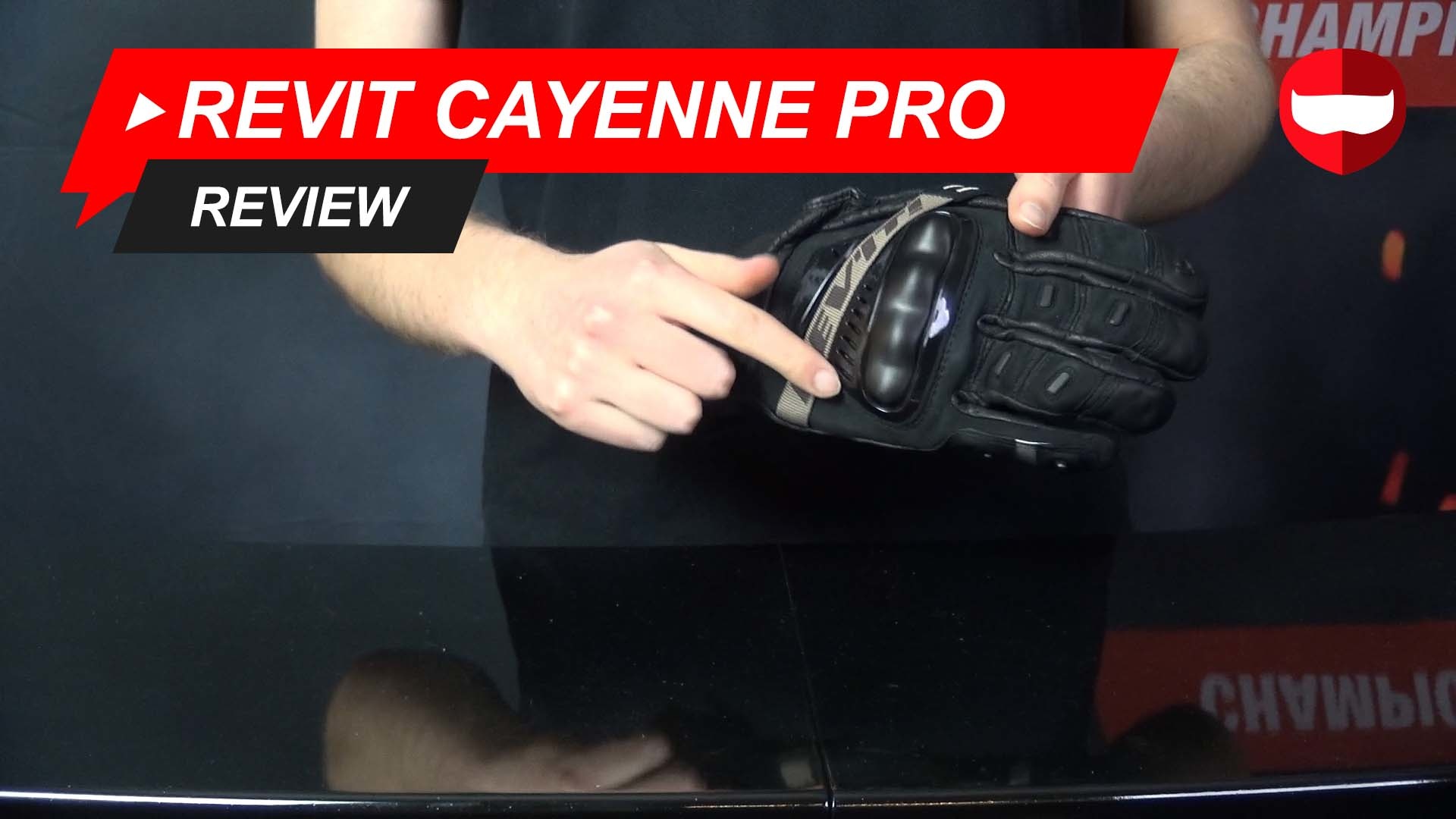 The Revit Cayenne Pro Gloves are among one of the most popular touring / adventure gloves currently available thanks to their excellent balance of protection, comfort, and features.
Revit Cayenne Pro Gloves Review + Video
Today we've got the Revit Cayenne Pro Gloves on the table. These are perforated summer gloves designed to stay comfortable and protective for long days in the saddle without compromising comfort or safety.
Though they can be stretched to 3-season (spring, summer, and fall) depending on what climates you're riding in. And, though they're built to match the Revit Cayenne Pro jacket and pants outfit, the Cayenne Pro gloves will easily match with any other gear you may have thanks to the variety of colors that they're offered in.
They're coming at a recommended retail price of about 160 Euros, or 170 USD. So, they'll be competing with the Klim Badlands Aero Pro, Dainese Carbon 3, and the Alpinestars SP1-V2.
Material
The Rev'It Cayenne Pro Motorcycle Gloves are mainly made of goat leather with a variety of treatments and finishes. The back of the hand, the palm, and the front and backs of the fingers are composed of goat leather with a water-resistant finish while the cuff is made of perforated leather with a water-resistant finish.
Lastly, the outside reinforcements on the outsides of the glove and between the fingers is made of ordinary goat leather for even better abrasion resistance. There is also some reflectivity on the outside of the little fingers for better visibility.
Safety
For protective features, the Revit CayennePro will also do really well with their high level of protection. Starting with the knuckle, this is a ventilated dual comp protector. So, underneath this aluminum high-impact shield, you have a pre-shaped TPU honeycomb structure to absorb a high level of impact and to resist abrasion.
The TPU hard shell thumb protector and TPU hard shell palm offer abrasion resistance and keep your palm safe against the road. TPU here stands for thermoplastic urethane, which is a tough and durable plastic. The fingers and knuckles also come with polyurethane or PU injected finger knuckles for better protection.
Lastly, the gloves use Revit's PWR yarn construction to prevent tearing at the seams and it comes with expanded foam rubber for shock absorption.
Comfort
For comfort, these adventure gloves will also be excellent since they are designed to fit like a second skin. They come in a tour fit, so they'll be roomier in the hand and the fingers. They're short cuff as you can see, and they're fastened with a Velcro adjuster strap. However, in addition to this, there is elastic at the wrist for a closer fit and the gloves have outside stitching to prevent chafing or blistering from seams in the glove.
The Gloves also come with a grip patch in the palm side for better handling of the controls.
Finally, for ventilation, the Cayenne Pro gloves are breathable and comfortable skin thanks to the vented knuckle guard and perforations in the palm, between the fingers, and along the back of the cuff.
Ranking
Lastly, we now come how these gloves rank. If you've already seen some of our other helmet road tests, then you'll recognize this graph since we've broken these gloves down along the same criteria and based the ranking according to the gloves themselves. So, for material, with its tough goat leather construction and aluminum dual comp knuckle, the Cayenne Pro earns 4.5 stars. For comfort, the glove earns 4 stars thanks to its comfort-focused outside stitching construction and additional elastication throughout.
For ventilation, with perforations or vents in the fingers, hand, knuckle, and cuff, the gloves manage to earn an impressive 5 stars. Next up, for safety, the Cayenne Pro gloves also do well earning 4 stars for their dual comp knuckle, hard shell thumb and palm protectors, and PU finger inserts. Lastly, for features, the glove earns 3 stars for its great inclusion of a water-resistant finish, temperfoam impact absorbers, and reflectivity. Though the main downfall of the gloves here was the lack of a phone friendly fingertip.
So, this brings the glove to a total of 4 stars at 8 Euros per star, which, when compared to its competition is a budget friendly one Euro less than most other similar gloves.
If you'd like to purchase the Revit Cayenne Pro Gloves, then don't forget to check out ChampionHelmets.com where we've got our lowest price guarantee and if you have any questions you can always contact us via out live chat.
Summary
So, the Cayenne Pro gloves are a great pair of motorcycle riding gloves with a great focus on practicality, comfort, and safety. To keep it short, they are ideal for touring and adventure riding, especially since the dual comp protector offers safety without sacrificing dexterity, with built in EVA foam.
If you still want to see more on the Revit Cayenne Pro, then make sure to check out our YouTube channel where we have our Revit Cayenne Pro Glove Video Review.