Posted on
By Sebastian Sirotin
Posted in Helmets, motorcycle helmets, racing helmets, Review, Review and Road Test, Scorpion EXO R1 Air, Scorpion EXO R1 Air Carbon, Scorpion EXO R1 Air Motorcycle Helemts, Scorpion EXO R1 Air Review and road test, Scorpion R1 Air, Sport Helmets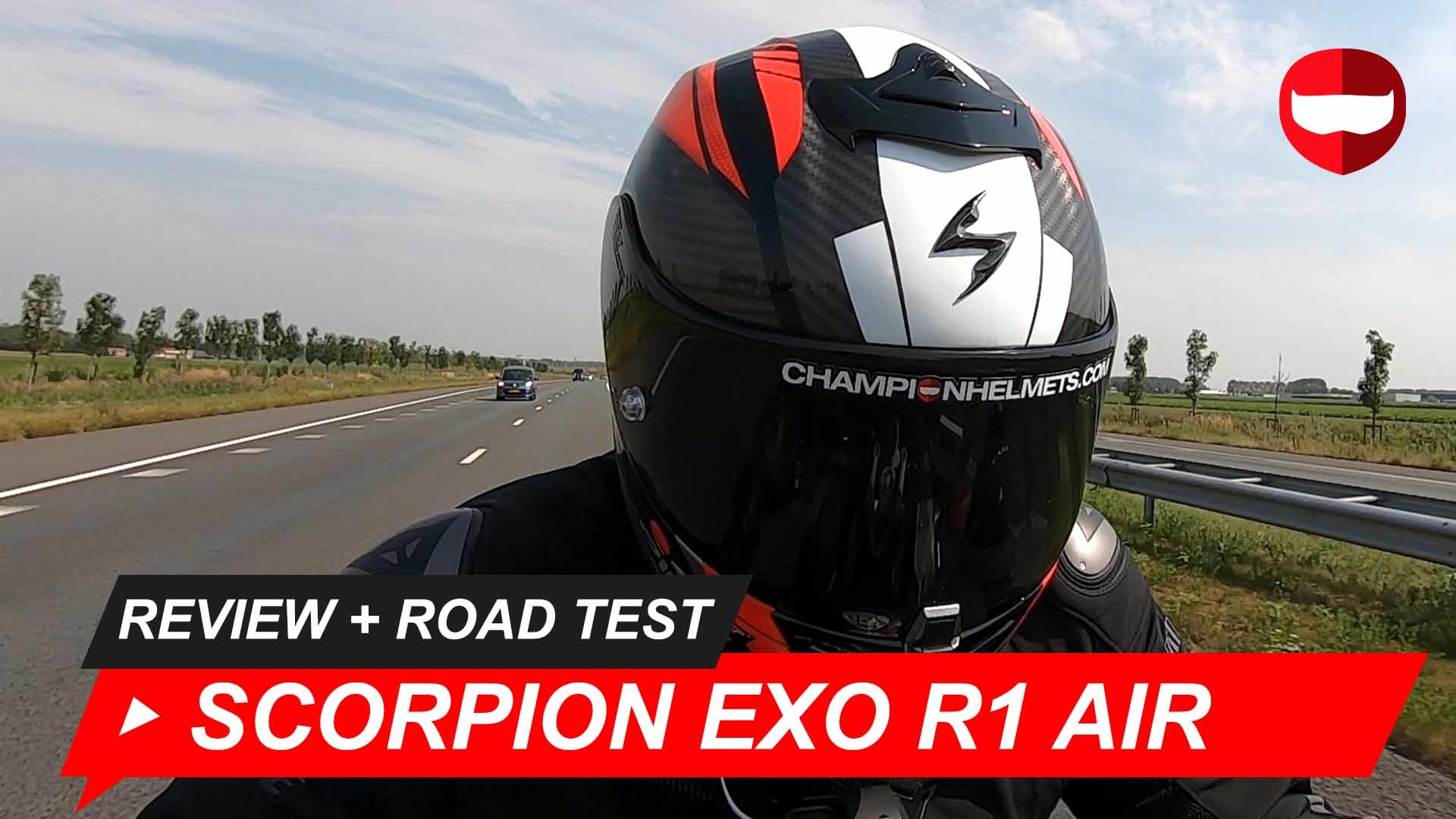 The Scorpion EXO R1 Air is the next full sports helmet from Scorpion built for versatility and a light weight. But we'll still be putting it to the test on the road to bring you the facts, so be sure to stick around.
Scorpion EXO R1 Air Review and Road Test + Video
The Scorpion EXO R1 Air is the latest racing helmet for riders looking for that aggressive look without having to go all out on price. It is coming at the top of the Scorpion line with it's Ultra TCT composite shell and it's the helmet that was used by MotoGP rider Fabio Quartararo. It's coming with this strong race-ready look, but it will also pair well with more everyday street riders who want a helmet with that extra level of safety and style.
So, with a recommended retail price of about 370 Euros or 440 USD, the Scorpion R1 Air will be competing with the X-Lite X-803 RS Ultra Carbon, HJC RPHA 11 Carbon, and the Shark Race-R Pro Carbon.
Material
The Scorpion EXOR1 Air uses an Ultra TCT outer shell, which is a combination of fiberglass, aramid, and poly-resin to minimize weight while still keeping a strong outer shell. However, for those looking for the best racing performance, Scorpion also offers the Scorpion EXO R1 Carbon Air, the carbon fiber variant of the helmet. The shell of the Scorpion helmet has been aerodynamically designed for both ventilation and to reduce wind noise and lift, and it comes with a multi-layer EPS interior.
The Scorpion EXO-R1 Air helmet is intermediate oval and comes in 3 outer shell sizes, the first spanning XS to M, then one for L, and one for XL and XXL. For comfort, the cheek pads are also prepared for glasses. Though the race version of the EXO-R1 Air has been designed, engineered, and tested to meet the demands of Moto GP, the commercially available version has only DOT and ECE 22.05 certifications and it has not yet been tested by SHARP.
Lastly, the helmet weighs about 1310 grams, or 2lbs and 14 oz, which is also very light.
Ventilation
For ventilation, the Scorpion R1 is bringing you two main vents. The first will be in the chin, which you can open and close to reveal two metal grille air intakes. And on the inside of the chin you get an additional switch that will let you vent air either onto the visor to prevent fogging or into the helmet for a cool breeze.
On top, you have an adjustable brow vent that feeds into the EPS grooves and the back of the helmet comes with two exhausts under both spoilers.
Visor
The Visor of the Scorpion EXO R1 Air Motorcycle Helmet is coming Pinlock anti-fog insert prepared with the insert lens in the box and, of course, it is Optical Class 1. But, if things do get too sunny while you're out riding, then Scorpion have also provided an additional Pinlock prepared dark smoke visor in the box. In addition to the Pinlock prepared visors, both are also anti-scratch treated and tear off prepared.
The visor uses a locking mechanism, which is also great, though the one gripe would be that it sits a bit loosely in the mount. Nonetheless, the visor seals well you can achieve a cracked position, and you're getting fantastic value for money already.
To remove the visor, Scorpion have also made it easy, you just raise the visor into the fully open position and you push both triggers up. The visor then snaps out, and you do the same on the other side. To put the visor back in is also fairly easy, all you do is line it up in the open position and it will snap back in.
Interior
For the interior, Scorpion have also not left you wanting. First off, you get a titanium double D-ring chin strap and Scorpion's KwikWik 3 liner, which is antimicrobial, removable, washable, and moisture wicking. The cheek pads come with glasses cutaways and there are even emergency release cheek pads that will also come out with the neck roll, and there speaker pockets for your choice of Bluetooth system.
To remove the interior, you first need to detach the cheek pads, which're held on by snaps, and then pull out the neck roll and cheek pads all in one large piece. The liner is comfortable, and the neck roll will do a lot in making sure the helmet reduces wind noise and stays comfortable.
To remove the comfort liner, you have two snaps at the back and forehead inserts, which mean you won't have any forehead pressure points and you have plenty of open spaces in the liner for airflow.
Looking at the EPS now, you have a set of very deep grooves, which will do a lot for ventilation, and there are speaker pockets on either side. While we have the interior out, there is also the Scorpion Airfit system, which is unique to Scorpion, and will help get a perfect fit. All you do is use the red button to pump air into the cheeks to make sure that the helmet stays on firmly. There is another button next to this one that will let you deflate the air bladder again.
Now, let's see how the Scorpion EXO R1 Air does out on our road test.
Road Test Setup
Before diving into a data, this is just a quick reminder for how we set up our road test. We took the helmet's internal temperature in degrees Celsius through a thermometer in the helmet's EPS. For the noise inside the helmet, we used our decibel meter and a microphone placed near our rider's ear. For the airspeed during our test, we used a bike mounted anemometer.
Lastly, we conducted our test at 130 km/h, or 80 mph, on long stretches of highway.
Scorpion EXO R1 Air Road Test
When we took this helmet out, it was a still summer day with the day's airspeed at about 115 to 130 km/h. For noise, the helmet also performed well with 98 decibels, though it still didn't quite reach the likes of the Shoei GT Air 2 or the HJC RPHA 70, the two quietest sport-touring helmets we've tested to date. We can also put this down to the smaller number of vents and the great neck roll.
For ventilation, the Scorpion's internal temperature was about 31 degrees Celsius, or 87 F, while the exterior temperature was about 30 degrees Celsius, or 86 degrees Fahrenheit. So, a difference of one degree.
Overall, our rider was very impressed with the R1 Air even going so far as to say it reminded him of the AGV Corsa R. He commented that it was comfortable, had strong ventilation, and was quiet, which shows that Scorpion did a good job on the helmet's aerodynamic design.
Champion Helmets Ranking
We finally come to our ranking for the EXO R1 Air.
For material, since the helmet comes in 3 outer shell sizes and a has a composite shell, it earns 4 stars. For the weight, with an excellent 1310 grams, the helmet earns 5 stars. For the visor, since it is Pinlock prepared with the insert in the box, it earns 4 stars. For aerodynamics, the helmet also did fairly well with 3.5 stars since it was nice and stable while riding.
For ventilation, since the helmet was one degree hotter than the outside, it earns 4 stars. Lastly, the helmet earns 3 stars for comfort since it was comfortable but still didn't match the likes of the Corsa. This brings the R1 Air's Champion Helmets score to a total of 4 stars at 16 Euros per star, which also makes it a solid value for money helmet.
If you'd like to learn more about the Scorpion EXO R1 Air, then head to ChampionHelmets.com where we also have our lowest price guarantee and bundle deals where you can pick up additional visors or a discounted comms System.
Summary
In the end, Scorpion have managed to produce a very strong helmet. Not only does it come at a very competitive price, but it ticks all the boxes as far as safety features, and more. While it won't beat the AGV Pista GP RR or the Shoei X-Spirit 3, it's a great helmet.
If you'd like to stay up to date on more data driven road tests like these, then make sure to subscribe to our YouTube channel and check out our Scorpion EXO R1 Air Review and Road Test Video.