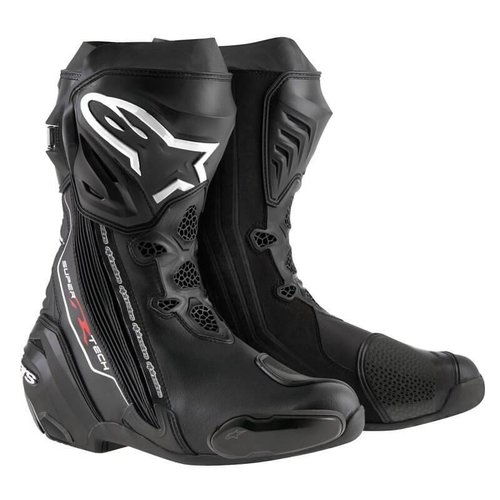 Buy Alpinestars Supertech R Boots ? Now with Free Shipping + $100 Champion Cash!
Product description Alpinestars Supertech R
The Alpinestars Supertech R is the successor of the Supertech motorcycle boot. They are one of the best sports motorcycle boots out there and they are worn by famous Moto GP drivers like Marquez. The Alpinestars Supertech R offers protection of very high quality and unprecedented comfort, thanks to improved ventilation and flexibility. The boot has a removable inner shoe, Internal Ankle Brace, which fits tightly on the foot and serves as a protective shield. It prevents unnatural movements of the ankle and foot, but at the same time it is flexible and offers great freedom of movement. The inner shoe is made of air-permeable material and has a kevlar lace to tighten it perfectly. The counterparts of the Alpinestars Supertech R are the Dainese Axial Pro In and the SIDI Vortice.
Material Alpinestars Supertech R
On the outside the Supertech R is made of very high quality leather, the zipper is made of TPU, the anti-slip sole is made of lightweight rubber and has a high flexibility. The microfiber material on the inside offers excellent grip. The boot has a TPU shin protection and heel protection which at the same time gives a distinctive sturdy look to the boot. The boot has detachable toe and heel sliders made of aluminum. The inner shoe is made of, among other things, fiberglass material. The high-quality materials of the Alpinestars Supertech R contribute to a long service life and are easy to maintain.
Protection Alpinestars Supertech R
This boot offers the rider optimal protection with considerably high aerodynamics. The inner shoe offers the foot protection of a very high level. Among other things, protection is also provided against unnatural movements of the foot and ankle. With extra protection at the toes, shin, ankle and the sole of the outer boot, impact is distributed over a larger surface and absorbed. The alpinestars Supertech R has been CE approved.
Comfort Alpinestars Supertech R
This sports boot is made for racing, nevertheless it offers comfort of unprecedented level. At the zipper, accordion leather stretch panels make it easier to put on or take off the boot. At the top of the zipper is a safe ratchet closure that can be adjusted to the calf for a perfect fit. The boot has excellent ventilation through the TPU shin and heel protection and through the forefoot opening. At the top of the boot is a round rubber finish which completes the connection to the motorcycle suit.
Other Alpinestars Supertech R
The Alpinestars Supertech R is also available in ventilated version where the leather is perforated.