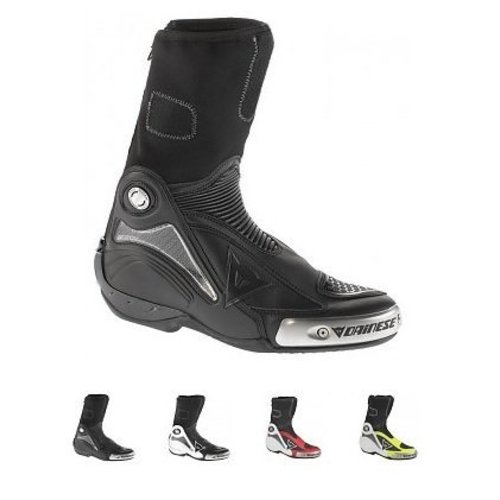 Dainese R Axial Pro In Boots
Dainese R Axial Pro In Boots
Product description Dainese Axial Pro In
Dainese Axial Pro In boots are among the top racing motorcycle boots. These are also made for the most sporty motorcyclist. Famous Moto GP drivers such as Valentino Rossi, Iannone and Espargaró also wear these boots. Dainese has thought of everything when making this boot. Protection, comfort and functionality. They are easy to pull on and off through the zipper at the back. You wear these boots in the pants, as the name already betrays. Because of the possibility of fastening on the inside of the suit, they form one whole. The counterparts of the Dainese Axial Pro In are the Alpinestars Supertech R and the Sidi Vortice.
Material Dainese Axial Pro In
First of all the D-Axial system, this system serves as protection around the foot and it consists of a mix of Carbon and Kevlar. The outside of the boot is decorated with Leather, Lorica and D-stone. Nylon has been used to reinforce the toe and heel part. The sole is made of shock-absorbing rubber which is also reinforced on the heel with a steel insert. The inner lining of Double Jersey Airgap is a comfortable and breathable material.
Protection Dainese Axial Pro In
The Axial Pro In offers the highest possible protection to the rider. The previously mentioned D-Axial system provides optimal protection, it prevents, among other things, twisting of the ankle and it forms a kind of closely fitting shield around the foot, ankle and the shin. The non-slip sole is shock absorbent. The boot is provided with a padded insert as protection against the gear lever. The Dainese Axial pro in Boots are EN 13634 certified.
Comfort Dainese Axial Pro In
The boot has not only a zipper at the back but also a Speed Lacing System on the inside of the boot. This ensures that the laces can be tightened safely and quickly. The zipper at the back makes it easy to put on or take off the boots. The boot is not meant to walk across the street with, but they are reasonably comfortable to cover short distances. This is possible due to the stretchy parts of the boot and the fact that the D-axial system offers the flexibility for this. The boot is also provided with soft inserts.
Other features Dainese Axial Pro In
The stainless steel toe sliders are easy to change. A screwdriver set is included.