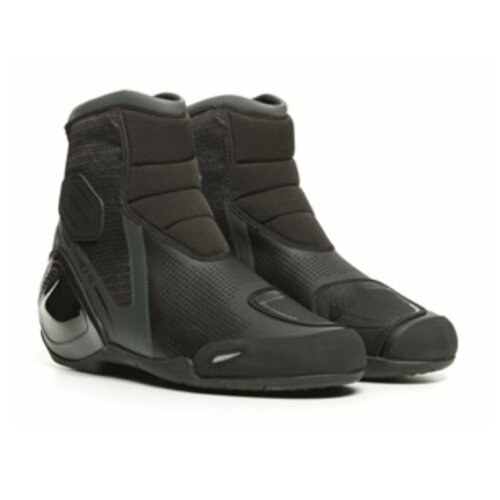 Dainese Dinamica Air Shoe
The Dainese Dinamica Air riding shoes, as the name suggests, are well ventilated and should keep your feet feeling fresh throughout the summer months. These textile shoes are versatile ready to face the summer months thanks to their sporty look and can work for sports riders, tourers or commuters, just try and avoid getting them wet. If you are thinking of riding in wetter weather, then it's a better idea to go for the Dainese Dinamica Air D-Dry shoes to face any route. These shoes have a RRP of 180 Euros as well, making them a good boot to pull out for the warmer weather riding season. These shoes will be competing with the Alpinestars Faster Waterproof Shoes, the Sidi Aria Gore-Tex Boots, and the TCX Airtech Evo Gore-Tex boots.
Material
For the materials, these motorcycle shoes are made of microfiber and high tenacity polyamide fabric. What that means is the Dainese Dinamica Air boots have a tough textile main construction and a soft but abrasion resistant area as well. For additional ventilation, there is perforation across the boot for greater airflow.
Protection
For protection, this shoe is CE Cat 2 verified, meaning that it is legally protective and has been tested. For armor, the Dainese Dinamica-Air shoes have a nylon heel, reinforced rubber on the toes and a TPU heelcounter. There are also some soft inserts around the shoe and some other TPU inserts for more protection as well.
The sole has been made out of rubber and has a decent tread. The shoe also has a TPU toe shifter guard on top to prevent wear. To get into and out of the shoe, there is a zipper at the back. This is a breathable and comfortable riding shoe.
Summary
The Dainese Dinamica Airs are strong shoes that do what they're meant to, which is to keep your feet cool. If you'd like to learn more about these boots, make sure to watch our Dainese Dinamica Air Shoes Review on our YouTube channel.