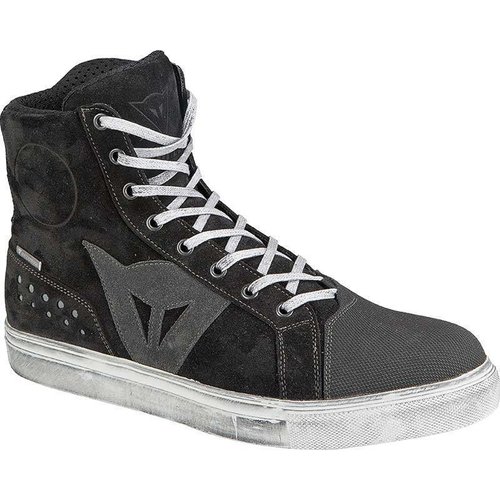 Dainese Street Biker
The Dainese Street Biker D-WP and Dainese Street Biker Air sneakers are meant for anyone who's mainly riding in the city and looking to look cool on their bike and especially for younger riders. These sneakers are ideal for zipping through the city thanks to their perfect blend of fashion and features that enhance both active and passive safety factors.
Casual sneakers are definitely a segment that is rapidly growing as you're now able to wear normal looking shoes while still keeping your feet safe. These shoes will really let you jump on or off your bike to head to whatever errands you may have around town as this is mainly an urban riding sneaker.
These shoes will be coming at a recommended retail price of about 140 to 160 Euros, or about 150 to 180 US Dollars depending on if you get the perforated version of the shoe, called the Air, or the waterproof version of the shoe, the D-WP. This means they'll be competing with the Revit Arrow and Revit Jefferson sneakers. These shoes also come in sizes 39 to 46 and like most Dainese gear will run toward a narrower foot fit.
Material
The Dainese StreetBiker urban riding motorcycle shoes are mainly made of cowhide suede around the shoe and accommodates tough highly resistant inserts made of fabric where more flexibility is needed. Though suede isn't going to give the same level of wear resistance since it's made from the inside of leather. However, this is to help them look like normal sneakers and this is also a pretty standard material for riding shoes in this category.
These shoes are also CE level 2 rated so these shoes will definitely still keep you safe.
Protection
For protection, these shoes are not going to let you down since these shoes aren't just for show, especially with their heel protectors and reflective inserts which enhance their protective ability. In terms of hard protection, you've got rigid inserts on the ankles to reduce any injury to your ankle, and you've also got a nylon heel protector to make it rigid and hold to your foot better.
For a little bit of added safety, Dainese have also added reflective inserts on the back for visibility and the sole does have a good amount of grip so you don't go and slip. The greatest con of these shoes in this area would be the lack of hard toe protection that you often see in other sneakers such as from Revit. Though then again, these types of shoes do generally offer less protection than something like full on touring gear.
Comfort
For comfort, these shoes do very well. Like it was already mentioned, if you live in hotter climates, you can get these shoes in a perforated version with perforations along the entire outside of the shoe on either side to keep your feet from overheating. If you live in places that see more rain though, you can go for the waterproof versions of the shoe with the waterproof layer integrated into the shoe.
To keep the shoe on your foot you've got standard sneaker laces so make sure to tie them tight. Though since they are made of leather, you definitely will have to break them in a bit and the insert in the shoe is removable. One last nice feature is that the inside of the ankle cup on the waterproof versions of this shoe is also textured to provide you with a better grip on the bike.
Summary
Dainese have definitely done a good job here, these are very stylish sneakers and they won't be out of place as you're walking around town. The shoes were designed excellently and have been further enhanced by small technical details that ensure they are CE Category II certified. Nor will they fall apart as easily as some other sneakers out there, given they're going to protect you from much more than a stubbed toe.
If you're still curious about these shoes, make sure to check out our YouTube channel where we have a full Dainese Street Biker Video Review.