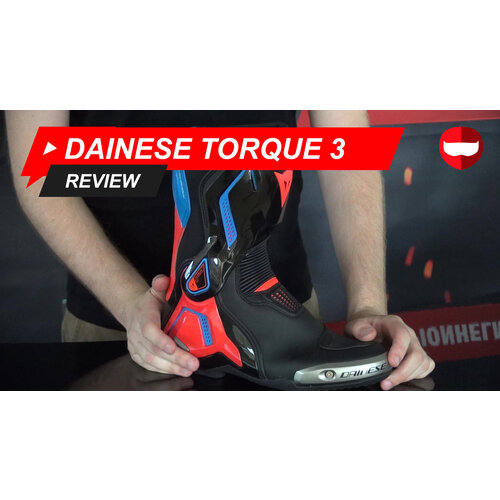 Buy Dainese Torque 3 Motorcycle Boots? Now Free & Fast Shipping!
The Dainese Torque 3 Boots are the new sportsbike boots from Italian brand Dainese. The Torque 3 boots replace the very popular Dainese Torque D1 boots. The Torque 3 have taken all the proven features from its predecessor and further improved them. Examples of these features are D-Axial system, safety, comfort and ventilation, high grip tpu inserts, reinforced nylon toe, kit boot slider magnesium and more.
Material
Lets start with the main construction of the boot. What we get is D Stone fabric, Dainese strong textile made out of nylon. They use this on their sports and racing gear because of its strength which is comparable to leather. Higher up on the boot is microfiber and this is another textile, though it isn't as tough as D Stone. It is however more flexible and more comfortable to wear. The sole is made out of rubber as well.
Protection
For armour, we have a surprisingly large amount of magnesium. The big replaceable magnesium sliders can easily be replaced with screws. Then we have the same material on the outer side and heel and on the outer side. Magnesium is lightweight and tough against abrasion. Then we have hard nylon to give impact and abrasion resistance around the heel, toe and shin.
Liner
On the inside is the interesting stuff though, and the zipper at the back opens the boot to expose the D Axial system. This axial system in TPU offers a strong and rigid ankle support system to make sure your ankle moves only in the way it is meant to. We get a speed lacing system as well to keep you in the boot. Plus the inside material is the double jersey airgap liner for airflow and comfort.
Other
For a few more features, the toe is equipped with a shifter guard for more grip and protection from your bike. On the inside edge we get high grip TPU to connect you better with your bike and also to protect you from the heat of the bike. To keep you cool there is an air channel system as well to direct air around your foot. For more ventilation there is a perforated version of the boot and also a women's version too.
Conclusion
So the Dainese Torque 3 Out is a high quality, protective and lightweight racing boot. If you want to keep up to date with the latest and greatest from brands like Dainese, make sure to subscribe to us on Youtube and check out the Dainese Torque 3 Video Review. Thanks for watching this one though, and I'll see you next time.