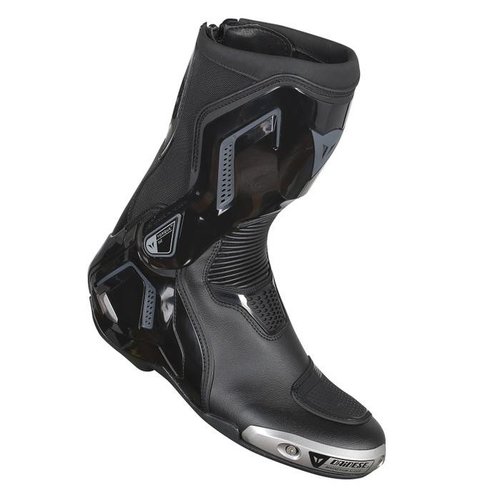 Dainese Torque D1 Out
Dainese Torque D1 Out Boots
Product description Torque D1 Out
The Torque D1 Out is a sporty and comfortable motorcycle boot that offers a lot of strength and safety thanks to the D-Axial system (TPU Brace). The D-Axial system actually forms a strong protective layer around the foot. Certain parts have an impact absorbing effect. This design ensures, for example, that the ankle cannot be twisted. The material is thinner than before and this results in a lower weight of the boot. Due to the material choice of Dainese there is optimal air supply in the boot. The boot is supposed to be worn over the pants.              
Material Torque D1 Out
D-stone material has been used for this boot. This material is extremely durable and offers a lot of protection. The TPU inserts provide extra grip. An air-permeable material has been used inside the boot. This ensures optimum ventilation. The top of the boot is made of Microfibre. This Microfibre is ultra-lightweight and extremely strong. Nylon has been used to strengthen the heel and the nose of the boot.
Protection Torque D1 Out
The D-Axial system has TPU inserts in combination with the D-stone material. The boot is reinforced with magnesium inserts on the outside of the boot and at the heel. This provides optimal protection for the vulnerable parts of the foot. The boot is CE certified according to the EN 13634 standard.
Comfort Torque D1 Out
The Double Jersey Airgap material on the inside feels soft and ensures optimal comfort and air entry. The elastic parts of the boot contribute to the comfort when walking. The boot has a zipper at the back and is extra adjustable by means of a Velcro. The boot is also easy to tighten by means of a lace on the inside. This makes the Torque D1 an excellent boot for daily use.
Other features Torque D1 Out
The magnesium inserts are replaceable, so that your boot can offer the optimal protection at all times. The boot comes with a spare screw set.