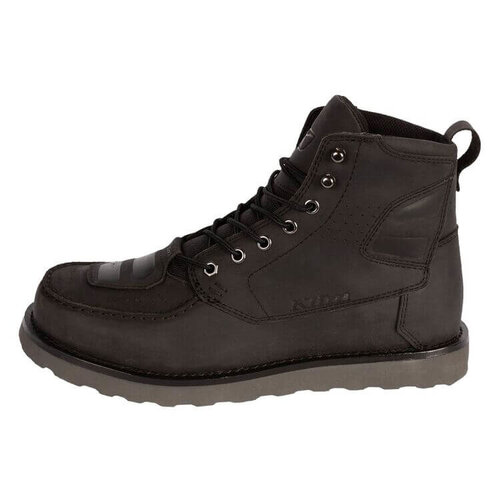 Klim Blak Jak + 5% Champion Cash Back on your order value!
Klim Blak Jak Boot Product Description
The Klim Blak Jak Boot is another piece of footwear from Klim's casual riding boot line. Combining subdued integrated motorcycle functionality with the practicality of a modern boot, the Blak Jak is a classic leather boot built to give you comfort in casual rides.
With their timeless style and rugged construction, the Blak Jak is built to blend in almost anywhere; making this a boot you'll wear all day every day.
Nonetheless, the Klim BlakJak Boots will also compete with the Dainese Street Darker Gore-Tex and the Revit Jefferson Shoes.
Material
The Klim Blackjack Boots are made of full nubuck leather for abrasion resistance, durability, and comfort. The leather has been perforated on the outsides of the ankle and in the toe. However, for even more ventilation, the tongue is made of a high-tenacity venting mesh for more airflow.
To ensure great durability wherever you go, the boots also use a welted rubber outsole construction and a shifter pad on the left boot.
Safety
Though not designed for full adventure riding, the Klim motorcycle boots still offer a great level of road ready safety. The boots come with a reinforced toe and heel construction with extra 3mm XRD tongue and ankle pads. These pads are a strong impact absorbing foam, that will up the boot's level of protection.
Comfort
Finally, like any pair of hiking boots, these boots will do great for comfort. The Klim Black Jack Boots use a standard laces for fastening with an additional entry assist pull loop and tough metal lace eyelets. The Klim boots also come with a removable insole and include a midweight lasting board for riding and walking comfort.
The boots also include a moisture-wicking antimicrobial breathable liner, which is ideal for summer riders.
Summary
The Klim Blak Jak Boots offer practical-minded casual riders an excellent option for summer riding. With their sturdy, hiking focused construction, the boots won't just be comfortable but practical too.
If you're curious to see more of what Klim have on offer for footwear, then make sure to check out and subscribe to our YouTube channel where we review the latest motorcycle gear.