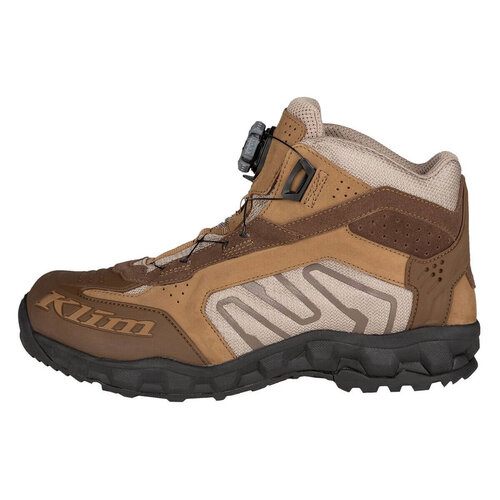 Klim Ridgeline+ 5% Champion Cash Back on your order value!
Klim Ridgeline Boot Product Description
The Klim Ridgeline Boot are Klim's answer to those looking for a casual boot that can be worn on the bike, on a hike, or around town. These summer boots include several perforations on the outside to help beat the heat with additional 3mm XRD padding in high impact areas.
The boots will also be competing with the Revit Scout H2O, and the Revit Yukon boots.
Material
The Klim Ridge Line Boot is mainly made from a mix of high-tenacity fabric mesh, nubuck leather, and suede. The majority of the boot is made of nubuck, with additional suede trimmings along the sides and around the tongue. The ventilating mesh can be found on the sides of the shoes, the tongue, and along the top of the ankle. The left boot also includes a vented shift guard protector made of TPU.
The sole is made of a Hypergrip Supergum rubber sole for grip and durability on all surfaces.
Safety
For impact protection, the Klim Ridgline Boots have opted for a greater focus on comfort using only 3mm XRD tongue and ankle pads. XRD foam is a high-performance impact absorbing foam, which is used in a variety of Klim products to raise their safety level.
Comfort
Since the boot is meant to function on bikes and go on hikes, it will be extremely comfortable. The boot is well ventilated with a moisture-wicking liner and uses a midweight lasting board (the area above the sole) to reduce weight. The insole is removable and there is an entry assist pull loop.
To close the boots, Klim have made the process simple, safe, and easy to clean with a Boa Lacing System. This system is incredibly easy to use: to tighten the boot, you just need to turn the wheel and pulling the wheel up will loosen it again.
Lastly, the Klim Ridgeline Shoes use a Nestfit anatomically optimized footbed for even better walking and riding comfort.
Summary
The Klim Ridgeline Boots are an excellent pair of summer shoes for casual riders looking for something to wear off the bike for long periods of time. They use numerous comfort features while still offering a basic level of impact protection.
If you'd like to learn more about the Klim Ridgeline boots, then make sure to check out our YouTube channel where we review the latest motorcycle gear and apparel.