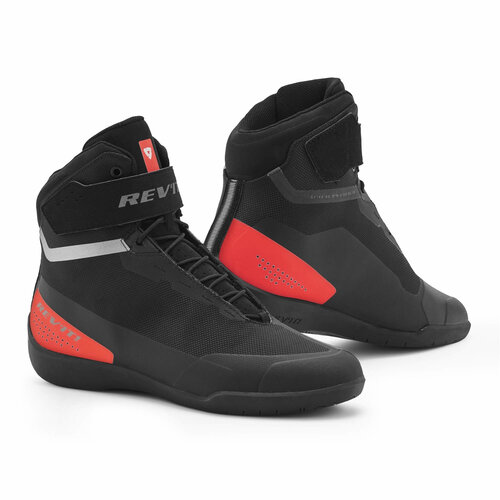 Revit Mission Shoes + 5% Champion Cash Back on your order value!
The Rev'It Mission Shoes are offering a perfect fusion of sport and sneaker for any type of sport or street rider looking for a casual look. With CE certified protectors and multiple passive safety features, these boos will make sure to keep your feet safe and cool.
The Revit Mission Boots will also be competing with the Alpinestars Faster 3, Dainese Raptor, and the Dainese Metropolis shoes.
Material
The Rev'It! Mission Motorcycle Shoes are mainly made of high-density, abrasion-resistant polyester. Around the bottom of the shoe, there is an additional layer of TPU film seamlessly integrated into the shoe, the toe also includes a TPU shiftpad protector. The gear shift pad has been further reinforced with rubber. The tongue and the Velcro strap of the boot is made of microfiber suede and will provide the shoe with additional moisture wicking properties.
Lastly, there is additional padded Lycra around the back of the ankle and additional reflective panels have been laminated onto the outside of the shoe.
Protection
For safety, the shoes bring all of Revit's sports design to the table. The shoe includes an injected ankle cup, thermorformed heel cup, and thermoformed toecap directly integrated into the shoe. The thermoformed heel and toe cups offer a good level of reinforcement while still making sure that the shoe is comfortable. Revit have included the ankle cup to ensure will also protect a sensitive area of the foot on both sides.
Comfort
The Revit Mission shoes will have a tighter fit as a result of their sport-centered origins. For ventilation, there is perforation in the shoe's ankle, and there is additional ventilation perforation in the tongue of the shoes for better breathability in the shoe. The shoe is also lined with a soft mesh lining to help with additional airflow around the shoe. So, these shoes make sure safety requirements are met as well as ensuring they are cool during summer rides.
For additional comfort, the shoes include an OrthoLite Insole X40 foam for better cushioning and rebound in the shoes. The shoes are fastened using standard laces and have an additional hook and loop ankle closure strap. The loop operated closure strap will provide a more customized fit and additional safety, since it reduces the chances of the laces being caught in anything.
Summary
The Revit Mission shoes take what was already good about Revit's extensive sneaker line and made it better. This is great to see considering the shoes are a hybrid between comfortable sneakers and protective motorcycle boots delivering plenty of safety. With their high-quality materials and additional passive safety protection features, these shoes are ideal for anyone looking for a touring, street, or urban riding shoe that has a performance focus.