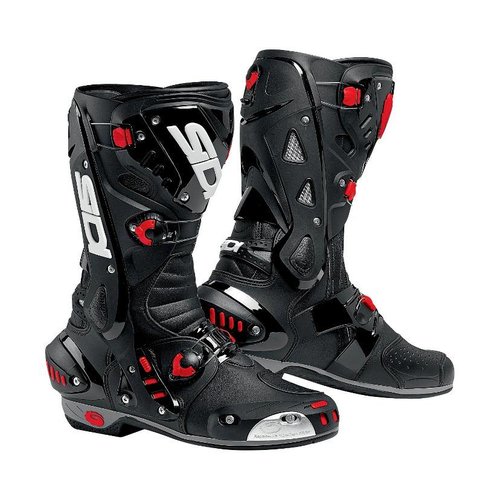 Sidi Vortice
Sidi Vortice
Product description SIDI Vortice
The SIDI Vortice is a beautiful sports motorcycle boot that offers a lot of protection and comfort. The pride of SIDI among the sports boots. The SIDI Vortice has been tested in cooperation with several of the best drivers in the field of motorsport. All parts of the boot are replaceable, so in case of a fall the boot is easy to repair. The ventilated mesh lining is treated with teflon to prevent moisture and sweat absorption, making the lining antifungal and quick-drying. The calf tightener, the shin tensioner and the ankle support system on the sides make the boot a very good fit and protection. The counterparts of the SIDI Vortice are Dainese Axial Pro In and the Alpinestars Supertech R
Material SIDI Vortice
The SIDI Vortice consists of the very high quality artificial leather, Lorica and TPU inserts. Furthermore, the inner lining consists of an air-permeable material treated with teflon. The insole is made of nylon. The sole is made of lightweight rubber. The ankle reinforcement and the toe slider are made of nylon reinforced with fiberglass. The Toe slider also has a metal insert.
Protection SIDI Vortice
The SIDI Vortice offers optimal protection, among other things, by the integrated ankle reinforcement with hinge that prevents the twisting of the ankle. The shin, calf and heel are protected by protective TPU pieces. The heel also has a shock-absorbing sole. The toe sliders protect the toes when they come into contact with the ground while driving.
Comfort SIDI Vortice
The SIDI Vortice is the ultimate racing boot with surprising comfort. The SIDI Vortice has 3 tecno tighteners at the calf, shin and entry, which ensure that you can adjust the boot to your optimal comfort. This ensures that the boot gives a very good fit. The air intake through the toe slider is lockable and around the ankle too. The boot has a removable insole, which gives extra comfort. The air-permeable mesh lining in combination with the breathable Lorica fabric and air inlets gives the feet a very pleasant feeling while driving.
Others SIDI Vortice
The SIDI Vortice is also available in a ventilated version where the leather is perforated.