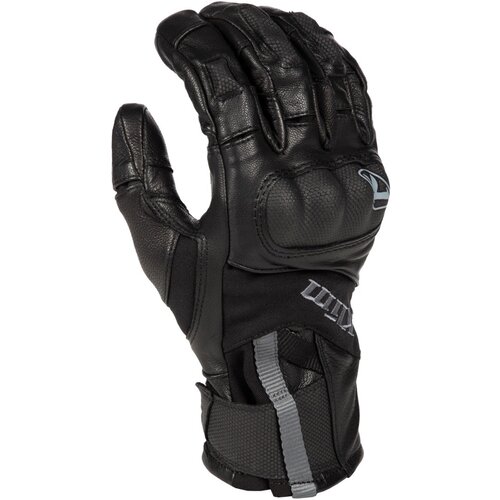 Buy Klim Adventure Gore-Tex Gloves? ✓5% Cashback on your Order Value
The Klim Adventure Gore-Tex are going to be, like their name suggests, a solid adventure glove with a Gore-Tex liner, Klim level quality, and a great price.
This ultimate world travelling all-terrain waterproof leather glove has pulled out all the stops to give you the highest quality glove possible. It comes with a Gore-Tex waterproof liner, touch screen compatible fingertips, and even has a visor wiper. So, one on hand they'll make a great touring glove. But on the other, with their short cuff design, rugged protection, and enhanced grip, they'll also do well for when you do decide to go off road.
These gloves do come at a recommended retail price of about 200 Euros, or 217 USD, these gloves will be competing with the Revit Dominator Gore-Tex and the Dainese Universe Gore-Tex Gloves.
Material
The Klim Adventure GTX Gloves are mainly made of goat leather, which is light, supple, and abrasion resistant making it a popular motorcycle glove material. The glove itself has a stretch woven construction to make them more comfortable. The glove features Mult E-Touch Smart Device Functionality in the index fingertip and the thumb. Lastly, Klim have added a ceramic print in slide areas to raise their abrasion resistance.
Safety
For safety, the Klim Adventure GoreTex Gloves mainly feature a PORON XRD palm under carbon fiber knuckle protector. So, the knuckle offers greater safety with its tough abrasion resistant outer shell, while the Poron XRD foam underneath absorbs the impact on the glove. The fingers have some protection thanks to 3D silicon finger pads with a ceramic print to improve their road performance.
Comfort
Finally, onto the glove's comfort. The Klim Adventure GTX Short Gloves clearly use a short Velcro cuff closure system alongside a tough pull tab to make it easier to make it easier to put the gloves on. They are lined with Gore-Tex, so they are "Guaranteed to keep you dry", though to help with summer riding they also have a moisture wicking liner.
Though a word on sizing would be that these glove's fit tends to run small, so you may need to order a size up. Lastly, the gloves have pre-articulated fingertips and come with a visor wiper in the finger.
Summary
The Klim Adventure Gore-Tex Gloves offer a strong balance of high-quality features with a decent price. With their extremely durable low-profile design loaded with innovative impact coverage technology and state of the art convenience, this is the high mileage master of your adventure riding kit.
If you're curious to learn more about these gloves, then make sure to check out our YouTube channel with our gear reviews, guides, and our Klim Adventure Gore-Tex Glove Video Review.