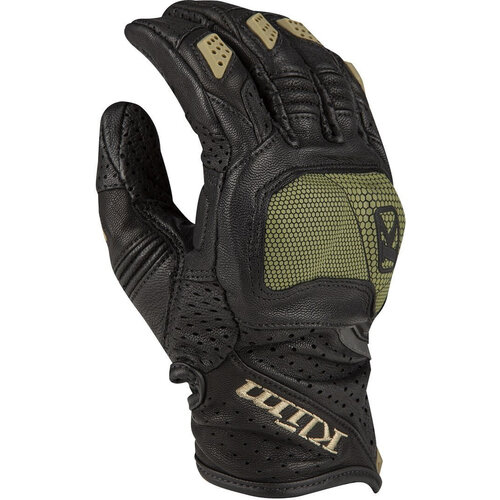 Buy Klim Badlands Aero Pro Gloves? ✓5% Cashback on your Order Value
The Klim Badlands Aero Pro Gloves are Klim's main summer adventure riding glove built to meet the demands of any riding condition of the intercontinental adventurer.
The gloves are designed to keep your hands safe and cool whether you decide to go on tour or off road. The gloves come with a large multi-density carbon fiber knuckle protector that covers almost the entire front half of your hand and they're heavily perforated throughout. So, these are a very tough pair of gloves. Coming at a recommended retail price of about 170 Euros, or 180 US Dollars, the Klim Badlands Aero Pro Motorcycle Gloves will compete with the Revit Cayenne Pro Gloves.
Material
The Klim Badlands Pro Gloves have a short cuff and are fully made of leather. More specifically goat and triple DWR rodeo leather. So, it has been treated to be more durable and to be water resistant. The knuckle and protective palm insert are coated in ceramic plated fabric for improved abrasion resistance.
For improved visibility, there is a 3M Scotchlite reflector underneath the knuckle. Finally, he gloves fasten with a Velcro cuff and have an entry assist pull loop.
Safety
For safety, these are a rugged pair of adventure gloves. In the knuckle is a thermo-formed multi-density carbon fiber protector with ceramic overlay and a Poron XRD impact absorber underneath. This means that the ceramic overlay will make the knuckle more abrasion resistant while the multi-density protector and Poron XRD foam help the gloves absorb impacts even better.
 The fingers of the Klim Badlands AeroPro come with silicone joint protectors, which are also ventilated for better airflow. Lastly, the palm comes with another Poron XRD insert with a ceramic print to absorb impacts if you stretch your hand out to break your fall and to resist abrasion.
Comfort
There will be no problem with ventilation thanks to perforations in the palm, tops and bottoms of the fingers, and in the wrist. The gloves do come with several stretch panels for more comfort. These panels are in the thumb, middle, and index fingers.
The rest of the glove will also break in more as it gets used more. Lastly, the Badlands Aero Pro gloves come with Klim's Mult-E-Touch phone friendly fingertip in the index finger and thumb.
Summary
Wherever you plan to go with the Badlands Aero Pro gloves, Klim have kept your hands covered. Not only do you get a massive knuckle protector, but plenty of perforations all wrapped up in a premium package.
If you want to see more on the Klim Badlands Aero Pro Gloves, then head to our YouTube channel where we review the latest motorcycle gear, and have our Klim Badlands Aero Pro Gloves Video Review.