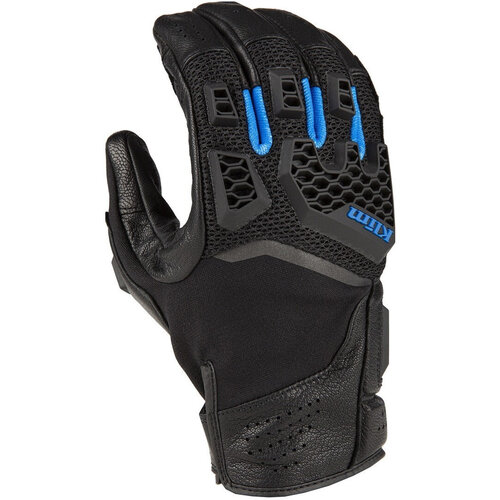 Buy Klim Baja S4 Gloves? ✓5% Cashback on your Order Value
The Klim Baja S4 Gloves are the latest hot weather adventure and touring glove for 2020.
These are a great pair of hot weather gloves with ventilating mesh along the back, ventilated protectors, and perforated leather construction. So, your hands should stay cool throughout your ride. and these gloves will excel in a multitude of conditions So, with a recommended retail price of about 100 Euros, or approximately 110 USD, these gloves will compete with the Revit Sand 3 and Dainese D-Explorer 2 Gloves.
Material
The Klim Baja S 4 Glove is composed of a variety of materials to make sure they perform in demanding weather environments with extensive dexterity. The palm and fingers are covered in abrasion resistant leather that has been perforated for airflow. In the back of the hand, you have 3D mesh for even more airflow with Karbonite Micromesh 500D 4-way stretch nylon further back and on the thumb for comfort and ventilation.
Safety
For protection, the Klim Baja S4 Motorcycle Glove comes with extensive venting protection features for confidence on the street. with flexible TPU knuckle armor to give you ventilation and for ease of movement. There are additional TPU inserts in the fingers, the palm, and on the back of the thumb.
Under the thumb and palm pads you also get perforated 3MM XRD impact absorbing foam, which is nice since it will go a long way to helping keep your hands safe aside from the exterior protectors. In the wrist, there is also an additional perforated 5MM XRD foam. The gloves are also prEN-13594 CE Level 1 certified.
Comfort
For comfort, the Baja S4 gloves excel thanks the mix of textile stretch fabric and the vented, highly flexible TPU knuckle. To fasten the glove, there is an entry assist loop along with a standard Velcro strap, which will make them easy to put on even with gloves on.
Lastly, these adventure gloves come with Klim's Mult-E-Touch phone friendly fingertips which will make it much more convenient if you need to adjust anything on your phone during your ride.
Summary
The Klim Baja S4 gloves are solid adventure riding glove with the dexterity to perform in a multitude of hot weather environments and demanding off road conditions.
If you're curious to learn more about Klim's latest gear, make sure to check out our YouTube channel where we review the latest motorcycle gear and gear guides.