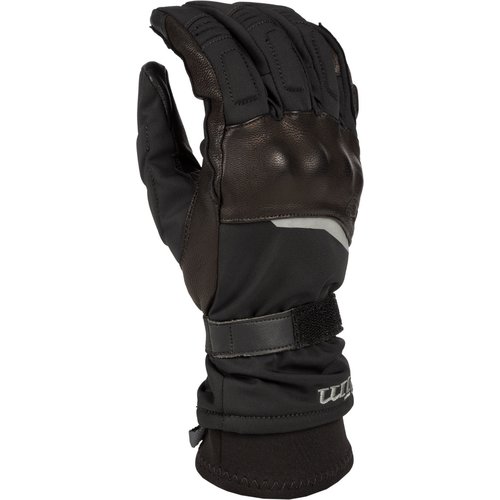 Buy Klim Vanguard Gore-Tex Gloves? ✓5% Cashback on your Order Value
The Klim Vanguard Gore-Tex Gloves are another cold and wet weather focused glove from Klim meant to keep your hands dry with their Gore-Tex liner and back hand insulation.
The Klim Vanguard GTX Gloves are a mid-level touring glove from Klim that're meant to keep your hands dry and shielded from the wind. This is a touring-specific goat leather under-cuff gauntlet glove to ensure they shield your hands from the elements and the road. They also come with a Gore-Tex Gore grip waterproof membrane.
These gloves come as either short gloves or as the Vanguard GTX long gloves, which have a gauntlet design.
The Klim Vanguard GoreTex Gloves compete with the Dainese Nembo Gore-Tex and the Revit Taurus Gore-Tex Gloves.
Material
For material, the Klim Vanguard Gore-Tex Motorcycle Gloves are mainly made of goat leather and a tough high tenacity fabric in the cuff. This surface fabric in the cuff is water resistant to help keep your hands dry, and this is in addition to the Gore-Tex Gore grip liner. Gore grip in this case means that the waterproof membrane has been specially bonded to the glove's interior to prevent inter-layer slippage and to give you a better feel.
The palm, fingers, and the knuckle protector are all covered in abrasion resistant goat leather since these are all high impact areas. Lastly, there is 3M Scotchlite reflectivity just under the knuckle.
Safety
For protection from the road, the main piece on this glove will be the flexible rubber knuckle protector. This has been covered with leather for extra abrasion resistance and underneath all this there is a Poron XRD impact absorber to keep your hand safe.
You get additional padding in the fingers to give you a bit of protection there, and the pad in the palm also comes with an XRD foam insert. This will come in especially handy since it's natural to throw your arms out to break your fall, and the XRD foam will help with this as well.
Comfort
For comfort, these gloves will also do well for touring. First off, they'll come with a bit of additional insulation in the back of the hand with 60 grams of 3M Thinsulate insulation. While this will keep the wind from cooling the back of your hand too much, you will still need additional layers for colder weather. Nonetheless, these are still gloves ideal touring and commuting.
These gloves are coming with some additional features that also make it a bit easier to put them on. In the cuff, you have a velcro adjuster strap while further up the glove there's a pull loop to try and make pulling the gloves on easier. The short version of the glove also includes an easy access zipper to make putting the gloves on even easier. Finally, they also have pre-curved fingers.
Moving onto the fingers again, you get a visor wiper in the index finger for if you do end up in the rain. And, lastly, you do get a fastening clip, so you don't accidentally lose a glove and they come with Klim's Mult-E-Touch material in the forefinger and thumb. This means you can use a touch screen while wearing the gloves and you don't need to take them off.
Summary
Though the Klim Vanguard GTX gloves will perform well as a mid to entry level touring level. They come with a Gore-Tex liner, some more high-end touring features, and a good deal of impact protection in the knuckles and palm.
If you're curious to learn more, then make sure to subscribe and check out our YouTube channel where we review the latest motorcycle clothing and gear.