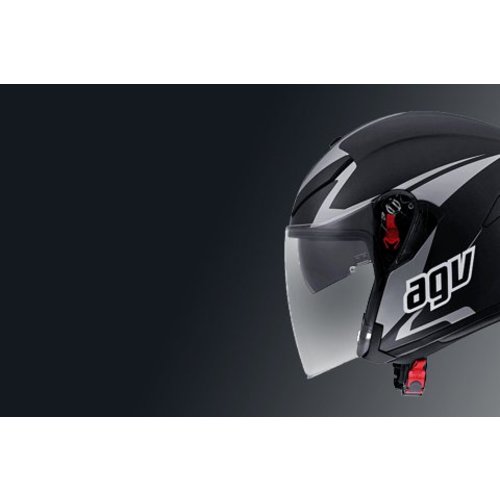 Jet helmets
Jet helmets
The open-face helmet is actually a full face helmet without the chin piece. The open face helmet is suitable for both motorcyclists and scooter riders. For the motorcyclist this helmet is especially suitable for the summer and for the scooter rider the helmet is suitable for all seasons. It is nice to have this helmet in your collection. This often trendy helmet is available in a sporty or retro version. In general, It is the retro look that is most appealing to riders who choose for open face helmets. These helmets are equipped with a built-in sun visor in the luxurious versions that you can fold down.
Other advantages of a jet helmet is the large field of vision, it is a light helmet, and you feel the wind in your face on summer days. This contributes to the ultimate driving experience. The helmet is also very practical for eyeglass wearers. And generally this helmet has a nice price. This helmet is less suitable when it rains. Some jet helmets, however, are supplied with an optional chin piece and then you do not suffer from rain.
If you want to buy a jet helmet online, it is useful to take into account the following points:
Budget: in which budget do I search for a helmet? There are helmets available from a few ten to several hundred euros so there is a lot of choice. Are you just starting motorbiking? Realize that you have excellent entry-level models from such a 100-150.
Use: What am I going to use the helmet for? Will you use the engine repeatedly as a means of transport? Then invest in a good helmet for the coming years. After all, you buy a helmet every 3-5 years on average.
Properties: Which characteristics do I find important? Think of a good quality visor, fit, inner lining of good quality, possibly prepared for a communication set and well ventilated.
Weight & Material: the better helmets are made of ultra lightweight materials such as Fiberglass and Polycarbonate. These materials have the property that they are extremely strong. The quality brands often use Carbon and Fiberglass for their better models
The contemporary jet helmets are often seen as protection, as well as a design object. There are hundreds of different suppliers. The better quality brands in the field of jet helmets are: AGV, Schuberth, Shoei and Shark. These often offer an entry-level model (which is cheaper and less equipped) and a top model (full-option and uses the best materials and accessories). If you have any questions about choosing a jet helmet that suits you best? Pease send an email to [email protected] and we will be happy to advise you further.
Did you know that if you order from Champion Helmets you can expect the following:
Free delivery and return (above 200 euros)
100 days reflection period
Price Match Guarantee (if you see it cheaper elsewhere, we offer the same price)
Free Helmet service