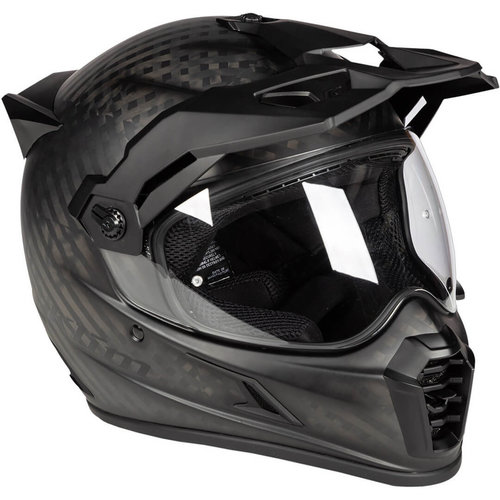 Buy the Klim Krios Pro Helmet? Free shipping!
The Klim Krios Pro Helmet is an adventure helmet derived from the original Klim Krios and is meant to be the lightest adventure helmet available. Carved from the Krios full Karbon Fiber hand laid shell, both are spelled with a K according to Klim, this helmet will pull its weight in keeping your head safe. With its aerodynamic superiority and unrivaled acoustical and contact comfort, the Krios Pro helmet elevates any ride into the ultimate ADV experience.
Since it is an ADV motorcycle helmet, you can adjust its various features including its visor and peak to suit how you'd like to ride. This means that you can use the Krios Pro for street, adventure, dirt, or trail riding since the visor aperture is large enough for goggles.
With a recommended retail price of about 500 Euros, the Klim helmet will be competing with the Shoei Hornet ADV, AGV AX-9, and the Arai Tour X4.
Material
For material, the Klim helmet is made of high performance Karbon Fiber construction (carbon fiber) which is why it's going to be so light weight in a category that tends towards being heavier. This is often the case because of the helmet's off-road design and extra features like a large peak. But, given the helmet's light weight of about 1300 grams, the Krios Pro helmet is going to be very useful when you go off road.
It's also both ECE and DOT certified and comes in 2 outer shell sizes.
Ventilation
For ventilation, the Klim Krios Pro Off-Road Helmet comes with an adjustable vent in the chin and another in the forehead. Both are large and should flow plenty of air, though you can always switch to wearing goggles if you want even more to come through the helmet. There are 3 exhausts out the back with two on either side and one on top underneath the spoiler.
Visor
The helmet's visor comes with a good array of features. The visor aperture, as usual for adventure helmets, is large enough for you to wear goggles in the helmet. The Klim KriosPro helmet comes standard with a clear pinlock prepared visor but no pinlock insert lens in the box.
Instead, you get a Transitions photochromic lens, which is great considering this is all included in the 500 euro price tag and these visors usually cost about 150 Euros. This transitional visor means you get a face shield that will automatically change color according to the level of light.
The visor can also easily be removed without any tools.
Comfort
The interior of the Krios Pro is where it really gets interesting. The liner is Klim's Klimatek material, which is moisture wicking and antimicrobial. The Krios Pro uses a magnetic Fidlock chin strap to help reduce the fuss of making sure everything is fastened correctly.
The helmet is designed to fit with the Sena 10U system, though it does not come with speaker cutouts. What's reallyinteresting about the liner of the helmet though is that instead of standard EPS liner, the Krios Pro integrates Koroyd material and construction. This liner basically looks like a series of straws, but it will absorb impact better and more uniformly than EPS. But the other advantages that come from this structure is that it's ultra-light, more ventilating, and does better at absorbing angular impacts.
We've also seen similar helmet safety improvements in other off-road helmet companies like Airoh as well with their AMSS system in their Cross Helmets, though even this was primarily focused on reducing energy from angular impacts rather than energy overall.
Summary
The Klim Krios Pro does manage to hold its own when put up against its main competitors from Shoei and Arai. While Shoei and Arai do offer a few more premium features like more shell sizes and quality, Klim have produced a good helmet with some innovative features that definitely make it more than an ordinary ADV helmet.
If you'd like to learn more about the Krios Pro, then head to our YouTube channel where we have helmet reviews, road tests, and our Klim Krios Pro Helmet Video Review.