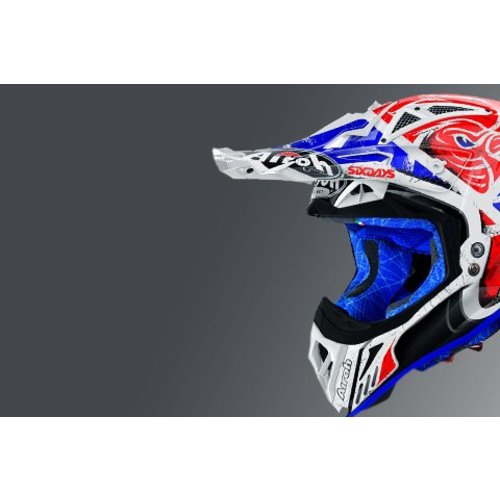 Off Road helmets
Off Road helmets
Offroad helmets are used off road as it shows in the name. For example the desert, the woods or on motocross trails. The helmet is recognizable by the extended front peak that protects against splashing mud and sand. These helmets usually have no visor. The motocross usually is quite aggressive. It is therefore important that the off road helmet offers sufficient protection during falls. And then there is the adventure helmet that can be used for both motocross and rough and unpaved roads. In addition to an adjustable extending peak, these helmets also have a removable visor. Instead of the visor, these helmets can be worn with a pair of goggles.
It is important when ordering an off road helmet online to pay attention to the following points:
Budget: What budget should I think of for this helmet? There are decent motocross helmets available from 200 - 1000 euro so there is a lot of choice. Are you just starting out with motocross? Realize that you have good entry-level models from such a 150-250 euro. Under this price point you have to compromise on the quality.
Use: How do I use the helmet? In the case of a cross helmet or adventure helmet, the use is clear. Or you are going to use the helmet for cross-riding or rough unpaved roads. Security is a priority in both cases. And then you have to go for a good fit and durable shell material. A good quality helmet for the coming years. After all, you do not buy a helmet every year
Properties: What characteristics does the helmet have? Think of a good quality visor, good fit, good ventilation, good inner lining.
Insulation: How important is the insulation? There is a big difference in quality of the inner lining. A good lining is: removable, washable, soundproofing and excellent ventilation. Often also equipped with (Emergency Quick Release System). With the helmets in the higher price segment you can all expect these features.
Weight & Material: the better helmets are made of ultra-lightweight materials such as Fiberglass and Polycarbonate. These materials have the property that they are extremely strong. The quality brands often use carbon and fiberglass for their better models. They also last longer.
Most contemporary cross helmet shells come in different sizes, so they can offer an optimal fit. There are hundreds of different suppliers. The better quality brands in the field of Cross Helmets are: Airoh, AGV, and Schuberth. These often offer an entry-level model (which is cheaper and less equipped) and a top model (full-option and uses the best materials and accessories). Do you have questions about choosing an off road helmet that suits you best? Send an email to [email protected] and we will gladly advise you further.
Did you know that if you order from Champion Helmets you can expect the following:
Free delivery and return (above 200 euros)
100 days to change your mind
Lowest Price Guarantee (if you see it cheaper elsewhere, we offer the same price)
Free Helmet service