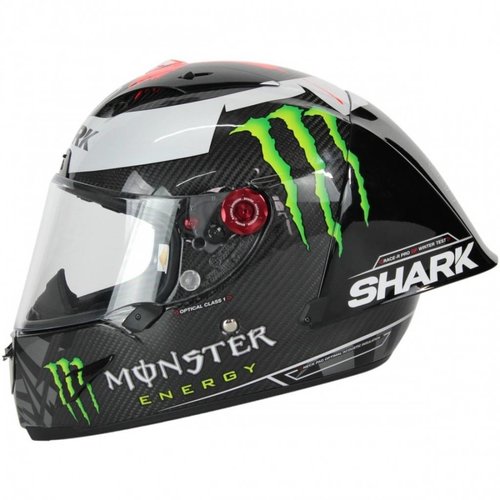 Shark Race R Pro GP
Product description Shark Race R Pro GP
The Race R Pro GP is the latest addition of Shark in the field of racing helmets. It is the successor of the much worn racing helmet Race-R Pro, which has won a lot of victories at MotoGP competitions. The new Race R Pro GP helmet is very recognizable by the striking aerodynamic spoiler which ensures that the helmet remains utmost stable at extremely high speeds. Lightweight, stability, comfort and aerodynamics are demands that the big players like Lorenzo, Zarco and Redding put on a race helmet and their specific requirements are taken into account when developing this helmet. Safety and technology have come together here.
Safety Shark Race R Pro GP
The very strong lightweight material of the shell provides less tension on the neck and optimal protection against impact. The material consists of a carbon and aramid structure (COVA = Carbon On View & Aramid). This material is very durable and shock resistant. The inner shell (EPS) consists of multiple densities, which gives it an optimal impact absorption. The double-D closure consists of titanium with an oxide layer and the magnetic buckle provides extra stability. The eye-catching spoiler is designed in such a way that it releases from the helmet in the event of a fall or slide and thus contributes to optimum safety.
Ventilation Shark Race R Pro GP
Ventilation is extremely important for a race helmet. Shark did very well with this helmet. In the chin section there is an air intake that can be opened at 2 different positions. There is an air intake just above the visor and two air inlets are left and right in the upper part of the helmet. All air intakes are easy to operate and glove-friendly.
Visor Shark Race R Pro GP
This visor is of optical class 1 rating with a variable thickness of 4.2 mm in the middle and 2.8 mm on the sides. The visor is anti-scratch treated on the outside and anti-fog treated on the inside. With the special mechanism, the visor is easy to remove without the use of tools. The visor is not pinlock prepared, which we do find a minus point on this helmet.
Lining Shark Race R Pro GP
The lining is suitable for spectacles wearers. The 3D Morpho system was used in developing the cheek pads. This 3D Morpho system ensures that the cheek pads will perfectly conform to the characteristics of the wearer. The lining is removable, washable anti-bacterial and feels cool and fresh.
Features Shark Race R Pro GP
Type of helmet: Integral Helmet
Material of the shell: carbon and aramid
Outer visor: optical Class 1 visor
Closure: Double D closure with magnetic buckle
Inner lining: removable, washable, antibacterial, soft and comfortable
Helmet shell: comes in 2 sizes
Ventilation: Full ventilation with 4 air vents in front and 7 air vents
Communication system: is prepared for the Shark Tooth communication system
Weight: ± 1210 gr
ECE-2205 approved