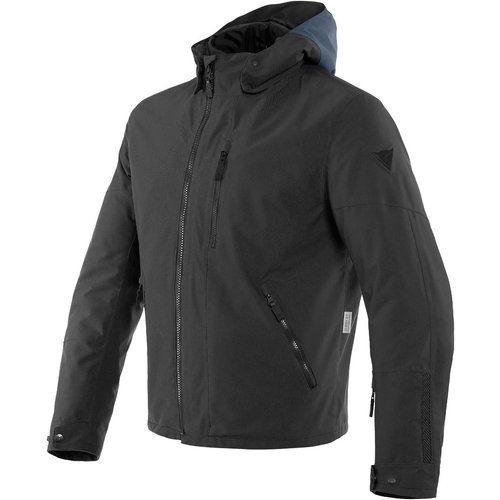 Buy Dainese Mayfair D-Dry Jacket + Free shipping!
Dainese Mayfair D-Dry Jacket Product Description
The Dainese Mayfair D-Dry Jacket is another soft-shell jacket from Dainese meant for urban riders and commuters looking for a casual style who don't want to run the risk of getting wet. With its D-Dry XT stretch waterproof outer layer and removable hood, the jacket is ready to face everyday thanks to the balance of design, comfort, and accessibility.
In the light urban motorcycle jacket category, the Dainese Mayfair DDry will also compete with the Revit Flare, Revit Burn, and Klim Drifter Jackets.
Material
The Dainese Jacket is made from a D-Dry XT stretch waterproof membrane. D-Dry is Dainese's own take on Gore-Tex, which means that the jacket is waterproof and will also offer a basic level of abrasion resistance. The jacket will also be extremely comfortable since it is designed to flex and stretch with your body.
Safety
For protection, the Dainese Mayfair D-Dry Textile Jacket includes removable Pro-Armor protectors certified to EN 1621.1 standard on the elbows and shoulders. So, the jacket will offer a basic level of impact resistance without impinging on your comfort or your look, since the slim protectors have been designed to not leave a silhouette.
Lastly, the Mayfair D Dry has a pocket for a Dainese G1 and G2 back protector.
Comfort
Besides the excellent outer shell material, the Mayfair D-Dry waterproof jacket includes several other comfort features. First, but not least, it comes with a removable thermal lining to keep you warm if it does start to rain. The jacket is fastened with a YKK Vislon zipper and comes with earphone support for when you're walking around off the bike.
For storage, the jacket includes a document pocket on the sleeve, two zippered pockets on either side, and a waterproof smartphone pocket in the chest. For adjustment, the jacket can be cinched in the wrists using several snaps.
Lastly, the hood is removable and adjustable to make riding problem free. So, you can remove the hood while riding, and, when you dismount, you can reattach it once more with 4 snaps.
Summary
The Dainese Mayfair D-Dry is an excellent jacket for facing everyday urban challenges while reducing the risk of getting wet. With its shorter cut and modern style, the removable hood and convenient smart sleeve pocket put the finishing touches on the Mayfair.
If you're curious to learn more about various Dainese jackets, then don't forget to check out and subscribe to our YouTube channel with our gear reviews, guides, and helmet road tests.