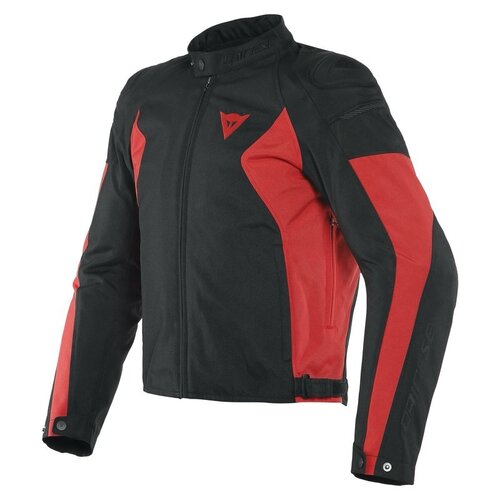 Buy Dainese MisticaDainese Intrepida Jacket + Free shipping!
Dainese Mistica Jacket Product Description
The Dainese Mistica jacket is the newest complement to the Dainese Avro D2. This sports jacket's design focus has been on versatility and design. With its removable thermal liner, this middle of the range tex jacket offers a variety of features that also make it suitable for commuting riders looking for a 3-season jacket.
Besides being positioned alongside the Dainese Avro D2, the Dainese Mystica will also be competing with the Revit Vertex, Revit Target, and the Alpinestars Valparaiso 3 Dry Star jackets.
Material
The Dainese Mistica Riding Jacket is made of Dainese's D-Synth 350 fabric, which will be lightweight and abrasion resistant. For better visibility, the jacket also includes reflective inserts discretely placed on the outsides of the arm. For better ventilation in warm weather, the jacket also includes air vents in the chest and back.
Protection
For safety, the Dainese Mistica Motorcycle Jacket is prEN 17092 certified and the jacket's composite protectors are certified to EN 1621.1 standards. The removable protectors can be found in the elbow and the shoulder of the jacket and the protectors are made from a composite plastic. The shoulders also feature rigid polyurethane protectors that have also been covered with D-Synth 350 fabric for added abrasion resistance. Lastly, the jacket is also prepared for Dainese's G1 and G2 back protector and has a pants fastening system.
Comfort
The Dainese Mistica jacket offers plenty of temperature control with its removable thermal liner. So, during the summer, the liner can be left out and the vents put to work, while during the spring and autumn you can put the liner back in to keep warm. The liner of the jacket is also made of breathable and perforated Sanitized fabric.
For commuters, the jacket is also ideal thanks to its 5 pockets. The Mistica includes 2 outer pockets, 2 inner pockets, and 1 pocket in the thermal liner. Lastly, the jacket allows you to adjust the neck, waist, and wrists using a variety of snaps and straps.
Summary
Though the Mistica is very similar to the Dinese Avro D2 (they even have the same price) the Mistica is offering some value of its own. With it's prEN certification and updated style the Mistica does offer a few new features.
If you'd like to learn more about the Dainese Mistica, don't forget to check out and subscribe to our YouTube channel where we also have our Dainese Mistica Jacket Video Review.