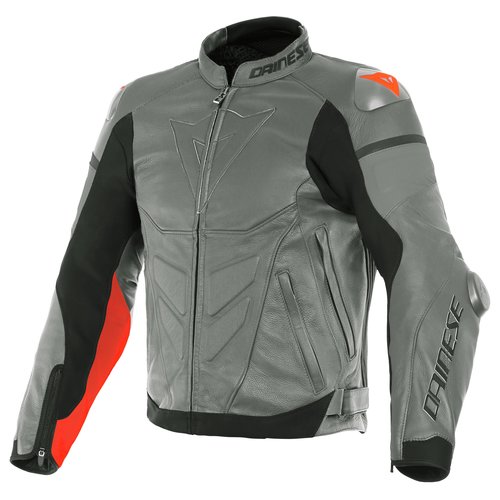 Dainese Super Race Leather Jacket Grey Red + 50% discount on the Pants!
Dainese Super Race
The Dainese Super Race Jacket is the latest and greatest from Dainese for the racers out there, on and off the track. This jacket is full of impressive sounding features like D-Skin 2.0 and Tri-Axial technology. The Super Race Leather is available in sizes 44-60 and will also come in a perforated version for extra ventilation.
The Dainese Jacket will also be in competition with the Alpinestars GP Pro V2 and the Revit Hyperspeed Pro Jackets.
Material
The best place to start on this jacket is the materials that Dainese have used for the jacket. As the name suggests, the Super Race is mainly made out of leather and this is D-Skin 2.0 full grain leather.
So, D-Skin leather is just leather right? Well, Dainese have done some special and secretive things to make their leather abrasion resistant and also flexible. So, it is actually very comfortable to wear for a racing jacket. They have also added resin and silicon treatments to make the leather stronger.
We also have S1 bielastic fabric in areas that need to stretch, and this fabric is tough but flexible enough to move around in.
Safety
Because this is a racing jacket, there are plenty of safety technologies which were developed through experience gained from MotoGP. On the elbows Level 2 differentiated protectors keep our arms safe from impacts and abrasion. The jacket also includes CE Level 2 protectors on the shoulders.
These work well to minimize impact force. We also have enlarged aluminum racing plates on the shoulders and the elbows next to the replaceable sliders to add some strong abrasion resistance in these key areas. We also have pockets for a double Chest protector and either a G1 or G2 back protector.
Comfort
The Dainese SuperRace jacket has 2 inner pockets and 2 outer pockets on either side. Then, we have an embossed Dainese demon on the chest but also all around so when you blast past someone, they'll know what you're wearing. It has air vents on the side to keep you cool and a nanofeel liner with 3D bubble fabric on the inside for comfort as well. However, if the weather ends up to warm, you can always go for the Dainese Super Race perforated leather jacket.
For some general extra comfort options, we have a big hump at the back, although it is technically called a 'spoiler'. It works for your aerodynamics and does really complete the racing look. The wrist cuffs have elastic in them to give a closer fit, plus microelastic and bielastic fabric technology for superior freedom of movement. If you have pants that support this as well, you can connect your jacket to your pants to make something similar to a racing suit, which is better for your safety.
As far as looks go, the jacket's embossed speed demon lends the jacket even more of a racing air with the unique matt colors on thermoformed pads in the chest.
Summary
The Dainese Super Race Motorcycle Jacket once again show how Dainese have managed to stay on the cutting edge of racing technology. The jacket has been designed to give you the best of everything including comfort, aerodynamics, and safety making track days a breeze in more ways than one.
If you're still curious to learn more about the Dainese Super Race, then make sure to head and subscribe to our YouTube channel where we have our Dainese Super Race Video Review among many more motorcycle gear guides, road tests, and reviews.