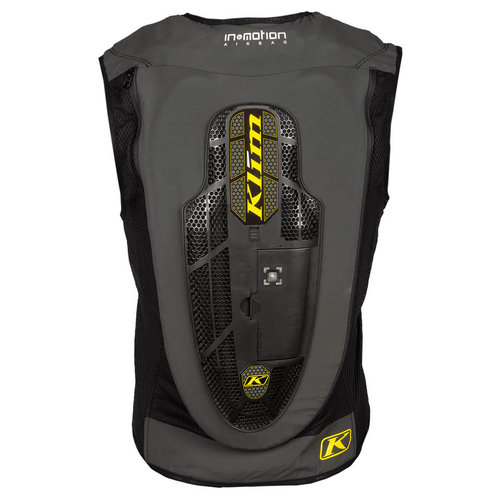 Klim Ai-1 Airbag Vest? Free Shipping!
Klim Ai-1 Airbag Vest Product Description
The Klim Ai-1 Airbag Vest is another airbag vest built by a major gear manufacturer to help riders have as much safety as possible. Afterall, MotoGP riders are not the only ones who would like a high level of protection. Klim, working with In&Motion, have developed an AI driven system for touring riders in a way that ensures that the vest is continually learning and improving.
The jacket will also be competing with other cutting edge airbag systems like the Dainese Smart Jacket.
In&Box
The "brain" of the Klim Ai1 Airbag is the In&Box DPP (detect, protect, perfect) detection Module housed in the polypropylene shell vest. This is a powerful piece of technology that measures for abnormal activity 1000 times/second. Aside from the continuous coverage and measuring, the device has a total battery life of 20 hours (or 15 days when in standby) and only takes 3 hours before fully charging. The charging cable is also included in the box.
The system is autonomous since it receives updates via Wi-Fi, does not need to be connected to the bike, and it can be removed from the jacket for easy charging and access.
Safety
The Klim A 1 Airbag Vest is designed to offer as much protection as possible. The vest is meant to protection the thorax, abdomen, spine, and neck only taking 60 milliseconds to go from detection to inflation. However, for extra safety, the jacket uses a memory elastane CE Level back protector certified to EN1621-2 standards for safety even without being inflated.
The vest itself is also certified to prEN 17092-6 standards, which is the higher standard used for airbags. Lastly, the jacket has also been 5-star SRA (Securite et Reparation Automobiles) rated, which is one of the highest rated motorcycle airbag systems.
Since no real-world crash is the same, the system's algorithm is constantly being updated and even offers street and track crash detection options for more specialized protection.
Comfort
The Klim Airbag Vest is designed to be comfortable wherever you go and regardless of whether you wear it over or underneath your riding jacket. The interior chassis of the jacket is made of a moisture-wicking, breathable stretch mesh for ventilation and flexibility.
Once you receive the vest and In&Box module, then you can also use the mobile app dashboard interface on your phone. There is a full purchasing option which includes continuous algorithm updates, 2-year warranty, and track mode crash detection options. For more flexibility, there are also subscription options which include VIP support services in addition to the previous features.
Lastly, the jacket has been designed to withstand 3 inflations before servicing. This has been made possible since Klim also offer user-replaceable compressed inert gas inflators to let you reuse the airbag when you need. To check whether the vest has been damaged after a deployment, Klim have even made it possible to use a bicycle pump to inflate the vest to check for any punctures.
Summary
The Klim Ai-1 Airbag Jacket offers numerous innovative features that offer a high level of safety. The airbag has a quick deploy time, an additional back protector, and the system is continuously being improved. Additionally, the Klim airbag has the bonus that, unlike most other companies, you can re-inflate it yourself, without having to send it to a dealership.
If you'd like to learn more about the various Klim gear on offer, then make sure to subscribe and check out our YouTube channel where we review the latest motorcycle gear.