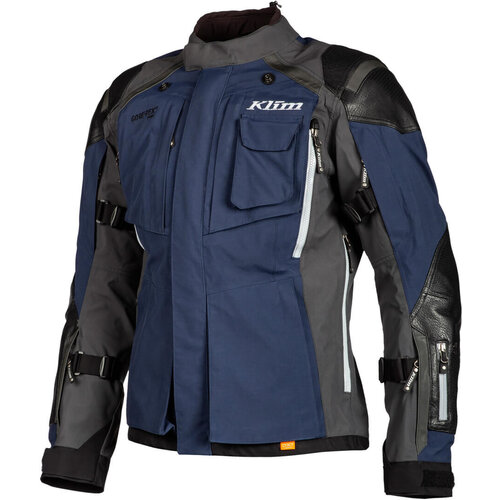 Buy Klim Kodiak Dainese Intrepida Jacket + Free shipping!
The Klim Kodiak Jacket is going to be offering next level touring comfort, safety, and features. Basically, if you need something for a tough, long distance journey, that stops a hair short of adventure riding, this you'll want to consider the Klim Kodiak set.
First, focusing on the jacket, it, like most of Klim's other jackets, has seen a recent update for improved fit. That being said, it will still be the same 3-4 season jacket (with layering) that will work in the harshest of touring conditions.
The jacket also definitely goes in for safety with full CE Level 2 armor, leather reinforcement, and 3M reflective vents. So, the Klim Kodiak will be competing with the Dainese Antartica Gore-Tex and the Revit Dominator Gore-Tex Jackets. Which are already the best that you could possibly buy.
Material
The Klim Kodiak Motorcycle Jacket is fully made of Gore-Tex Pro for the outer shell. This material is coming straight from GoreTex and is meant for extreme applications including motorcycling. It's going to be highly waterproof and breathable and is built in 3 layers: the rugged abrasion resistant outer layer, the Gore-Tex membrane in between, and a comfortable and breathable backing for the inside.
The Kodiak also includes perforated leather overlays in the shoulders and elbows for extra abrasion resistance with 3M Scotchlite ventilating reflectors in the shoulders and back as well. Lastly, the jacket is prEN 17902 certified to Class AA.
Safety
For protection, the jacket also features a few high-level features. First, off it comes with D3O CE Level 2 armor in the not just the shoulders and elbows but the back as well, which you don't often see. D3O armor is also not just any ordinary armor since it has unique properties that make it flexible normally, but it will turn rigid in an impact.
Not only does it come with these protectors though since it also comes with a removable kidney belt for a bit of extra lower torso safety.
Comfort
Lastly, we now come to the Klim Kodiak Jacket's comfort. First, this jacket comes with plenty of vents to try and keep you cool as you ride. There are 2 zipper vents in the chest, 2 in the side, 2 in the bicep, 2 in the forearm, and 2 in the back. And this is in addition to the perforated leather reinforcements, which will make this a well-ventilated jacket.
Inside the jacket, there is a Gore-Tex breathable liner with 2 internal zippered pockets and 2 internal stash pockets. And you've also got a hidden passport pocket in the lining, since it doesn't hurt to think international.
Back on the outside again, you can adjust the jacket with cinches in the forearm and bicep, a tab in the collar, and you have Velcro in the cuffs. In the collar you have additional snaps to keep it from flapping in the wind.
There are also additional pockets on the outside, so that's 1 Spot pocket in the chest, 2 external chest pockets, and 2 external hand warmers. So again, you're getting plenty of touring comforts though it will definitely be a challenge finding things to fill all those pockets up.
Summary
Overall, the Kodiak Jacket is offering a great range of features, and, most of all, safety. While it won't match the touring comfort of something like the Dainese Antartica Gore-Tex, it certainly surpasses it in terms of safety with its CE Level 2 armor and additional protectors already offered in the jacket and pants.
If you're curious to learn more about the Klim Kodiak jacket, then make sure to check out our YouTube channel with our Klim Kodiak Jacket + Pants Video Review.