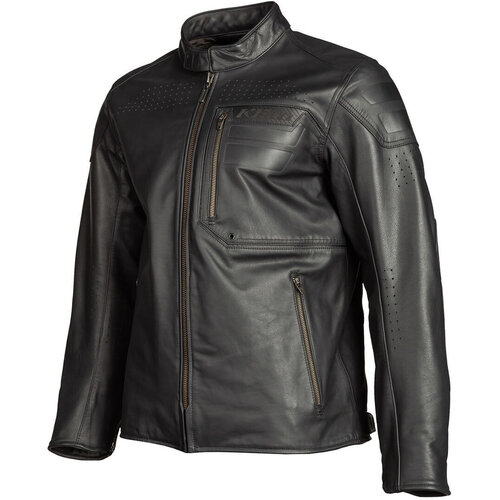 Buy Klim Sixxer Dainese Intrepida Leather Jacket + Free shipping!
The Klim Sixxer Jacket brings Klim's adventure jacket expertise to the urban and leather touring jacket market. With its 0.9-1.1mm thickness premium cowhide leather construction and magnet collar tab retention, the Sixxer mixes timeless looks with the latest technology. Klim have also been strategic in their approach to ventilation, only putting engineered perforations for airflow in key areas.
In the leather motorcycle jacket market, the Sixxer will also be competing with the Revit Sherwood, Revit Cordite, Revit Huntington, and the Dainese Mike 2 Jackets.
Material
The Klim Sixer Jacket features a .9 – 1.1 thick premium cowhide leather outer layer construction. Cowhide leather offers a high level of impact protection, which is why it is also used exclusively for racing gear.
The jacket also features Helcor Leather Trimming, which is a premium split grain leather. The jacket also includes full YKK zippers for fastening.
Safety
In designing the Klim Sixxer leather jacket, Klim have left the choice up to you in purchasing additional impact protection for the shoulder, elbow, and back. The armor is sold separately. Nonetheless, the jacket does come prepared for D3O CE Level 1 and 2 armor, with adjustable elbow closure pockets for armor and a spacer mesh backpad pocket.
Comfort
While Klim went lighter on the protection of the jacket, they have poured a lot of attention into the jacket's comfort features. First, the jacket is fastened with a zipper and a comfortable dual-fastening magnet collar tab. However, rather than leaving the zipper to scratch your fuel tank, Klim have also included a bottom hem zipper guard to prevent this.
The jacket features a comfort-mapped mesh liner, and the premium moisture-wicking satin liner is finished with antimicrobial treatment. The mesh has also been specially matched with the motorcycle jacket's perforations for better ventilation. These vents can be found in key areas in the shoulders, elbow, shoulder, and the back of the shoulders.
The Klim Sixxxer Leather Jacket includes a zipped chest pocket with a drain hole and 2 zipped hand pockets on the outside. For the interior, the jacket comes with an internal chest zip pocket and another lower internal zipped pocket.
Lastly, the jacket offers bottom hem snap adjustment and zips in the cuffs.
Summary
The Klim Sixxer Jacket is a premium quality leather jacket with a timeless look and clever construction. The jacket is always ready for a proper ride and offers riders a strategic approach to ventilation alongside an excellent level of comfort.
If you want to learn more about the Klim Sixxer jacket, then don't forget to subscribe and check out our YouTube channel where we review the latest motorcycle gear.