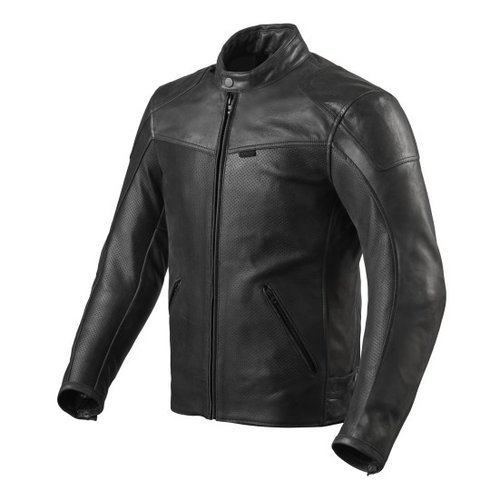 Buy Revit Sherwood Black Jacket? Free shipping!
The Revit Sherwood jacket is a nice, streamlined jacket that should fit almost all of your riding styles and fashion desires. It's made of cowhide leather, but don't let its good looks fool you, it's still a riding jacket and that means it does bring you some nice safety features. All in a neat package with a recommended retail price of almost 350 euros, or around 390 US dollars, so it will be competing with the Dainese Mike 2, the Alpinestars Dyno V2, and the Dainese Super Rider D-Dry jacket.
Material
The Rev'It Sherwood a nice jacket coming off of Revit's new line. It is made of this nice leather and the quality of the stitching is clear. You're getting a nice look along the seams as well as the understated logo on the back just under the collar. The Revit Sher Wood motorcycle jacket comes in black in Revit sizes 46-60. The leather is nice, it feels good and should look good in any sort of riding you're planning on doing. If you ride in hotter climates, then you can instead go for the Revit Sherwood Air perforated jacket. You've got two zippered pockets down the front on either side. And the collar material is leather, as are the cuffs, each with a bit of reinforcement just underneath.
Safety
In terms of protection, this jacket should serve you moderately well. It's made from leather which does help give some abrasion resistance. But you do get some hard protection in both the shoulder and the elbow both of which are made of SEESMART padding which is CE rated. The padding is light and flexible but should still keep you protected from the road. The jacket does come prepared for Revit's CE-Level 2 back protector, which is always a good idea, though it must be purchased separately. Lastly, if does come with a connector zipper at the back, so you can connect the jacket to any pair of Revit jeans or riding pants.
Comfort
Inside the Rev'It Sher Wood, then you'll see that it comes with a detachable bodywarmer. The bodywarmer is nice and light quilted material that should keep you nicely cozy. The jacket even comes with liner pockets on the inside of the bodywarmer and the jacket's liner itself. You can just remove the bodywarmer with a single zipper that goes all the way around. If we peel the liner back, then you'll see the jacket's interior is mesh, which should help keep you cool.
Other
In terms of adjustability, this jacket does give you a few options. Clearly, it is done up by a zipper in the front with a collar and a rivet that you can button to keep that zipper in place. Unfortunately, there's only one rivet, so you can't really adjust it there like you can on some other jackets. But it makes sense since this jacket is going more for style. Nevertheless, you do get a bit of adjustability in the sleeves, where you've got a zipper to open up the tricep area with a rivet at the end. You can also cinch the waist, to help fit your form with the option of two rivets, which is a bit disappointing in terms of fitting.
The Rev'It Sherwood a nice and stylish jacket that should serve you in any urban riding setting while still giving you some of that nice leather style. Though the adjustability was a bit lacking, it should still give you enough to get a good fit and good protection.