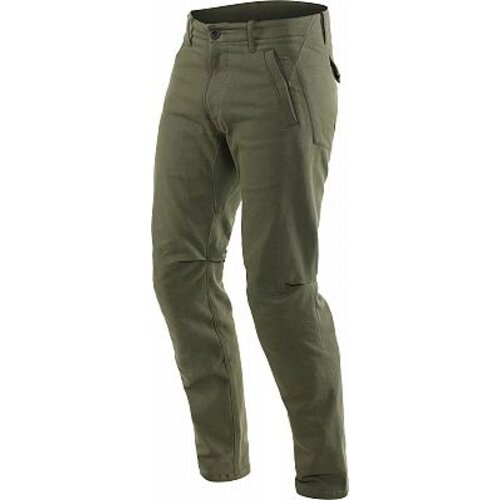 Dainese Chinos Pants + 5% Champion Caschback!
Dainese Chinos Product Description
The Dainese Chinos riding pants let you finally take your bike to work without having to change before walking through the office doors. With their smart-casual styling and motorcycle ready protection, these pants are especially great for commuters and urban riders.
These pants will also be competing with the Revit Brentwood SF, Alpinestars Copper V2, and the Revit Detroit TF textile pants.
Material
The Dainese Chinos are mainly made of Armalith in a single layer. This allows the pants to be light, comfortable, and highly abrasion resistant. Armalith is even meant to offer the same abrasion resistance as leather but with the texture of ordinary denim or cotton.
Protection
To help absorb any impact, the pants do come with some additional protectors. First, the hips come with Pro-Shape 2.0 protectors and they are made of vulcanized rubber for flexibility. Lastly, the knees of the pants feature the same type of protectors certified to EN 1621.1 standard and they are adjustable to fit your form better. The seams of the pants have also been hidden to increase their safety and comfort.
Comfort
As with any pair of chinos, the Dainese Chinos Motorcycle Pants offer a great level of comfort and convenience. The pants come with 2 pockets at the front, 2 at the back, and an extra pocket on the side that is easily accessed. The pants use a zip fly for closure and will have a slim fit.
Summary
The Dainese Chinos are a great pair of pants for any urban rider hoping to look beyond motorcycle riding jeans. These pants will offer a similarly high level of protection with a slightly smarter style.
If you're curious to see more on the Dainese Chinos, then don't forget to check out our YouTube channel with our Dainese Chinos Video Review.